FESTIVAL GUIDE   NEWS   REVIEWS   FEATURES   SPACELAB TV   STORE



More ... Music News     Music Festival News     Tour Dates Search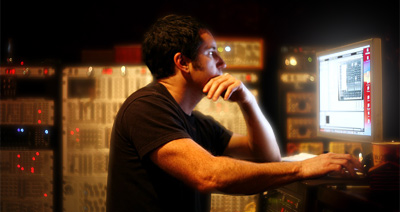 Trent Reznor: Nine Inch Nails Returns In 2012

|
 Follow Spacelab on Google+
Follow @SpacelabMusic
By: Corey Tate
December 7, 2011
A new Trent Reznor interview reveals that he's writing new music with Nine Inch Nails in mind. Once The Girl With The Dragon Tattoo movie is released, he'll spend 2012 writing new music with the hope of making them into Nine Inch Nails songs
2012 will be a year that Trent Reznor uses for writing Nine Inch Nails songs, he said when interviewed by BBC Radio's Zane Lowe. Trent said that he'll be writing music next year, and he'll be thinking about how to use it as Nine Inch Nails music while he's writing. Not that we should expect a quick release of a Nine Inch Nails album ... Trent Reznor is a known perfectionist (he spent years on The Girl With The Dragon Tattoo soundtrack, after all) and by most expectations he'll want to get it right before it's released. There hasn't been a release of a new Nine Inch Nails albums since The Slip in 2008.
He said the desire to start something other than Nine Inch Nails started when he needed a change, saying "I needed to commit to doing something different, and that doesn't mean that I'm not going to return to that at some point. I felt myself pushed and pulled back into the same return of album, tour, album tour and I had a list of things I'd like to try to do in life."
He went on to say "I plan on spending a good portion of this coming year (coming up) writing with that in mind. And we'll see what happens with it."
So I guess the takeaway here is that if he starts to like what's being done (and it stands the test of time), it can find life as Nine Inch Nails songs and even make it as a Nine Inch Nails album. If it takes him a different way creatively, it could be a new project or just get shelved. In other Trent Reznor news, he said that the How To Destroy Angels new album is pretty much finished and is being mixed with producer Alan Moulder right now.
Right now, the Trent Reznor version of "Immigrant Song" with Karen O is making waves, as well as The Girl With The Dragon Tattoo soundtrack. It was released as a free EP download at the end of last week. The Girl With The Dragon Tattoo movie is set to be released later this month. Check out The Girl With The Dragon Tattoo soundtrack here, and watch The Girl With The Dragon Tattoo movie trailer here.
Read more Music News.
Tags:
Music News

 RSS feed for Spacelab headlines
blog comments powered by Disqus





A music community for indie music & electronic music! Check out the best new music and connect to your favorite music festivals and live events! Creative Commons Copyright, 2018. Some Rights Reserved.
SPACELAB
is licensed under a Creative Commons Attribution-Share Alike 3.0 United States License.
MORE >
FESTIVALS
NEWS
STORE
CONNECT
SPACELAB
USA
FESTIVAL
NEWS
WOMENS CLOTHES
FACEBOOK
ABOUT
CANADA
INSTAGRAM
STAFF
UK
MENS
CLOTHES
TWITTER
CONTACT
AUSTRALIA
LONGFORM
RSS
ADVERTISE
EUROPE
REVIEWS
RAVE
MEDIA KIT
ASIA
FEATURES
ESSENTIALS
SEARCH
FILM
2018