News
---
Chinese workers at Coal Power Project threatened
By Leon Berenger
The Ministry of Power and Energy said authorities had deployed a police guard for Chinese workers involved in the Norochcholai Coal Power Project following repeated stand-offs with local officials
They said the police guard was confined to the living quarters and storage dumps in several places from Puttalam to Natandiya and Marawila.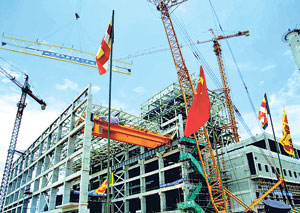 File photo Norochcholai power plant
The decision to send the police in followed a request by the Chinese who feared for their personal wellbeing as well as for their work. According to officials some locals had attempted to break into a store and remove valuable equipment intended for the project.
There have also been cases of local villagers feeling slighted they were not given employment at the project having intimidated the Chinese workers. "The project is being carried out under an agreement between two countries and according to a strict time table.
We cannot allow incidents which would harm this agenda. If this is allowed to happen, it is the country that will ultimate suffer", one senior official said.
Senior DIG Nimal Mediwaka said the Chinese, or anyone for that matter was within the legitimate framework to request police protection depending on the nature of the threat to their personal well- being or their work. "There is nothing wrong with this", he added.
Meanwhile threats aside, youth in the area are making a quick buck by supplying reptiles such as Rat Snakes and Cobras which is a delicacy to the Chinese. A Rat Snake fetches Rs. 1,000 and a Cobra Rs. 2,000. The Sunday Times learned the reptiles, venomous or otherwise had to be live at the time of delivery.
|
E-mail | views[1] Other News Articles
Fuel crisis, other vital sectors face strike
Dispute over Oman Air takes a nosedive
US: 170 alleged 'war crimes' between May 2 and 18
Myanmar military ruler coming here
PSD casts die at star-class casino
Vital drugs fail quality tests
Sky war: Operation Desert Storm
Public buildings still largely 'unfriendly'
Don't panic over spread of H1N1, say health officials
Corruption on the rise in government hospitals and clinics
Colombo City hotels: Minimum room rates to come into effect from November 1
Lankan boat people: Human smuggling racket suspected
Lecture on 'Re-Assessing Don Juan Dharmapala'
Media freedom before GSP Plus: Media groups tell Govt.
The famous Guildford Crescent in Colombo 7 .......
For some IDPs, release means return to camps
Rubella deaths: The probe widens
Resist pressure from vested interests, PMRP tells Minister
Eye surgery patient at private hospital ends up in intensive care: Husband lodges three complaints with the police
Full throttle for motorists
GSP Plus issue adds to Govt. woes
The elusive monsoon causes anxiety for Britons
South Asian wizards and gamblers stun US
Talk at the Cafe Spectator
Chinese workers at Coal Power Project threatened
PCs spent 75% of money on personal emoluments
Reproduction of articles permitted when used without any alterations to contents and a link to the source page. © Copyright 2009 | Wijeya Newspapers Ltd.Colombo. Sri Lanka. All Rights Reserved.| Site best viewed in IE ver 6.0 @ 1024 x 768 resolution