Plus
---
Chinese students see future in learning Sinhala
By Isuri Kaviratne
They are from China but have been given Sinhala names by the Department of Chinese Language which they use enthusiastically. "Ajith" Shang Jian finds life at the University of Kelaniya exciting since there are students studying a variety of subjects.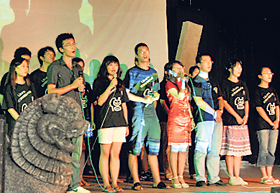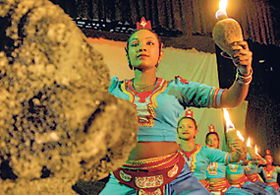 Chinese-Sri Lankan cultural show held be the students
Shang Jian is one of 20 students from China now at Kelaniya University. "Since we too study Sinhala, it's easy to communicate with the other students and learn more about Sri Lankan culture," he said.
But thoughts of home are also present and to mark the 59th Chinese Independence Day, which fell on October 1, the students from China along with the Students' Union of the Kelaniya University held a Chinese-Sri Lankan Cultural Show later in the month depicting various aspects of the two cultures.
The students are enrolled in a six-month course at the University to study Sinhala, which they said, would be beneficial when they return to China to continue their studies at the Beijing Foreign Students' University where there is a Sinhala Language Department offering a degree course.
Speaking to The Sunday Times, they were enthusiastic about their experiences in Sri Lanka so far. "Lakmini" Yinyu Lu said that Sri Lanka is a beautiful country and the University too was beautiful. "We don't have many trees in our universities in China. But here it's different and the greenery adds more colour to the University and to the country as well."
But, she admits, the climate is somewhat difficult to bear. "Suyama" Jun Gao too said that he is glad he enrolled in this course to study in Sri Lanka, despite the security constraints that have limited their movements somewhat.
Studying Sinhala has many advantages in China in business, diplomacy and teaching fields. "China needs more Chinese people speaking Sinhala," he said.
Shang Jian added that with the strong diplomatic relations between Sri Lanka and China now in its 50th year, there would be many opportunities for them when they return to China.

|
E-mail | views[1] Other Plus Articles
Those deadly bites
The Maha Oya gold rush
Emission testing centres fail the operational test
- Letter to the Editor
Our war heroes merit temples in their name
- Letter to the Editor
Devil bird shriek from the past
-
Letter to the Editor
My brother, the colour and cheer of my life
-
Appreciation
A planter respected by superiors and loved by workers
-
Appreciation
She inspired her students to give of their best
-
Appreciation
Extraordinary in her quiet, dignified way
-
Appreciation
Keeping 'a trot' with his love for horses
Australasian delegates meet to discuss change, conflict and convergence
Learning to teach in more exciting ways
French connection
A chance to sing in Verdi's magnificent choral work
Sita returns with her creations
Sunera performs in New Delhi
An inspired study of the self
A sticker in time to save a child
Chinese students see future in learning Sinhala
Fighting HIV: Lanka still has window of opportunity
Cotton Collection, all bright and dazzling for the season
Dance to the African beat
Mandhara: Six yards of beauty
Handicapped youth get chance to show their talents
Tracing the road to White House
A picturesque 20-year journey
Reproduction of articles permitted when used without any alterations to contents and a link to the source page. © Copyright 2008 | Wijeya Newspapers Ltd.Colombo. Sri Lanka. All Rights Reserved.| Site best viewed in IE ver 6.0 @ 1024 x 768 resolution