Pop Geek Heaven It's all…POWER POP!
Subscribe via: RSS
Posted on 29 January 2014
LOST TREASURES
Lancelot Link and the Evolution Revolution
"Lancelot Link and the Evolution Revolution"
By Peter Marston
[linebreak style="25.png"]
Some albums are lost treasures because they fail to chart or receive little airplay or because poor distribution or extremely small pressing runs make them nearly impossible to find.  But some albums are lost treasures simply because no one could believe such an album could be any good.  The self-titled Lancelot Link and the Evolution Revolution is just such an album.  The material certainly didn't lack in exposure as the songs were featured weekly on the successful ABC Saturday morning television show, Lancelot Link, Secret Chimp.  The album was released by ABC/Dunhill and was supported by widespread promotion and distribution.  But all that said, it was simply inconceivable that the soundtrack of a television show featuring live-action chimps in baggy clothes and scripts that played like cast-offs from Get Smart could boast some of the finest bubblegum and disposable pop of the period.  Personally, I can never put on the album without friends or family rolling their eyes, but soon enough, unfailingly, they're tapping their toes and bobbing their heads.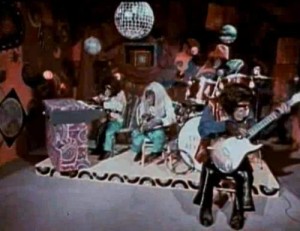 Of course, the folks who wrote and recorded Lancelot Link and the Evolution Revolution were not actually chimps.  The man behind the music was show producer Bob Emenegger, who brought in Steve Hoffman from the Mystic Astrologic Crystal Band to handle the vocals and contribute material (for audiophiles, this is not the same Steve Hoffman who went on to fame as one of the most successful mastering engineers in the CD era).  Emenegger and Hoffman co-wrote four of the twelve songs on the album and Hoffman wrote six.  The remaining two songs were written by Michael Price and Don Walsh, the songwriters behind the Grass Roots' "Temptation Eyes" (and the subjects of their own excellent anthology CD on Rev-Ola).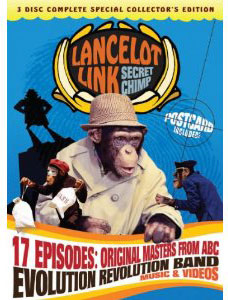 Indeed, the opening (and best) song on Lancelot Link and the Evolution Revolution, is Price and Walsh's "Sha-La Love You," which by all accounts was originally written for the Grass Roots.  After the Grass Roots passed, Director of A&R for ABC Dunhill Steve Barri (also the producer of the Grass Roots LPs at the time and, later, for Bo Donaldson and Heywoods) presented the song to Emenegger, perhaps hoping to recreate the success of the Archies' "Sugar Sugar." This suspicion is certainly supported by the song's irresistible arrangement which is Archie-esque to say the least.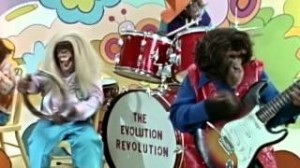 The rest of the album doesn't quite live up to the promise of "Sha-La Love You," but is first-rate bubblegum nonetheless.  "Wild Dreams (Jelly Beans)" is a fascinating song that seems to have two choruses and no verses, with one chorus evoking the Ohio Express and the other based on a traditional rock progression nailed down with some smokin' eighth-note piano chords.  "Kissing Doll" is probably not about inflatable sex partners, but given the lyrics, it could be! It's another great bubblegum track, with a breakdown reminiscent of the 1910 Fruitgum Company's "Indian Giver."  The second Price and Walsh composition, "Magic Feeling" is not quite as manic as some of the other tracks and sounds a bit more like the mainstream AM pop of the period.  "Live" is not the Merry-Go-Round song of the same name, though its lyrics express the exact same sentiment.  It's the heaviest track you will find on Lancelot Link and the Evolution Revolution, though that's not saying much.  "Rolling in the Clover," recalls the Tommy James and the Shondells, while at times Steve Hoffman sounds more like Reg Presley than Tommy James.  "Yummy Love" is lyrically ridiculous, but sublime bubblegum and clearly the second-best song on the album.  The closing track, "The Evolution Revolution" is a bit of a departure, a more traditional rock number with some soulful horns and a psychedelic fade.
There are of course no second acts in the careers of Saturday morning TV "bands," and Lancelot Link and the Evolution Revolution were never to be heard from again.  Emenegger continued to produce shows for television and even used Hoffman to provide vocals for the soundtrack for Tommy Smothers and Bob Einstein's Another Fine Mess.
Lancelot Link and the Evolution Revolution has never been reissued in any form and original LPs sell for about $50 on the second market.  The album, however, has been posted by several music bloggers over the years and the album is readily available for download.  So grab yourself a banana and give it a listen.
[linebreak style="25.png"]
================
Pop Pioneer and "Lost Treasures" writer, Peter Marston is the leader of long-running power pop band, Shplang, whose most recent album, "My Big Three Wheeler" has been described as "the Beatles meet Zappa in pop-psych Sumo match."  You check it out at this link:  [www.cdbaby.com]
================
LINKS:
Wikipedia:  http://en.wikipedia.org/wiki/Lancelot_Link,_Secret_Chimp
DOCUMENTARY on Lancelot Link:  (great stories but go to 6:36 for funny story about 'the band')


Wild Dreams (Jelly Beans)
"MAGIC FEELING" (watch for the kick-ass cowbell clanging at the beginning of this video – so dope, man!)
"Superstatic, Instamatic, Electric Vibrations"
FULL SHOW:  The Chilling Chump Chase (12 minutes long)
Comments are closed.
« Previous Entries
Next Entries »
JUST POSTED on PopGeekHeaven
ARCHIVED POSTS – Click Here
POST YOUR LATEST POWER POP NEWS HERE
You must be
signed in
to post a comment
( Sending... )
dudeman
(Saturday, Jun 23. 2018 02:49 PM) Summer JANGLE ON column just posted –
[www.popgeekheaven.com]
dudeman
(Saturday, May 19. 2018 11:12 AM) Late Spring "JANGLE ON!" column, just posted:
[www.popgeekheaven.com]
dudeman
(Sunday, Apr 15. 2018 07:59 PM) JANGLE ON column from Eric Sorensen for Spring 2018 posted –
[www.popgeekheaven.com]
dudeman
(Sunday, Feb 11. 2018 01:03 PM) BLOODY RED BARON – February Reviews posted:
[www.popgeekheaven.com]
Mark Britton
(Saturday, Jan 20. 2018 03:36 PM) Amoeba Teen have just published their latest video. Follow the link below the video to be able to download this latest single. It goes on general release at the end of January 2018.
[youtu.be]
1 ·
2
·
3
·
4
·
5
·
»
New at PGH this month!
NEW AT PGH THIS WEEK
JELLYFISH BIOGRAPHY IS COMING THIS SUMMERl!
PGH MEMBERS - No MORE need to log-in to access the site!
NEW SONGS uploaded to THE SURPRISE BOX!
FIVE New "LOST TREASURES" posted in the last week - highlighting over-looked and lost nuggets of pop goodness you might have missed
"Jangle On!" column posted in EXCLUSIVE ARTICLES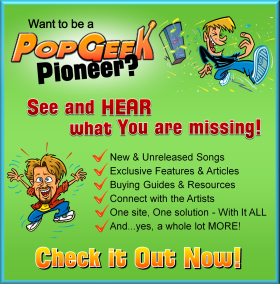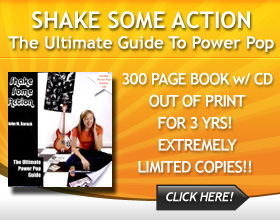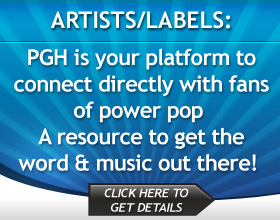 More posts in this category
Copyright © Pop Geek Heaven. Designed by Wishlist Member Coder.