Great Bircham
postmill
Home Contact
County Windmills Norwich Windmills Drainage Mills (Windpumps) Steam Mills Watermills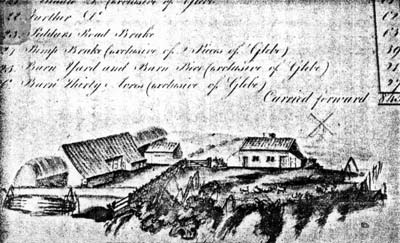 Field Barn Farm and the postmill in 1801

Gt Bircham postmill stood in Mill Lane. Two pairs of stones and a flour mill were listed in the advert of 1769 but only one pair of stones in 1804. The mill remained on the site until it was demolished in 1846 to make way for the building of Gt Bircham towermill.
To be SOLD
At Great Bircham in Norfolk
A WINDMILL with two Pair of Stones, Flour Mill & Going geares, all in good Repair.
Also 2 Acres of Freehold whole year Land whereon the mill stands.
For further Particulars enquire of Mr. Godbold or Mr. Robert Miller, both of Great Bircham aforesaid.
N.B. This will be advertised no more.
Norwich Mercury - 25th March 1769
To be LETT or SOLD
At Great Bircham in Norfolk
A WINDMILL and two Acres of Land
The Mill stands on whole year Land and is Freehold with two Pair of Stones, one Pair French and the other Peak; also a Flour Mill in the same .
For further Particulars enquire of Mr. Robert Miller of the same place.
N.B. There is a Dwelling House to Lett in the said Town very convenient for the above Business.
Norwich Mercury - 19th & 26th August & 2nd September 1769
Robert Miller's will of 10th March 1761 was proved in Norwich on 8th February 1784 and his widow, Temperance Miller inherited the mill and all his property and effects.
Miller, Robert
Will. N.R.O. Ref. 1784 Norwich Consistory Court
Dated 10 March 1761
Proved at Norwich 8 February 1784
Executrix:- Wife Temperance Miller
Messuages or Tenemanets, Land, Hereditaments & premises in Great Bircham ... & all & singular my Goods, Chattels, Cattle, Stock, Implements of Husbandry & Housewifery, Windmill, Going Geares & all other the Real & Personal Estates ... to said Temperance Miller my Wife ...

Notice to Debtors & Creditors
Robert Sparham of Bircham Magna
assigned over Estate & Effects to Mr. J. Bayfield of Flitcham & Mr. M. Blyford of Castle Rising for benefit of Creditors.
Norfolk Chronicle - 8th February 1800
Notice to Creditors
Creditors of Robert Sparham late of Bircham Magna, Miller to meet at the Star Inn, Lynn Regis, Tuesday 18th instant to receive Dividend arising from the sale of his Effects.

R. BAYFIELD )
)
M. Blyford ) Trustees Norfolk Chronicle - 8th March 1800
To be Sold
A Very good WIND-MILL standing in Great Bircham in Norfolk, with one pair of stones & everything convenient in her, standing in a two acre piece, inclosed & freehold.
Enquire of George Humphrey at Docking.
Norfolk Chronicle - 31st March 1804
WANTED IMMEDIATELY
An APPRENTICE to a Miller & Baker, a Lad with some education would be preferred.
Apply to Isaac Hardy, Great Bircham, Norfolk..
Norfolk Chronicle - 10th November 1804
To be Sold or Let
A very good WIND-MILL with one pair of stones and regulators to attend them. Also a House and Baking office, Stable and 2 acres of good land inclosed more or less and well situated in Great Bircham in Norfolk.
Applications to George Humphrey, Docking, Norfolk
Norfolk Chronicle - 2nd March 1805
The mill was not sold in 1804 or 1805 and remained in the property of George Humphrey snr. After Bloom Humphrey died, his widow Martha Humphrey continued to run the postmill until 1845, after which her son George jnr. took over the business.
GREAT BIRCHAM MILL
MARTHA HUMPHREY of Great Bircham
Returns her sincere thanks to her Friends and Customers who since the death of her late husband have continued their support and begs to inform them that the Business will henceforth be carried on by her son, GEORGE HUMPHREY. Mrs. Humphrey requests, in consequence of her declining the business that all claims upon her may immediately be sent in and that all persons indebted to her will immediately discharge their debts.
Great Bircham, December 9, 1845.
Norfolk Chronicle & Norwich Gazette - 13th December 1845
1761: Robert Miller, miller
1769: Robert Miller, miller
March & August 1769: Mill advertised for sale or let
8th February 1784: Will of Robert Miller proved in Norwich
1784: Temperance Miller, widow of Robert Miller inherited the mill
1800: Robert Sparham, miller, made a Deed of Assignment for the benefit if his creditors
Poll Book 1802: Robert Sharman
March 1804: Mill advertised for sale
1804: Isaac Hardy, miller
1805: Mill advertised for sale
1805: Bloom Humphrey, miller
O.S. map 1824: Mill
Bryant's map 1826: Mill
White's 1836: Bloom Humphrey, corn miller
Census 1841:
Martha Humphrey (45) miller
George Humphrey (15)
Mary Leverington (15) servant
Edward Bloy (25) agricultural labourer
Census 1841: Rayner Preston (55) miller (employee) Frances Preston (55)
White's 1845: Mrs. Humphrey, corn miller
1846: George Humphrey, miller
c.1846: Mill demolished to make way for the building of the new towermill

If you have any memories, anecdotes or photos please let us know and we may be able to use them to update the site. By all means telephone 01263 713658 or
Nat Grid Ref TF76033267
Top of Page
Copyright © Jonathan Neville 2005