Vermeer's Palette
The number of pigments available to the seventeenth-century Dutch painter were few indeed when compared to those available to the modern artist. While the current catalogue of one of the most respected color producers (Rembrandt) displays more than a hundred pigments, about only 20 pigments have been detected in Vermeer's oeuvre.1 Of these few pigments only ten seemed to have been used in a more or less systematic way.
In Vermeer's time, each pigment was different in regards to permanence, workability, drying time, and means of production. Moreover, many pigments were not mutually compatible and had to be used separately or in a particular manner. The following study examines the history and origin of each pigment and how they were employed by Vermeer and his contemporaries.
Vermeer's principal pigments
A significant lacuna in the seventeenth-century painter's palette was the lack of the so-called "strong colors." Only a handful of bright, stable and workable colors existed. Mixing to create new tints did not significantly alleviate the problem. When pigments are physically mixed amongst themselves, the new color is inevitably less brilliant than either one of the original components and, more importantly, in the case of some older pigments, they were not even compatible.
One thorn in the side of the seventeenth-century painter was the chronic shortage of strong, opaque yellows and reds which could be to model form with a certain ease. The exceptionally brilliant red and yellow cadmiums, now obligatory paints in any contemporary painter's studio, had not been commercialized until the 1840s. For centuries the only strong opaque red adapted for modeling was vermilion. Vermilion is a very opaque pigment with excellent handling properties but nonetheless, it possesses a fiery, orange undertone and must be glazed to protect it from degrading. Strong yellows, in particular, were scarce and the only brilliant green was the problematic verdigris. In order to overcome the lack of suitable purple pigments and to economize, artists had learned to first model form in tones of ultramarine and white and then glaze over the dried layer of red madder obtaining a lively purple tint.
Moreover, strong colors were not always readily available on the erratic marketplace and had to be used with utmost economy. For example, natural ultramarine, the most precious of all blues for the artist, had become so expensive that painters usually used it as a glaze over a monochrome underpainting. Vermeer used natural ultramarine in just this way.
Economic considerations played a decisive role of the artist's working procedures. If the complete range of pigments, each already ground in oil, had to be available for use at all times, large amounts of painting would have to be thrown away unused. Metal tubes were employed only in the mid-nineteenth century. Excess paint which had not been used during a single painting session was kept temporarily in pig's bladders or the whole palette could be emerged in water over night to prevent contact with oxygen which induces drying.
It is extremely unlikely that Vermeer had on his palette in any given work session all the pigments that were available to him. Painters were known to use specific palettes set out each day according the passage to be painted. The wooden palette above represents the seven principal pigments which Vermeer commonly employed.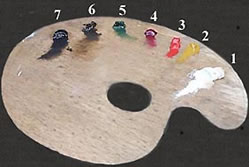 The "working palette" of Vermeer
lead white
yellow ochre
vermillion
madder lake
green earth
raw umber
ivory or bone black
Primary Sources
ANGEL, Philips, Lof der Schilder-konst (Leiden) 1642. [facsimile ed., Utrecht, 1969)
BERGER, Ernst, Quellen fur Maltechnik wahrend der Renaissance und deren Folgezeit, Munich, 1901, reprint 1973. Contains de Mayerne MS, 99–364.
CENNINO d'Andrea, Cennini, Il Libro dell Arte, C. 1400, tr. Daniel V. Thompson, Jr., The Craftsman's Handbook; 'II Libro dell 'Arte', (New York:Dover) 1933, 1960.
HOOGSTRATEN, Samuel van (1627–1678), Inleyding tot de hooge Schoole der Schilderkonst… (Introduction to the higher education of the art of painting) Rotterdam, 1678.
LAIRESSE, Gérard de, Het Groot Schilderboek, 2 vols., Amsterdam 1707; English translation 1738.
MAYERNE T.T. de, Pictoria, Sculptoria et quae subalternum Artium, 1620.
GRAAF VAN DE, J. A. Het De Mayerne Manuscript als Bron Voor de Schildertechnick van de Barok, Mijdrecht, 1958.
MERRIFIELD, M.P., Medieval and Renaissance Treatises on the Arts of Painting, Original Texts with English Translations, 2 vols. Bound as one (Mineola, NY:Dover) 1849, 1967, 1999.
VAN MANDER, Karel, Het Schilder-Boeck, Haarlem, 1604; 2nd ed. Amsterdam 1618.[reprint with introduction and translation, 6 vols., Hessel Miedema, ed., Doornspijk, 1994–1999]
VASARI, Oiorgio, Vasari on Technique, tr. L. Maclehose, ed. Prof. G. Baldwin-Brown (New York:Dover) 1907, 1960.
VELIZ, Zahira, Artists' Techniques in Golden Age Spain…Six treatises in translation, Cambridge, 1986.
Secondary Sources
BOK, Martin Jan, "The Artist's Working Method," in Jan Steen, Painter and Storyteller [exh. Cat., National Gallery of Art and Rijksmuseum, Amsterdam] (Washington and Amsterdam, 1996) 86–87.
BOERSMA, Annetje, "Dou's Painting Technique: An Examination of Two Paintings," Gerrit Dou, Master Painter in the Age of Rembrandt, Arthur K. Wheelock, Jr., ed., exhibition catalogue, National Gallery of Art, Washington (New Haven:Yale University Press) 2000, 54–63.
BOMFORD David, Christopher Brown and Ashok Roy, Art in the Making:Rembrandt (London:National Gallery) 1 988.[Glossary 144–147; Bibliographical Appendix on Training of Artists and Practice of Painting, 148–149; Select Bibliography, 150–153; Technical Literature, 154–155.
BRUSATI, Celeste, Artifice and illusion: The Art and Writing of Samuel van Hoogstraten (Chicago: Univ. of Chicago Press) 1995.
BUCKLOW, Spike, The Alchemy of Paint: Art, Science and Secrets from the Middle Ages, London, 2009.
EASTLAKE, C. L., Methods and Materials of Painting of the Great Schools and Masters, 2 vols., London 1847, reprint, New York, 1960
FELLER, Robert L. (vol.1), Ashok Roy, (vol.2), and Elizabeth West Fitzhugh (vol. 3), eds., Artists' Pigments: A Handbook of their History and Characteristics, 3 vols. (vol.1, Cambridge and Washington:Cambridge University Press and National Gallery of Art) 1986; (vol.2, Washington and New York:National Gallery of Art and Oxford University Press) 1993; (vol.3, Washington and New York:National Gallery of Art and Oxford University Press) 1997.
GETTENS, Rutherford J. and George L. Stout, Painting Materials: A Short Encyclopaedia (New York:Dover) 1942, 1966
GROEN, Karen and Ella Hendriks, "Frans Hals: Technical Examination," in S. Slive, ed. Frans Hals, [exh. cat., National Gallery of Art, Royal Academy, Frans Halsmuseum,] (Washington, London and Haarlem, 1989–1990)109–19–127.
HARLEY, Rosamund, Artists' Pigments c. 1600–1835: a study in English documentary sources, 2nd ed., (London:Bufferworth Scientific) 1982.
KIRBY, Jo, "The Painter's Trade in the Seventeenth Century: Theory and Practice," 5–49, National Gallery Technical Bulletin, vol 20, 1999, National Gallery Publications, London, Yale University Press.
KOESTER, Olaf, Illusions: Gijsbrechts, Royal Master of Deception, with contributions by Celeste Brusati, Jørgen Hein, Gunter Herzog, Ekkehard Mai, Mette Bjarnhof, and Lone Bogh, exhibition catalogue (Copenhagen:Statens Museum for Kunst) 1999. -see especially Mette Bjamhof and Lone Bogh, "Restoration History and Study of Painting Technique, 287–2305.
SCHENDEL, A.F.E. van, "Manufacture of vermilion in 17th century Amsterdam: the Pekstok papers," Studies in Conservation, 17, 1972, 70-82. [also contains recipes for Spanish green (verdigris) and schuytgeel (a yellow lake pigment.) [Peckstock Papers, Municipal Archives, Amsterdam, No. N-09-23]
TALLEY, Mansfield Kirby, Portrait Painting in England: studies in the technical literature before 1700, published privately by the Paul Mellon Centre, London 1981. [discussion of de Mayerne MS in chapter 6]
VAN HOUT, Nico, "Meaning and Development of the Ground-layer in Seventeenth Century Painting," Looking Through Paintings, the Study of Painting Techniques and Materials in Support of Art Historical Research, Erma Hermens, ed., (Leiden:deProm and Archetype) 1998, 199–-225.
WALLERT, Arie, ed., Still Lifts: Techniques and Style: An Examination of paintings from the Rjjksmuseum, Rijksmuseum, Amsterdam (Zwolle:Waanders Publishers) 1999.
WETERING, Ernst van de, Rembrandt The Painter at Work. Berkeley: University of California Press. 2004.
WHITE, Raymond and Jo Kirby, "Rembrandt and his Circle: Seventeenth-Century Dutch Paint Media Re-Examined," National Gallery Technical Bulletin, vol.15 (London:National Gallery Publications) 1994, 64–78.
Vermeer's Painting Technique
COSTARAS, Nicola, "A Study of the Materials and Techniques of Johannes Vermeer," in Vermeer Studies, edited by Ivan Gaskell and Michiel Jonker, eds., Studies in the History of Art 55, Center for Advanced Study in the Visual Arts, Symposium Papers XXXIII, (Washington, National Gallery of Art, and New Haven: Yale University Press)1998. 145–167.
FINK, Daniel A.," Vermeer's Use of the Camera Obscura: A Comparative Study." The Art Bulletin 53, 1971.
GIFFORD, Melanie, "Painting Light: Recent Observations on Vermeer's Technique," in Vermeer Studies, eds. Ivan Gaskell and Michiel Jonker, National Gallery of Art Washington D.C., New Haven and London: Yale University Press, 1998.
GROEN, Karin M.., Inez D. van der Werf, KIaas Jan van den Berg, and Jaap J. Boon, "Scientific Examination of Vermeer's Girl with a Pearl Earring" in Vermeer Studies, eds. Ivan Gaskell and Michiel Jonker, National Gallery of Art Washington D.C., New Haven and London: Yale University Press, 1998, 169–183.
JANSON, Jonathan, Looking Over Vermeer's Shoulder Seventeenth-Century Dutch Fine Painting Techniques and Studio Practices with Particular Focus on the Work of Johannes Vermeer (second edition), USA, 2016
KÜHN, Herman, "A Study of the Pigments and the Grounds used by Jan Vermeer.," Reports and Studies in the History of Art, National Gallery of Art (Washington, 1968).
NEIDHART, Uta and GIEBE, Marlies with essays by Albert Blankert, Chrisitne Klose, Johann Koller, Annalise Mayer-Meintsschel et. al., Johannes Vermeer 'Bei der Kupplerin,' exh. cat., Dresden, 2004
STEADMAN, Phillip, Vermeer's Camera: Uncovering the Truth behind the Masterpiecess, Oxford: Oxford University Press, 2001.
WADUM Jørgen, "Contours of Vermeer," in Vermeer Studies, eds. Ivan Gaskell and Michiel Jonker, National Gallery of Art Washington D.C., New Haven and London: Yale University Press, 1998, 201–223.
WADUM Jørgen, Rene Hoppenbrouwers and Luuk Struick van der Loeff, Vermeer illuminated: Conservation, Restoration and Research, a report on the restoration of the "View of Delft" and the "Girl with a Pearl Earring," [Mauritshuis (The Hague:V+K Publishing, Inmerc) 1994. [in French as: Vermeer en plein jour: conservation, restauration et recherche]
WHEELOCK, Arthur K., Jr., Vermeer and the Art of Painting (New Haven: Yale Univ. Press) 1995.
Johannes Vermeer, exh. cat. National Gallery of Art, Washington and Royal Cabinet of Paintings Mauritshuis, (Washington and the Hague) 1995
Online Resources
Manufactures of Historic Pigments
Drawn entirely from Tony Johansen's PaintMaking.com
The following examination of Vermeer's pigments is based principally based on Herman Kühn's "A Study of the Pigments and Grounds Used by Jan Vermeer." (Hermann Kühn, "A Study of the Pigments and Grounds Used by Jans Vermeer," Reports and Studies in the History of Art, 1968, 154–202.) Due to the discreet number of paint samples taken, together with the fact that they were taken only from the outer edge of the canvas, the study, while of extreme value, furnishes partial knowledge of the which pigments and how he the artist employed them. Results of other studies conducted in recent years have been integrated in this study.
Vermeer's Palette and Pigments
overview of vermeer's palette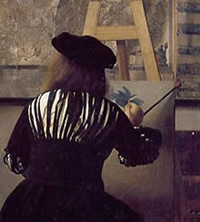 A detail of Vermeer's
Art of Painting
which represents an idealized painter at work portraying the muse of the arts, Clio.
Vermeer news
Catalogue
Vermeer FAQ
Art bookshops
Vermeer sideshow
Digital images
About EV
contact
Vermeer's Painting
Vermeer's Painting Technique
Dutch & Delft Painting
About this Website
Vermeer's Life & Family
Delft & Vermeer's Neighborhood
Dutch Music in Vermeer's time
Bibliographies
External Resources
Exclusive E.V. Interviews
Art Glossary
Dutch Pronunciation
Misc.
Vermeer Research
Selected Bookshops
Vermeer Events & Newsletters
Timelines
Museums
Maps
Reviews of Vermeer Videos
Dutch Culture
essential vermeer 2.0—all original content @ 2001–2019 jonathan janson—contact:
[email protected]