Presents
Friedrich Kuhlau
Soundbite 1st Movt
Soundbite 3rd Movt
Grand String Quartet in a minor, Op.122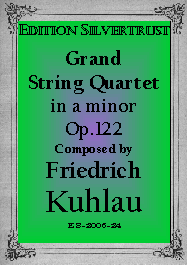 Friedrich Kuhlau (1786-1832), often called the "Beethoven of the Flute", is well-known to flute players, if few others, for the many fine pieces that he composed for that instrument. Though it is generally assumed, by those who have heard of him, that he was a flute virtuoso, ironically, he never played the instrument. Born in Germany, after being blinded in one eye in a freak street accident, he studied piano in Hamburg. In 1810, he fled to Copenhagen to avoid conscription in the Napoleonic Army, which overwhelmed the many small principalities and duchies of northern Germany, and in 1813 he became a Danish citizen. Outside of several lengthy trips which he took, he resided there until his death. During his lifetime, he was known primarily as a concert pianist and composer of Danish opera, but was responsible for introducing many of Beethoven's works, which he greatly admired, to Copenhagen audiences. Considering that his house burned down destroying all of his unpublished manuscripts, he was a prolific composer leaving more than 200 published works in most genres.
Beethoven, whom Kuhlau knew personally, exerted the greatest influence upon his music. Interestingly, few of Beethoven's contemporaries showed greater understanding or ability to assimilate what the great man was doing than Kuhlau. Certainly with regard to form, Kuhlau was clearly able to make sense and use what Beethoven was doing in something as advanced as his Middle Period. Thus, for those encountering his chamber music for the first time, there is always a surprise at how fine the music is structurally and also how well he handles the instruments. Beyond this, he definitely had, like Mozart, Schubert or Hummel, a gift for wonderful melodies which bubble forth from his music effortlessly.
The Grand Quartet, composed in 1832 shortly before Kuhlau's death, was to be the first of a set of six. It combines classical quartet style with the dramatic style of Weber and to some extent Rossini. A pensive Andante sostenuto introduction begins the work, before the main theme of the Allegro assai poco agitato dramatically explodes forth (our soundbite begins here). The rhythmically intricate and highly ornamented big second movement, Adagio con espressione is by turns lyrical and emotionally charged. Next comes a Scherzo, allegro assai. The robust and thrusting main theme rushes forward from start to finish. The trio, a lovely serenade for the first violin, is equally as fast. The Finale, Allegro molto, begins with a soft, smooth introduction. Suddenly a powerful and exciting theme bursts forth and carries the music along to a thrilling finish. The ideas and musical language are different from others writing and this time. Recognized as an important work upon its publication, we believe it will be enjoyed by players and listeners alike.
Parts: $24.95

Parts & Score: $33.95