Message from Prof. and Mrs. Charles K. Kao (20 March 2010)
Dear Hong Kong people,
Charles and I are going back to the US today. I would like to thank you for your support and hospitality during our more than a month's stay in Hong Kong. We are especially grateful to The Chinese University of Hong Kong and the Hong Kong SAR Government for inviting us to revisit the city and to share the joy of winning the Nobel Prize with Hong Kong citizens through the many celebrations they organized. We also would like to thank a number of organizations for holding activities in honour of Charles. This was indeed an enjoyable and unforgettable trip.
During our stay in Hong Kong, we were showered with enthusiasm and support. We were moved by your concern for Charles. At present about 10 per cent of people aged 70 or above in the city suffer from dementia. As the population ages, the problem is getting more and more serious. It is necessary for the community to have a better understanding of dementia and its care services. We are glad to be able to arouse awareness of the disease. More than three million was raised by the walkathon organized by CUHK for the Charles K. Kao Scholarship Endowment Fund and a training programme for family caregivers of people with cognitive loss.
We hope to do our bit for dementia patients and are now preparing to set up a fund in Charles's name to support them. Lastly, Charles and I would like to thank you all again for your love. We hope that we can return to the city to see you again soon.
20 March 2010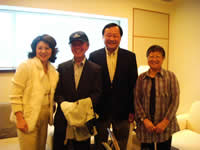 Prof. Benjamin W. Wah, CUHK Provost;
and Miss Janet W.C. Wong,
Commissioner for Innovation and Technology,
HKSAR Government
bid farewell to Prof. and Mrs. Charles K. Kao upon their departure from Hong Kong

---
Message from Prof. and Mrs. Charles K. Kao (5 February 2010)
Greetings!
Charles and I are delighted to return to Hong Kong at the invitation of The Chinese University of Hong Kong and the HKSAR Government. We are happy to have this opportunity to greet our old friends and all of you on this happy occasion. We can feel the warm welcome the moment we enter the campus.
Charles studied in Hong Kong for his high schooling, he has taught here, he was the Vice-Chancellor of CUHK and retired here too. In all he has lived in Hong Kong for over 30 years. So he is a Hong Kong belonger. That HK is so excited with a home grown engineer who was awarded a Nobel Prize in Physics 2009, is very understandable. He rejoices with you all.
Charles has dedicated most of his life to the research on fibre-optic communications. Initiated 44 years ago, it has changed the communication technology of today. We are very happy to learn that the University has taken an initiative to organize this exhibition which captures scenes of Charles' early life, his work at the CUHK, and his lifetime achievements on fibre optics. I am sure you will get to know more about him and how optical communications developed through this exhibition.
The full potential of pioneering ideas and inventions usually take a long time to come to fruition, but they are crucial to the development of a knowledge-base economy. To encourage further development of scientific research and nurture students with innovative ideas, we hope you will support the fund raising for the Charles K. Kao Scholarship, and I would like to take this opportunity to express our heartfelt thanks to all the donors of the endowment fund for their generous support to the establishment of this meaningful act.
Without optical fibers we would not have the internet, email, facebook, twitter, youtube…etc...all these created by brilliant minds. The evolution has not ceased. Some amongst our young students here in Hong Kong some may well create yet more new designs beyond our dreams. We need to watch out and give them the room to develop.
Apart from soliciting support for the Scholarship Fund, it is also our wish this time to raise the public awareness of dementia and to fund services for Alzheimer's patients and their family care givers. As you may know, Charles is coping with his health problem. Being his wife, I fully understand the difficulties faced by dementia patients as well as their care givers. These services are very inadequate at present in Hong Kong. I hope the community and the Government can give support to change this.
Charles and I will be joining one of the major fund raising events, the CUHK Walkathon held on 14 March. The goal is to raise funding for both of these initiatives. We invite you to be there on this occasion, ready and willing to support our aims.
While we will be joining a series of celebratory activities during our stay in Hong Kong, we also look forward to spending some private leisure time with our good friends and relatives. We, therefore, hope our media friends would respect this.
In closing, I wish to take this opportunity to express my sincere thanks to all the CUHK fellows for their devotion in preparing this wonderful exhibition and many other celebratory events. My deep gratitude also goes to the HK Government for the honour bestowed on Charles. Thank you once again for all your warm wishes. May everyone in Hong Kong have a prosperous and happy new year.
5 February 2010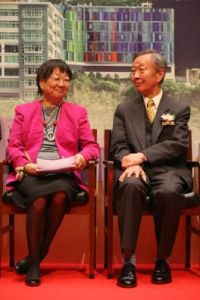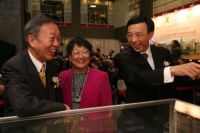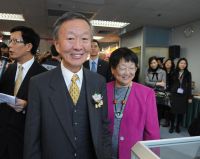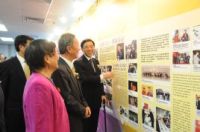 ---
Message from Prof. and Mrs. Charles K. Kao (29 January 2010)
Dear Hong Kong citizens,
Good evening everyone! Charles and I are very glad to return to Hong Kong at the invitation of the Chinese University and the Hong Kong Government. As you know, we've just landed today. We are feeling very excited but also a bit tired.
During our time in Hong Kong, we are going to participate in a number of celebratory activities, to meet friends and relatives, and to relax. We will attend the first public function at the Chinese University next Friday, when Charles and I will be officiating at the opening ceremony of the University's tribute exhibition to Charles. We know that the Chief Executive Mr. Donald Tsang, CUHK Vice-Chancellor Prof. Lawrence Lau, Prof. Yang Chen Ning, and Prof. Sir James Mirrlees, and many other old friends at CUHK will also be there. And we just can't wait to meet them.
Besides, we will also be attending activities organized by the Hong Kong Government, such as the naming ceremony of the Charles K. Kao Auditorium at Hong Kong Science Park, and the prize presentation ceremony of the Stamp Sheetlet Design Competition, etc.
Lastly, we'd like to thank our media friends for their care and support all along. I know you've been waiting for us at the airport for quite some time. And we will certainly meet again very soon. Thank you very much.
29 January 2010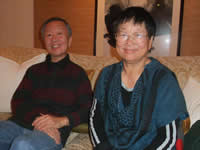 Prof. and Mrs. Charles K. Kao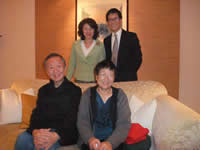 Prof. Ching Pak-chung, CUHK Pro-Vice-Chancellor and
Miss Janet W.C. Wong, Commissioner for Innovation and Technology, HKSAR Government
greet Prof. and Mrs. Charles K. Kao upon their arrival in Hong Kong

---
Professor and Mrs Charles K. Kao wish to express their gratitude to their friends, all staff, students and alumni at CUHK, members of the media, and the people of Hong Kong, by the following Open Letter. (13 October 2009)
Since the announcement on 6 October 2009 that Charles has been awarded the 2009 Nobel Prize in Physics, we have received messages from friends from all over the world via the internet, fax, and email. We are overwhelmed by the sea of congratulatory messages from so many people, and the many requests for interviews from the media.
A Nobel Laureate of Chinese ethnicity is a rare event and we understand the outpouring of happiness and pride for our people throughout the world wherever they live. The Nobel Prize is an international prize and has been awarded for work done internationally.
Charles Kao was born in Shanghai, China, did his primary research in 1966 at Standard Telecommunication Laboratories (STL) in Harlow, UK, followed through with work in the USA at ITT, over the following 20 years, to develop fiber optics into a commercial product and finally came to CUHK, Hong Kong in 1987 to pass on his knowledge and expertise to a new generation of students and businessmen. Charles really does belong to the world!
In this open letter, we would like to thank all who have concern for his health. Unfortunately there is no cure at present for Alzheimer's. Charles shares this problem of coping with Alzheimer with other eminent persons, Ronald Reagan, Margaret Thatcher, to name a few. Charles keeps fit playing tennis and with other exercises. He does not smoke, he enjoys eating and drinking in healthy moderation and sleeps well too. The memory loss is getting more severe, but he enjoys life.
He is eminently proud of his past achievements and excited at becoming a Nobel Laureate – an unexpected award. The press and media have interviewed him and he is happy they have found all the facts they need. So he is more than ready to return to a quiet and undisturbed life now, and he asks that the media respect this.
Our greetings to everyone in Hong Kong, to staff, faculty and students past and present of CUHK, to all our very good friends and especially to our tennis friends. Thank you for all your good wishes and congratulations. Now you know who is responsible for the fiber optical cables that enable all the excessive information, both true and false, good and bad, that circulate on the internet.
Charles and May Wan Kao
13 October 2009