News
BBC News Navigation
Sections
Latin America & Caribbean
Latin America & Caribbean
Mexico City stages first Day of the Dead parade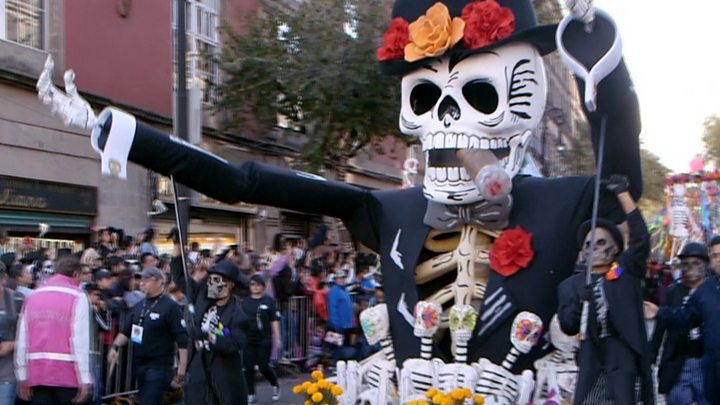 Media playback is unsupported on your device Media captionGiant marionettes and hundreds of performers created the Mexico City spectacle
Mexico City has held its first Day of the Dead parade, complete with floats, giant marionettes and hundreds of dancers and performers.
Mexican tourism officials say the inspiration came from the opening scenes in last year's James Bond film, Spectre, which was shot in the city.
Bond is seen chasing a villain through crowds watching a parade of people in skeleton outfits.
It is hoped the new parade will attract more tourists to the city.
Mexicans traditionally celebrate the Day of the Dead with a family picnic beside their relatives' graves or in front of a decorated shrine at home.
But Lourdes Berho, chief executive of the Mexico Tourism Board, said Spectre had created "expectations that we would have something".
"We knew that this was going to generate a desire on the part of people here, in Mexicans and among tourists, to come and participate in a celebration, a big parade," she said.
About 135,000 people were expected to attend the parade.
Image copyright AP Image caption Parades have never been part of traditional Day of the Dead celebrations Image copyright AP Image copyright AP Image copyright AP Image copyright AP
Related Topics
More on this story
Top Stories
US government lurching towards shutdown

President Trump invites the Democratic Senate leader to the White House for last-ditch talks.

19 January 2018
Pope 'slander' comment angers abuse victims 19 January 2018
US security focus 'no longer terrorism' 19 January 2018
Features
Video
Olympic gold medallists face their abuser
How to survive in Moscow without sunshine
Video
How an 'ice jam' caused flood in minutes
North Korean skiers dream of Paralympic success
What happened to worries about Trump's business?
London is lit up by Lumiere festival
Israel's Indian Jews and life in the 'promised land'
Cancer in a country with no radiotherapy machine
Will we ever be able to trust driverless cars?
Why you can trust BBC News
BBC News Navigation
BBC News Services