News navigation
Sections
Latin America & Caribbean
Latin America & Caribbean
Mexico City stages first Day of the Dead parade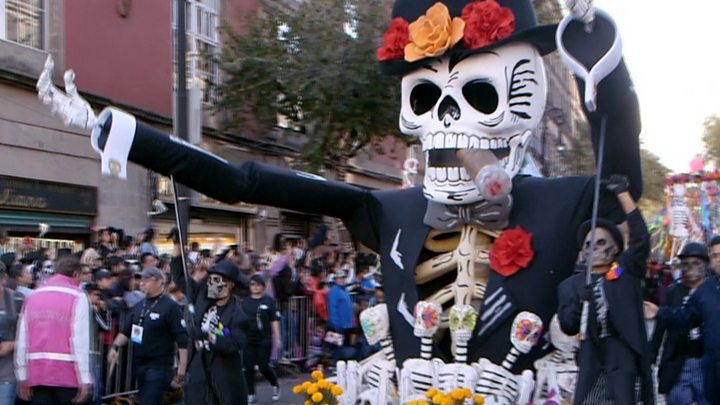 Media playback is unsupported on your device Media captionGiant marionettes and hundreds of performers created the Mexico City spectacle
Mexico City has held its first Day of the Dead parade, complete with floats, giant marionettes and hundreds of dancers and performers.
Mexican tourism officials say the inspiration came from the opening scenes in last year's James Bond film, Spectre, which was shot in the city.
Bond is seen chasing a villain through crowds watching a parade of people in skeleton outfits.
It is hoped the new parade will attract more tourists to the city.
Mexicans traditionally celebrate the Day of the Dead with a family picnic beside their relatives' graves or in front of a decorated shrine at home.
But Lourdes Berho, chief executive of the Mexico Tourism Board, said Spectre had created "expectations that we would have something".
"We knew that this was going to generate a desire on the part of people here, in Mexicans and among tourists, to come and participate in a celebration, a big parade," she said.
About 135,000 people were expected to attend the parade.
Image copyright AP Image caption Parades have never been part of traditional Day of the Dead celebrations Image copyright AP Image copyright AP Image copyright AP Image copyright AP
Related Topics
More on this story
Top Stories
Xi 'most powerful leader since Mao'

China's president is now on a level where challenging him means threatening Communist Party rule.

24 October 2017
Why does US have so many child brides? 23 October 2017
Austria's Kurz opens talks with far right 24 October 2017
Features
Video
Why does US have so many child brides?
Angel was 13 when her mother forced her to marry and start a family. 'I felt like a slave,' she says.
I met a homeless addict and recognised a childhood friend
Video
Building 'heaven' in a year
The 10-year-old waste entrepreneur
Video
How Trump's phone call controversy began
Culture and concerts where IS once reigned
Video
Kicking back: Brazil's football girls
Why Zimbabwe has a 'Minister of WhatsApp'
Video
The woman behind the breastfeeding emoji
News navigation
BBC News Services