News navigation
Sections
Latin America & Caribbean
Latin America & Caribbean
Mexico City stages first Day of the Dead parade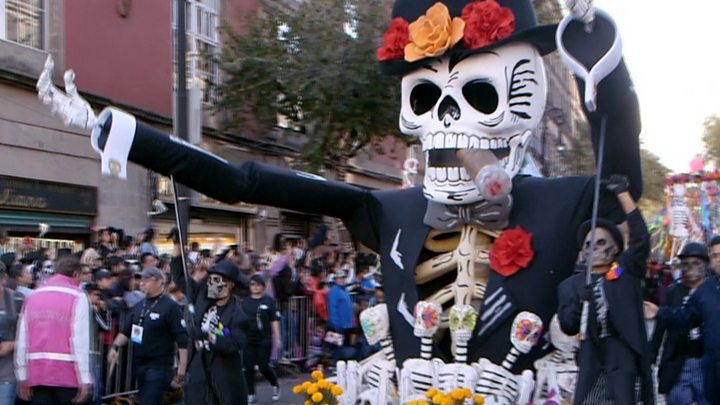 Media playback is unsupported on your device Media captionGiant marionettes and hundreds of performers created the Mexico City spectacle
Mexico City has held its first Day of the Dead parade, complete with floats, giant marionettes and hundreds of dancers and performers.
Mexican tourism officials say the inspiration came from the opening scenes in last year's James Bond film, Spectre, which was shot in the city.
Bond is seen chasing a villain through crowds watching a parade of people in skeleton outfits.
It is hoped the new parade will attract more tourists to the city.
Mexicans traditionally celebrate the Day of the Dead with a family picnic beside their relatives' graves or in front of a decorated shrine at home.
But Lourdes Berho, chief executive of the Mexico Tourism Board, said Spectre had created "expectations that we would have something".
"We knew that this was going to generate a desire on the part of people here, in Mexicans and among tourists, to come and participate in a celebration, a big parade," she said.
About 135,000 people were expected to attend the parade.
Image copyright AP Image caption Parades have never been part of traditional Day of the Dead celebrations Image copyright AP Image copyright AP Image copyright AP Image copyright AP
Related Topics
More on this story
Top Stories
Trump: 'I'll close government' to build wall

The US president also takes aim at the media during a rally for his supporters in Arizona but misquotes hi

23 August 2017
Body identified as missing journalist 23 August 2017
US Navy 'to sack' fleet commander 23 August 2017
Features
The perfume scents that could be lost forever
'I watched the whole hill come down'
Video
Has Harry Potter cursed Indonesia's owls?
Brooklyn's Photoville festival
What price would you put on a passport?
Witnessing Yemen's desperate suffering
Would you try acupuncture for your pet?
The Bollywood blockbuster being filmed in Yorkshire
How throwing stones became a work of art
News navigation
BBC News Services