Mercury Text
Buy these fonts
The heavy lifting.
To ensure that it can handle even the most complicated content, Mercury contains all the trimmings for informational typography: not only fixed-width figures, fractions, and extended monetary symbols, but a full range of dingbats specifically informed by editorial typography.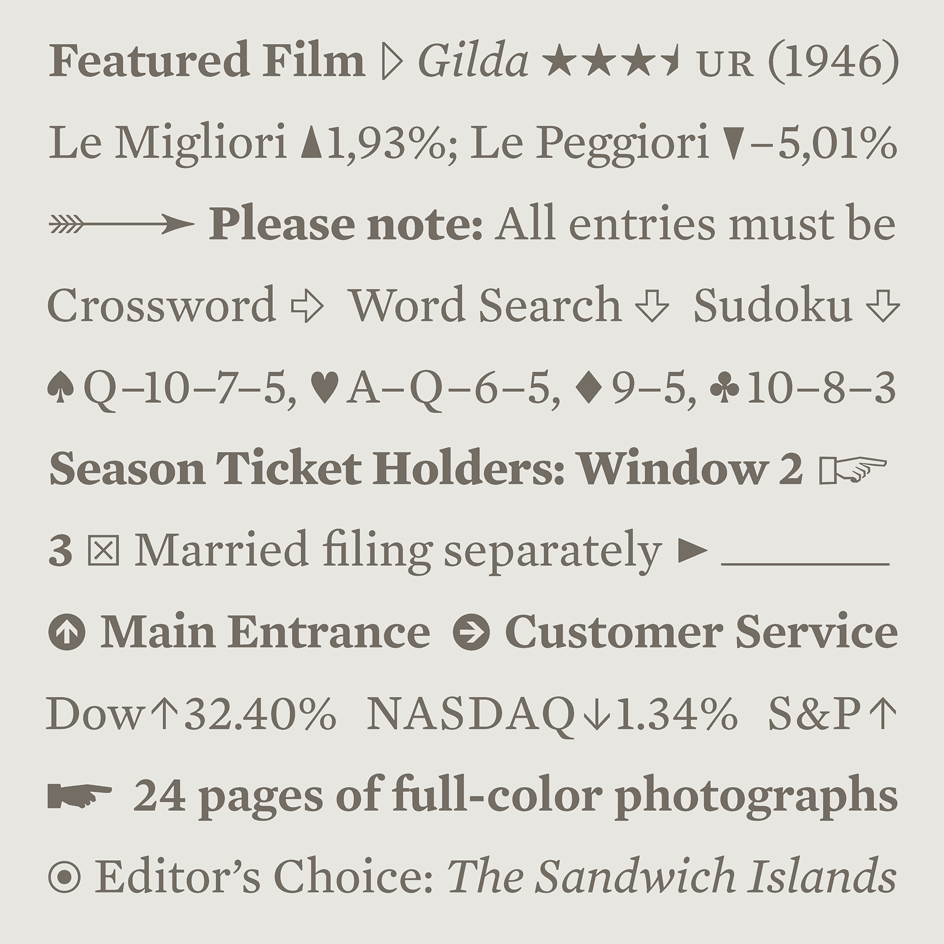 Symbols
To come up with the pi characters in Mercury Numeric, Hoefler & Co. undertook a year-long research project to analyze the ways in which dense information is displayed in newspapers. After reviewing more than 3,800 excerpts of periodicals from around the world, we produced a set of symbols indispensable to all parts of a publication — from box scores to bestseller lists to bond ratings.
Each of the Mercury Numeric fonts contains 74 symbols specially designed to accompany the Mercury Text family, and every symbol is carefully engineered to function well at small sizes. Like the rest of Mercury, each of these symbols is provided in four different grades, to allow designers total control over their media.
Get all four grades of Mercury Text for less than the cost of two!
Features
Related Packages

Mercury with Whitney


Mercury Text and Display

Mercury with Gotham


Mercury with Ringside
Products
Web & Apps
Learn
Contact
About
Policies
Your project exceeds the 1,000k limit, so your changes have not been saved.
Try adding fewer fonts, fewer styles, or configuring the fonts with fewer features.