Saturday, February 5, 2000 THIS ABOVE ALL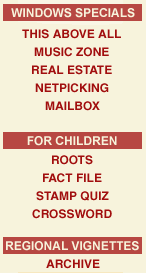 She had a lust for life
PROTIMA GUPTA was born in Delhi in 1949. Her father, a small-time trader, was thrown out by his Bania father for marrying a dark, Bengali woman. He tried his luck in different cities of India, flopped everywhere and re-joined his family business. They had four children, three daughters and a son. Protima was their second daughter and the least loved. A love-less childhood turned her into a rebel. She was a bright girl and did well in her studies. Two words that were missing in her life's lexicon were "no" and "regret"; she could not say no to any man who desired her — and grew into a very desirable and highly animated young woman who most men found irresistible. And she did not regret any emotional or physical experience she had. She also felt that keeping secrets was like lying; so she told everyone everything, including her husband and succession of lovers who entered her life. She broke up marriages and remained blissfully unaware of the hurt she caused to people. She had to get everything off her chest. She told nothing but the truth about everyone she befriended. She might have added a few more chapters to her life story: why she abandoned her dance school and other business to become a sanyasin, but death took her unawares: she was killed in a landslide while on a pilgrimage to Kailash-Mansarovar Oddly enough even as a sanyasin she was accompanied by one of her lovers. And on the same day in Bombay died Persis Khambatta, India's first beauty queen and one-time mistress of Protima's husband, Kabir Bedi.
I first met Protima in the home of Gopi Gauba in Bombay. Kabir, who I had known as child in Lahore, was with her. I had little reason to like them as he had just ditched my friend B.C. Sanyal's daughter Amba to whom he was engaged and was living with Protima who was then only 19 years old. I did not exchange a word with either of them. When Protima became pregnant, they decided to get married. Pooja was their first child. But neither marriage nor having a child made either Protima or Kabir change their ways. While Kabir was away shooting some film with some starlet to keep him happy, Protima, mother of eight-month-old Pooja, was having an affair with a young German living next door. She was not sure if her son Siddhartha was from her husband or her pro-tem lover. She confessed her doubts to her husband and later told her son. The boy became a schizophrenic and later committed suicide in the USA.
Next I saw photographs of Protima running stark naked on a beach in Goa. It shocked middle-class society — exactly what she wanted to do. One day when I was editing The Illustrated Weekly of India, I.S. Jauhar asked me to come over with a photographer as he was getting engaged to Protima. On the phone I called him an ass, But I went. I published their photograph exchanging rings. That's all they wanted: pubicity. Protima later assured me that she had not as much as kissed Jauhar. I believed her because Protima never lied.
I did not see Protima blossom into an Odissi dancer. Nor saw the dance village Nrityagram which she had created. She came to Bangalore to invite me. I accepted the invitation but when I discovered it would take me four hours on the road to get there and back, I called it off. She was very angry with me and swore she would never see me again. Her anger did not last long. When her son took his own life, she shaved off her long hair and renounced worldly pursuits. On her return to India she asked me to let her stay in my villa in Kasauli for a few days, to be near Sanawar where her son had been at school for a short time. She spent four cold winter days walking about the hills all alone. She returned refreshed and full of smiles.
Protima Gauri (as she renamed herself) had zest for living. She loved her men, her liquor and drugs. She had a large range of her lovers, most of whom she names. They include the singer Pandit Jasraj and the late Rajni Patel with whom she exchanged love letters till he was hospitalised and his wife Bakul forbade communication between them. Among the last was a businessman who abandoned his family and business to serve her.
It must have taken a lot of courage for her daughter Pooja to edit her mother's memoirs and decide to have them published. "Passion, compassion and laughter", writes Pooja were the three words which summed up her mother's personality in Timepass: The Memoir of Protima Bedi (Viking Penguin). Protima hated humbugs and hypocrities. She writes, "Every woman I knew secretly longed to have many lovers but she stopped herself for so many reasons. I had the capacity to love many at a time and for this had been called shallow and wayward and a good-time girl....
I bless Protima for being the kind of person she was. I bless Pooja for letting us know what her mother had to say about herself. Many readers may be shocked at the revelations, many of her lovers who are still living and their wives and children will be acutely embarrassed by her disclosures but no one will be able to put down Timepass once he or she starts reading it.
Chand Joshi
What dampened my Republic Day spirit was the cremation of an erstwhile colleague and friend Chand Joshi who died the day before at the age of 53. To be honest, I was more enamoured by his young, lovely wife Manini Chatterjee who achieved a lot more than her husband. Chand frittered away his talent in trade union activity and heavy drinking. Both husband and wife were committed Communists. He inherited it from his parents: his father was P.C. Joshi, Secretary of the Communist Party, his mother Kalpana Dutt was involved in the Chittagong Armoury Raid (1930). It was not he but Manini who wrote a definitive book on the subject Do and Die (Penguin).
Chand Joshi joined The Hindustan Times 10 years before it took over as its Editor. He had made a name for himself reporting the Bangladesh War of Liberation. I found him a most likeable fellow with undoubted talent for writing. But he immersed himself in organising workers of the union rather than working for the paper. On a number of occasions he talked me into sending him on assignments in distant parts of the country. He would be away for weeks with nothing much to give except bills of his travel expenses, usually without vouchers to support them. He spent his afternoons and evenings drinking him in five-star hotels. I despaired of him but could do nothing about it.
Heavy drinking took toll of his liver. His doctor told him bluntly that if he did not give up alcohol he would die within a few months. He became a teetotaller. For some time he turned to religion, every evening he sat cross-legged on the floor and chanted Sanskrit shlokas to the idol of Goddess Kali. It did not last long. He went back to the bottle and, as predicted by his doctor, died of cirrhosis of the liver. It is sad that a man of so much promise and guts should have gone so early without fulfilling his life's ambition of being a great editor of a national paper.
Obituary
My late friend Mubarak Singh, founder-Editor of Modern Practical Psychology had quite a sense of humour. Once he told his friend I. M. Soni: "If I, you and some other friends are drowned in a boat, the next day's newspapers would carry a line about me. About you and others they would write. "He was accompanied by some friends."
(Contributed by Khushwant Mubarak Singh, Amritsar)
Haryana prohibition
When there was prohibition in Haryana during Bansi Lal's regime, a woman said to another, "Widows are lucky," "Why?" asked the other. "They at least know where their husbands are," came the reply.
(Contributed by Sanjay Goel, Mustafabad)