USA women's football team
Abby Wambach's towering legacy only begins with broken records
The world's all-time leading goalscorer, who announced her retirement on Tuesday, has been an imperfect, fiercely competitive and uncompromising cornerstone of the feminist movement. She is a real American hero
Meredith Bennett-Smith
Wed 28 Oct 2015 10.32 EDT Last modified on Mon 20 Feb 2017 07.20 EST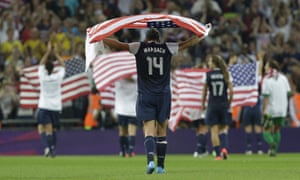 Abby Wambach walks away having scored more international goals than any other player, male or female. But her legacy only begins there. Photograph: Lefteris Pitarakis/AP
"There's only one word to describe Abby Wambach," Australian soccer star Lisa De Vanna wrote on Twitter on Tuesday. "Legend."
Just before the US women's national team was to be feted at the White House, Wambach announced she would be hanging up her boots for good at the end of this year. "While we still have more work to do for women's soccer, after bringing the World Cup back to the United States this summer, I'm feeling extremely optimistic about the future of our sport," the champion striker noted in a statement.
Tributes to No20 have already begun pouring in from all over the world as soccer fans and players celebrate the career of an all-time great. But the Rochester, New York native couldn't have picked a better time to retire. Fresh from the US World Cup victory Wambach will leave the pitch a champion in every sense of the word, racking up 184 goals over the course of 252 international matches – the most of any female or male soccer player. Ever. Fifa Women's Player of the Year in 2012 (an honor only one other American has ever achieved: Mia Hamm) Wambach's impressive hardware collection includes two Olympic gold medals (2004 and 2012) and of course her 2015 World Cup honors. In total, she scored an impressive 14 goals in World Cup matches and nine goals in Olympic competition.
184. 252. 14. These are the numbers that will etch Wambach's impressive career into the history books. But Abby Wambach's legacy is, and always has been, about so much more than her just record-breaking statistics sheet.
I do not remember Wambach's first game with the national squad back in September of 2001, a month with more than its fair share of newsprint. I do, of course, vividly remember the World Cup final two years earlier, when Mia Hamm, Brianna Scurry, Michelle Akers, Brandi Chastain and co defeated China in truly dramatic fashion, in the process gifting millions of little girls with a new definition of what it meant to "play like a girl". With the '99ers on their way out, however, the national team needed a new hero.
Luckily for them (and us), what they got was Abby.
Throughout her career Wambach has quietly but confidently busted stereotypes – both about female athletes and women in general. A fearsome competitor who liked to lead with her head (literally: she will retire with close to 80 header goals), Wambach was living proof that being a total badass and being a woman absolutely go hand in hand. At the same time, she was unabashedly open about her body and the challenges facing female athletes. Posing naked for ESPN's Body Issue in 2012 Wambach noted that her muscled, 5ft 11in frame made her much bigger than many of her teammates (Alex Morgan, for reference, is closer to 5ft 7in), and that's OK.
A leader on the field and off, Wambach's actions have often spoken the loudest – perhaps none more emphatically than the widely televised kiss she shared with wife Sarah Huffman after the World Cup. Growing up, none of the athletes I admired were openly LGBT. Too young to appreciate trailblazers like Billie Jean King I took it for granted that all my heroes, from Mia Hamm to Jackie Joyner-Kersee, were straight. Not that I realized I was gay at the time, mind you – it would take many more years of confusion and pain before I was able to come to terms with my own sexuality.
What I still do remember, however, was the causal way my childhood classmates tossed around slurs like "faggot" and "dyke," especially when it came to girls who dared to cut their hair short or were deemed "too butch".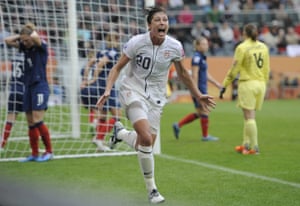 Facebook Twitter Pinterest Wambach's 184 international goals only tell half the story. Photograph: Martin Meissner/AP

It's thanks to women like Wambach and Megan Rapinoe (and the other openly lesbian or bisexual women who played in the World Cup as well as their courageous peers in many other sports) that women today are less and less likely to grow up in an environment limited by such archaic stigma. Everybody deserves to have a hero that loves the way they love.

Ultimately, Abby Wambach's legacy belongs to the girls (and boys) who have painted their faces and toiled over poster board signs and traveled many hundreds of miles to scream her name over the past 15 years. This is what makes US women's soccer so special – and so powerful. As I have written previously in Quartz, sexism remains rampant in our society, a problem mirrored in professional sports. Women's soccer, despite its relative success internationally, is by no means immune. But while World Cup victories and scoring titles won't solve these systemic problems, each win does help the playing field seem a little more level, making it that much harder for men to argue – as they do, with straight faces – that women remain inherently lesser somehow than men.

I only had the privilege of watching Abby play in person once – after a best friend and I embarked on a madcap, spontaneous road trip to Montreal for the World Cup semi-final this year against Germany. Sporting Wambach's black jersey from the 2011 Cup, my spirits were rivaled only by the height of our nosebleed seats. Wambach didn't start that match; in fact she didn't even step foot onto the field until the 78th minute. But when she did, she practically could have sailed onto the turf so thick were the cheers from the crowd.

When the dust settles and the points are tallied and dutifully reported, sport is less about the official winners and losers and more about the little moments like these, moments that transcend the minutiae of athletic competition to become something special, tangible. Abby Wambach wasn't perfect, but she never made excuses for who she was and she took responsibility when she was wrong. So we should remember her for her tremendous skills, certainly, we must not forget the little moments that made her so much more than a soccer player. Turns out it's been Wambach's world all along – I'm just glad I had a chance to live in it.

Topics