Unilever This article is more than 1 year old
Unilever to close 160-year-old Colman's Mustard factory in Norwich
This article is more than 1 year old

Production of iconic brand to be relocated to a new site in the area to retain historical links as Anglo-Dutch company announces shutdown in 2019

Thu 4 Jan 2018 13.52 EST Last modified on Thu 4 Jan 2018 17.01 EST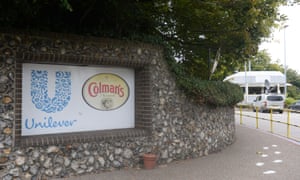 The Colman factory site in Norwich, Norfolk, England. Photograph: Victoria Jones/PA
The factory that has been making Colman's Mustard in Norwich for nearly 160 years is to close, with the loss of local jobs.
Parent company Unilever said the Carrow Works site, where Colman's has been made since 1858, would shut by the end of 2019.
Unilever is seeking to keep Colman's historical links with Norwich by retaining production and packing of mustard powder, the mustard milling process and mint processing at a new site in the area, in partnership with local farmers.

Production of most other products, believed to be liquid condiments, will move to Burton upon Trent, the home of Marmite and Bovril. The packing of dry sauces will move to Germany.
Unilever's Carrow Works factory employs 113 people. Around 40 will transfer to Burton, while the new facility near Norwich will create around 25 jobs.

Unilever said a recent decision by soft-drinks maker Britvic, which co-owns the site, to close its Norwich factory, had "serious implications" for its business. Britvic is transferring production of Robinsons and Fruit Shoot to other UK sites, with more than 240 jobs under threat.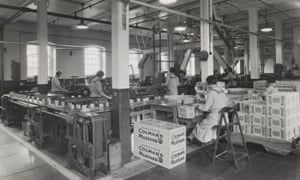 Facebook Twitter Pinterest An archive image of the Colman's factory in Norwich from early 1900s. Photograph: News/REX/Shutterstock

The mustard brand has sponsored the city's football team in the past, and Norwich City fans were urged to wear a vintage Colman's sponsored Canaries shirt to a Hull city match in October in the battle to keep it in Norwich.

The Unite and GMB unions said the news was "devastating" and urged Unilever to reconsider its decision. Unite vowed to fight compulsory redundancies.

Rebecca Long-Bailey MP, Labour's shadow business secretary, said the government "hadn't done anywhere near enough to stop this closure".

Warren Kenny, regional secretary of the GMB union, said: "This is absolutely devastating news for the workforce at Colman's, for the city of Norwich and for manufacturing in East Anglia."


Topics