Public Health
Thousands of Coronavirus Tests Are Going Unused in U.S. Labs
The lack of a national strategy has stymied the efforts of academic labs that underwent huge efforts to retool for COVID-19 testing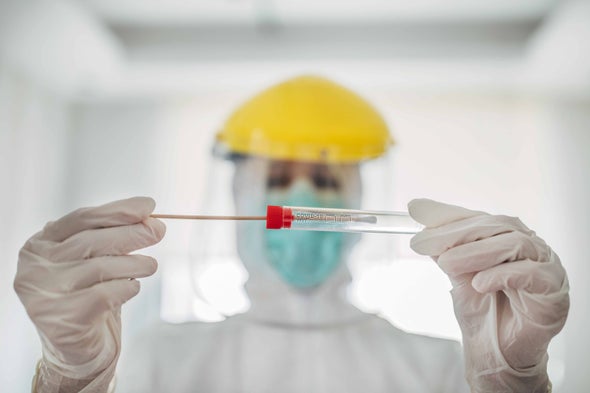 Credit: Getty Images Advertisement

As the United States struggles to test people for COVID-19, academic laboratories that are ready and able to run diagnostics are not operating at full capacity.

A Nature investigation of several university labs certified to test for the virus finds that they have been held up by regulatory, logistic and administrative obstacles, and stymied by the fragmented US health-care system. Even as testing backlogs mounted for hospitals in California, for example, clinics were turning away offers of testing from certified academic labs because they didn't use compatible health-record software, or didn't have existing contracts with the hospital. Researchers warn that if such hurdles remain, labs trying to join the effort to fight coronavirus might end up spinning their wheels. The United States is now the global epicentre of the pandemic, with more than 430,000 confirmed cases of COVID-19, including nearly 15,000 deaths.

"Our capacity is 2,000 tests a day," says Stacey Gabriel, a human geneticist at the Broad Institute of MIT and Harvard in Cambridge, Massachusetts, where testing facilities were approved in March. "But we aren't doing that many. Yesterday was around 1,000. What is holding us back? That is the question," she says.

The Broad and several other leading US labs spent thousands of dollars to pivot their facilities—which usually focus on topics from genome engineering to stem-cell research—to testing people for the coronavirus, using the basic technique PCR. They navigated complex federal regulations and tweaked their molecular-biology protocols. But despite this, some say they're performing at half capacity or less because of supply shortages or because hospitals won't send them samples. "We can give results in 12 hours—24 at the most," says David Pride, an infectious-disease specialist at the University of California, San Diego, who helps lead a testing operation. But he's found that many hospitals continue to stick with the diagnostic companies they are accustomed to—even though turnaround times are reported to be three to seven days because of demand.

The barriers are troubling because more people must be tested to stop the spread of the coronavirus. In shared living facilities, for example, administrators need to know if residents or employees could be shedding virus. And health-care workers worry about a lack of tests for themselves, fearing that they could pass infections on to vulnerable people. "Many hospitals are denying or delaying testing of nurses who have been exposed or are even showing symptoms," says Zenei Cortez, president of National Nurses United, a 150,000-member union based in Silver Spring, Maryland.

Scientists say federal leadership is needed to organize US testing, to reduce bureaucratic and logistical barriers. They're also joining up online to share tips so that labs around the world can get up to speed. "There is a misconception that you only need a PCR machine and a PhD—that is 10% of what you need," says Fyodor Urnov, a scientific director at the Innovative Genomics Institute at the University of California, Berkeley, which launched a testing operation on 30 March, after weeks of challenges. "My life is waking up at 3 in the morning, and thinking of the 24 things that will go wrong today."
'They created a nightmare'
The World Health Organization (WHO) began warning governments to prepare for COVID-19 in January. The agency also vetted and distributed a German-developed PCR-based test for the virus. But rather than use this test, the US Centers for Disease Control and Prevention (CDC) developed its own. For most of February, this was the only test permitted in the United States.
With revelations in late February that CDC tests were in short supply and faulty, the US Food and Drug Administration (FDA), which regulates the use of new diagnostic tests, allowed academic laboratories to start coronavirus testing. But these labs require a Clinical Laboratory Improvement Amendments (CLIA) certificate, showing that they meet quality standards. On the day of the FDA's announcement, 29 February, the University of Washington's virology department in Seattle sprang into action. As a diagnostic lab serving hospitals affiliated with the university, it had the network, know-how and CLIA certification needed to get started immediately.
As other leading molecular-biology departments scrambled to join the effort, gaining the certificate proved cumbersome, so many found partners at CLIA-certified clinics nearby. "This was deeply non-trivial," says Urnov. His institute, led by Jennifer Doudna, co-discoverer of the CRISPR gene-editing tool, realized it could get into the game by partnering with the university's student health centre. Researchers made similar arrangements at the Broad Institute, Boston University in Massachusetts and the Chan Zuckerberg Biohub in San Francisco, California.
Another step—the one that leading scientists are best prepared to address—was working out the most reliable test to use. Many decided against the CDC's version. "I don't want to be disparaging, but the people who made the CDC kit simply failed at molecular biology—they created a nightmare," says Urnov. He considered using the WHO's recommended protocol, but worried about running out of essential components, because labs worldwide are using this test. Left and right, he says, researchers were talking about shortages. Urnov landed on a test developed by the biomedical company Thermo Fisher Scientific, headquartered in Waltham, Massachusetts, chiefly because the company's scientific officer guaranteed that it would keep the institute in supplies. (A CDC spokesperson defends the quality of the agency's tests and their roll-out, saying that the agency rapidly developed a test for public-health surveillance. She adds: "CDC also encouraged our government partners to work with the private sector to develop diagnostic tests for commercial use.")
At Boston University School of Medicine, stem-cell biologist George Murphy opted to use the WHO's protocol, but asked researchers in his lab to find alternative ingredients in case shortages cropped up. "Every day there is something running out, so we are always making and validating changes," he says. They use the instant-messaging platform Slack to discuss these changes with more than 600 researchers trying to ramp up testing around the world.
'The whole thing has been an odyssey'
A new wave of challenges began when the labs reached out to hospitals in need of tests. "The business of American medicine and the way it is organized is astonishingly unprepared for this," Urnov says. One problem is that US hospitals use a range of software platforms for electronic health records. Many also have strict administrative procedures for setting up accounts with labs, exchanging samples and handling billing, adds Pride. For this reason, several hospitals chose to stick with the commercial labs they're already working with, say researchers.
In California, the figures are stark: in late March, the state's health department reported a backlog of almost 57,000 tests. Even so, Urnov says, hospitals rejected an offer of free tests from his centre, funded by philanthropic organizations. "I show up in a magic ship," Urnov says, "with 20,000 free kits and CLIA and everything, and the major hospitals say: 'Go away, we cannot interface with you.'"
In an e-mail to Nature, Emma Dugas, a media-relations officer at the Sutter Health hospital system in northern California, said: "Sutter did explore COVID-19 test analysis with at least one academic provider. To succeed, an electronic interface between the lab provider and Sutter Health is needed." Dugas adds that Sutter does not foresee partnering with academic labs in the future, and that it is expanding its internal testing capabilities.
Determined to do something useful with its free tests, Berkeley's team reached out to city health officials and the non-profit organization LifeLong Medical Care, which, among other services, provides care for people without permanent homes or medical insurance in Berkeley and surrounding cities. City officials asked the team to test firefighters and, this week, LifeLong sent its first samples from homeless individuals to the lab. LifeLong's software doesn't align with Berkeley's system, so information must be entered manually for now, says chief medical officer Michael Stacey. "It's not ideal," he adds, "but we are being flexible because we want to test people now."
Flexibility was also key to Murphy's operation at Boston University, which is affiliated with Boston Medical Center. After the lab obtained regulatory authorization, a graduate student studying bioinformatics wrote a computer script that would allow test results to feed directly into the medical centre's electronic health-record system. Only with that in place could the hospital send the lab samples and hear back about results. "The hospital said, normally, this would take six months," Murphy says. His team has shared the code that made this possible on the online repository GitHub, in the hope that other academic labs can make use of it. "This whole thing has been an odyssey, says Murphy.
Other groups are making progress, but only with partners willing to be flexible. "It took about 2,000 phone calls and many e-mails, but we're getting there," says Gabriel. Still, she worries that the hurdles faced by her team at the Broad will slow down other labs. Testing efforts will be especially crucial as the country relaxes social-distancing measures, adds Patrick Ayscue, an epidemiologist involved with testing at the Chan Zuckerberg Biohub. "We need a national framework for states to make decisions on testing," he says. In a letter to the White House obtained by Nature, scientists listed the bottlenecks they face, along with a plan to help cities and towns across the United States get the tests they need.
The call is coming from other directions, too. On 8 April, three congressional leaders in Washington DC sent a letter to Alex Azar, the secretary of the Department of Health and Human Services, to create a national strategy for testing. "Members of Congress continue to be deeply alarmed about the reports of testing shortfalls and testing supply availability," they wrote. "It is past time that the administration used every tool in its power to fix these problems."
This article is reproduced with permission and was first published on April 9 2020.
Read more about the coronavirus outbreak here.
ABOUT THE AUTHOR(S)

Amy Maxmen
Amy Maxmen [www.amymaxmen.com] is a Brooklyn-based science journalist whose work appears in Nature, The Smithsonian, Nova/PBS and other outlets.
Recent Articles