Saturday, June 23, 2018
My Account
Briefcase
Grover Norquist Explains Why He's Going to Burning Man
Briefcase
My Account
Log In
My Account
Briefcase
Products
Topics
Grover Norquist Explains Why He's Going to Burning Man
"Burning Man is a refutation of the argument that the state has a place in nature."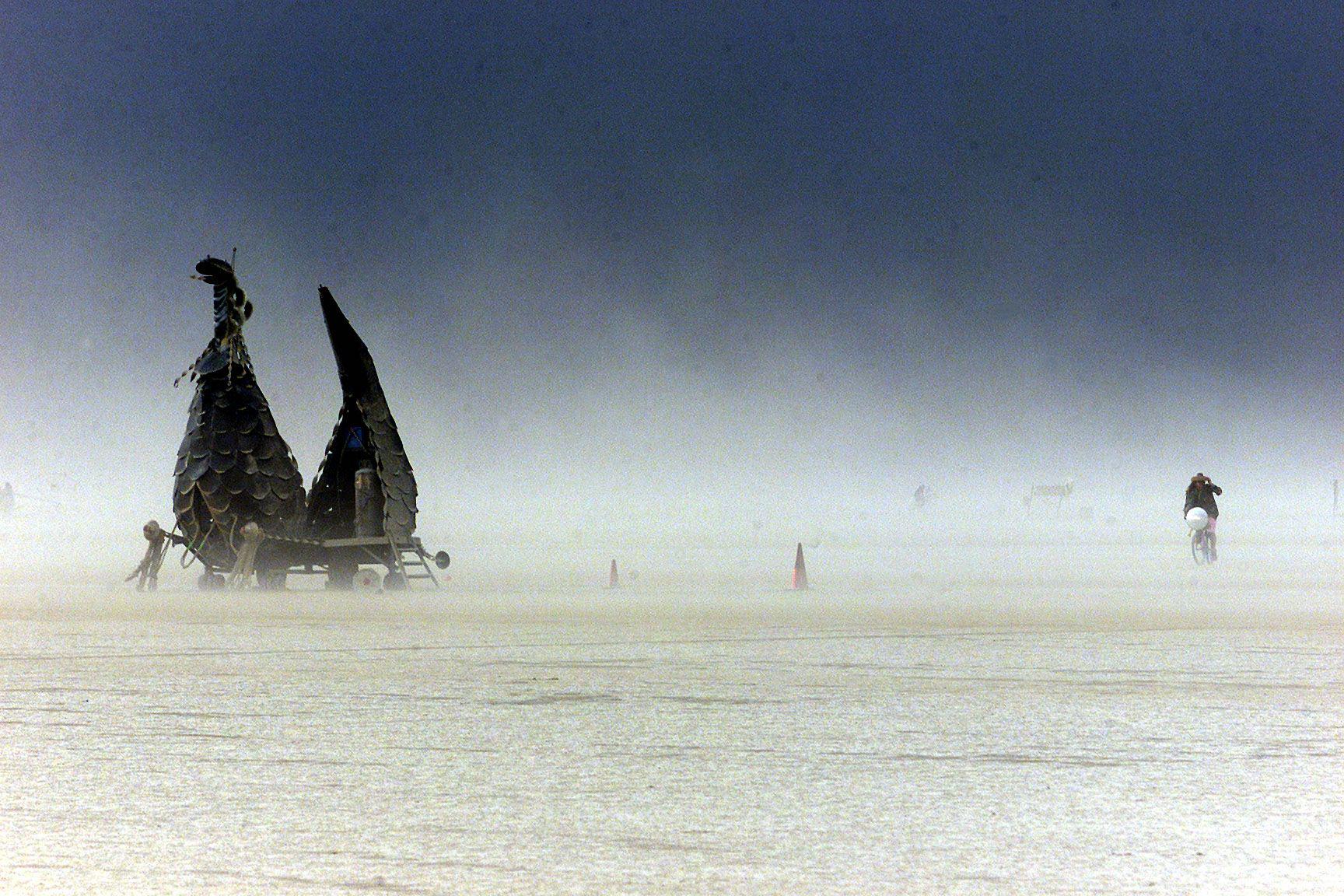 A bicycle rider makes it through a dense sand storm at Black Rock City's playa during the Burning Man Festival in Nevada on September 1, 2000. National Journal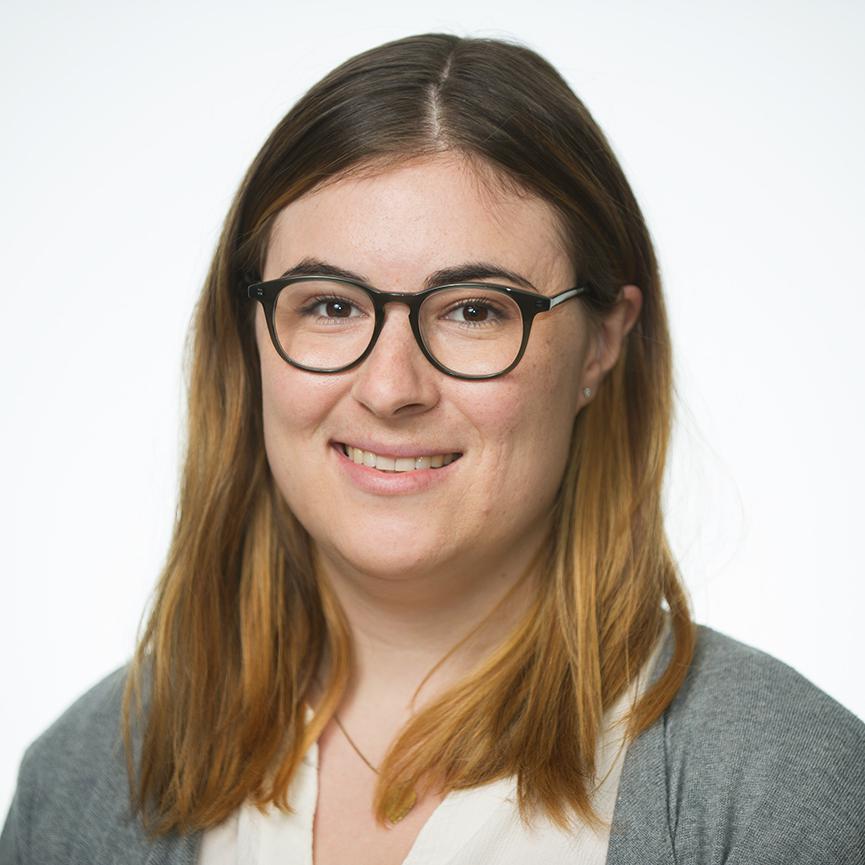 Emma Roller
@emmaroller
Share
Tweet
Email
Add to Briefcase See more stories about...
Emma Roller
@emmaroller
July 29, 2014, 8:25 a.m.
Grover Nor­quist — the pres­id­ent of Amer­ic­ans for Tax Re­form, which was foun­ded in 1985 with a mis­sion to fight in­come-tax in­creases — has wanted to go to Burn­ing Man since 2012.
Burn­ing Man is an an­nu­al fest­iv­al of de­bauch­ery that takes place in the middle of the Nevada desert. At­tendees, called "burn­ers," of­ten dress up in crazy cos­tumes, waltz around na­ked, take co­pi­ous amounts of il­li­cit sub­stances, and gen­er­ally do whatever they want.
So, how did a con­ser­vat­ive act­iv­ist like Nor­quist get in­ter­ested in Burn­ing Man? He tells the story like this: A couple of years ago, Larry Har­vey — the founder of Burn­ing Man — was in Wash­ing­ton to ne­go­ti­ate with the Na­tion­al Park Ser­vice about land use for the fest­iv­al, which takes place on fed­er­al land. Har­vey later stopped by Amer­ic­ans for Tax Re­form's weekly Wed­nes­day meet­ing, and end­ing up go­ing to din­ner with Nor­quist and his wife, Samah Alrayyes Nor­quist. "You've got to come out!" Har­vey told them.
Un­for­tu­nately, the stars did not align for Nor­quist that year — the Re­pub­lic­an Na­tion­al Con­ven­tion was sched­uled for the same week­end as Burn­ing Man. In Ju­ly 2012, Nor­quist tweeted, "Which idi­ot put the GOP con­ven­tion the same time as 'Burn­ing Man' in Nevada? Is there time to change this?"
"It wasn't doable with sched­ules and so on be­cause the Re­pub­lic­ans put their con­ven­tion right on top of Burn­ing Man, silly people," Nor­quist told Na­tion­al Journ­al on Tues­day. "That's why they prob­ably lost the elec­tion."
Two years later, Nor­quist is fi­nally cross­ing that item off his buck­et list.
In a month, he and his wife will set out for Black Rock, Nev. — a bar­ren, 300,000-acre desert that trans­forms in­to a he­don­ic met­ro­pol­is for one week every Au­gust. (For more back­ground, read Wells Tower's ex­cel­lent story in GQ about his trip to Burn­ing Man).
After Nor­quist an­nounced Monday his plan to at­tend the fest­iv­al, many re­acted with dis­be­lief, or simply de­clared, "Burn­ing Man is dead." But Nor­quist in­sists that the drug-filled uto­pia in the desert shares some com­mon val­ues with his own group, Amer­ic­ans for Tax Re­form.
"Burn­ing Man was foun­ded in '86, the same year as the Pledge, and the first Burn­ing Man had 20 people at it, and our first Cen­ter-Right Meet­ing — the Wed­nes­day Meet­ing — also had 20 people. So I think there's a real kin­ship there," Nor­quist says. "These are very sim­il­ar op­er­a­tions, ex­cept we tend to wear more clothes per­haps at the Wed­nes­day Meet­ings."
Burn­ing Man re­lies on a "giv­ing eco­nomy" where at­tendees are en­cour­aged to give goods and ser­vices free of charge — a sys­tem that Har­vey has called "old-fash­ioned cap­it­al­ism." And this is hardly the first in­stance of cap­it­al­ists like Nor­quist be­ing drawn to Burn­ing Man. In re­cent years, Sil­ic­on Val­ley's elite, in­clud­ing Google CEO Eric Schmidt, have flocked to the event.
Nor­quist says the fest­iv­al is a good ex­ample of the the­ory of spon­tan­eous or­der. The the­ory, which was pro­moted by Aus­tri­an eco­nom­ists like Friedrich Hayek, holds that a nat­ur­al struc­ture will emerge out of a seem­ingly chaot­ic en­vir­on­ment without need for out­side in­ter­ven­tion.
"There's no gov­ern­ment that or­gan­izes this," Nor­quist said. "That's what hap­pens when nobody tells you what to do. You just fig­ure it out. So Burn­ing Man is a re­fut­a­tion of the ar­gu­ment that the state has a place in nature."
"This is a fun, ex­cit­ing, cheer­ful col­lec­tion of people be­ing free of state con­trol and do­ing stuff they want to do," he con­tin­ued. "If some­body wants to sit in a corner and read Hayek, I think that that's al­lowed. If people want to run around with not as much clothes as they nor­mally do, I think that's al­lowed as well."
Once he gets to Black Rock, he doesn't have an ob­ject­ive. "I'm go­ing to chat with people who have done it be­fore and who are there, and go with the flow," he said.
In the past, Nor­quist has sup­por­ted fed­er­al tax breaks for marijuana grow­ers. So, will he be par­tak­ing of the buf­fet of drugs that Burn­ing Man has to of­fer?
"I think lots of things should be leg­al that I don't do," he tersely replied.
Nor­quist said he needs to fig­ure out what items to bring to con­trib­ute to the "giv­ing eco­nomy," and joked that he would bring signed cop­ies of his new book. But he ad­mit­ted that in the playa, a bottle of wa­ter is more valu­able. That's the beauty of the mar­ket at work.
Share
Tweet
Email
MOST READ
What We're Following See More »
TEXAS AND ARKANSAS BASES COULD ACCOMMODATE KIDS
U.S. May House 20K Immigrants on Military Bases 1 days ago THE LATEST
"The United States is preparing to shelter as many as 20,000 migrant children on four American military bases" in Texas and Arkansas, "as federal officials struggled to carry out President Trump's order to keep immigrant families together after they are apprehended at the border."
Source:
Vote on Compromise Immigration Bill Gets Bumped to Next Week 1 days ago THE LATEST
"House Republican leaders are further delaying a vote on a compromise immigration bill, planning to make changes to the legislation for a vote next week. The news comes after a two-hour Republican Conference meeting Thursday, in which authors of the bill walked through its contents and members raised concerns about issues the bill doesn't address, multiple GOP lawmakers said. Many members requested the addition of a provision to require employers to use the E-Verify database to cheek the legal status of their employees."
Source:
Conservative Immigration Bill Goes Down to Defeat 2 days ago THE LATEST
After a conservative-backed immigration bill failed in the House, 193-231, leaders "postponed a vote on a 'compromise' immigration proposal until Friday. ... GOP leaders, however, are under no impression that they'll be able to secure the 218 votes needed in the next 24 hours to pass the text. Rather, the delay is to give members more time to read the bill."
Source:
Immigration Votes May Get Delayed Until Friday 2 days ago THE LATEST FOLLOW-UP TO YESTERDAY'S EXEC ORDER
Prosecutions of Families with Children at Border to Cease 2 days ago THE LATEST
LOGIN
FORGOT PASSWORD?
Hi, !
This content is a benefit not included in your current membership package.
Your DA's contact information:
Recommended For You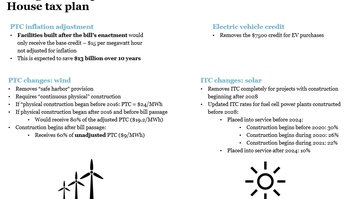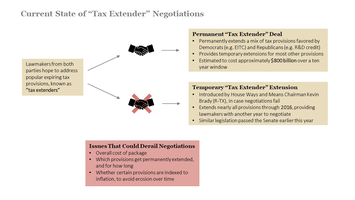 Lawmakers Aim to Negotiate Major "Tax Extender" Deal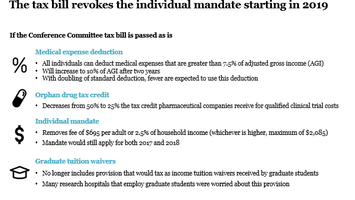 Health provisions in H.R. 1, the Tax Reform and Jobs Act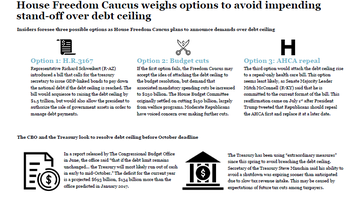 Debt ceiling and the House Freedom Caucus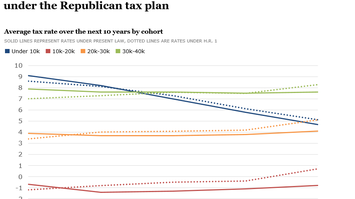 Changes to individual tax rates under H.R. 1 the "Tax Cuts and Jobs Act"
× Clear Filters ×
Welcome to National Journal!
You are currently accessing National Journal from IP access. Please login to access this feature. If you have any questions, please contact your Dedicated Advisor.
Login