Skip to content

Nav Menu
Personnel Roster
Miscellaneous
Loran Stations
Loran Monitor Stations
Areas and Sectors
Loran Support
Links of Interest
External Links
LORAN UNIT 92, GARDNER ISLAND
4 41 41.65 S 174 29 50.61 W MIT
4 41 44.90 S 174 29 37.19 W Antenna Field - Google Earth
Fact Sheet:
Site Survey: 8 - 9 JUN 1944
Construction Date 24 JUL 1944 – Clearing of land commenced
18 AUG 1944 – SPICEWOOD arrived with 100 tons
1 SEP 1944 – Construction of site started
16 DEC 1944 Station commissioned and turned over to 14
th
District
Constructed by: CONSTRUCTION DET "D"
Established: SEP 1944
Disestablished: JUL 1946
Operated by: USCG
Chain: PHOENIX
Station Letter designation: 2L4, 2L5 "R"
Station code name:
Station Unit Number: 92
Radio Call Sign: NRN-2
Station nickname:
On-air testing date: 20 SEP 1944 READY FOR OPERATION
29 SEP 1944
Operational date: 15 NOV 1944
Operations Ceased: 15 MAY 1946
Station Operation: Double MASTER (DM)
Station pair: 2L4 – BAKER
2L5 - ATAFU
Loran Rate: 2L4, 2L5
On-Air: 2L4 - 15 NOV 1944
2L5 - 15 NOV 1944
Off-Air 2L4 - 15 MAY 1946
2L5 - 15 MAY 1946
Monitor Rate:
Equipment:
Personnel Allowance: 25 person crew
Miscellaneous: 24 JUL 1944 - Construction started
14 OCT 1944 - Construction crew and material departed island
15 JUL 1945 DC to AC completed
15 MAY 1946 Station placed in caretaker status
Commanding Officers /
Officers in Charge 1st CO: ENS Charles Sopko 1944 - DEC 1945
CO: LT George A Finn DEC 1945 – 2 MAR 1946
CO: LT Ralph A Peterson 2 MAR 1946 - MAY 1946
Documents:
Pictures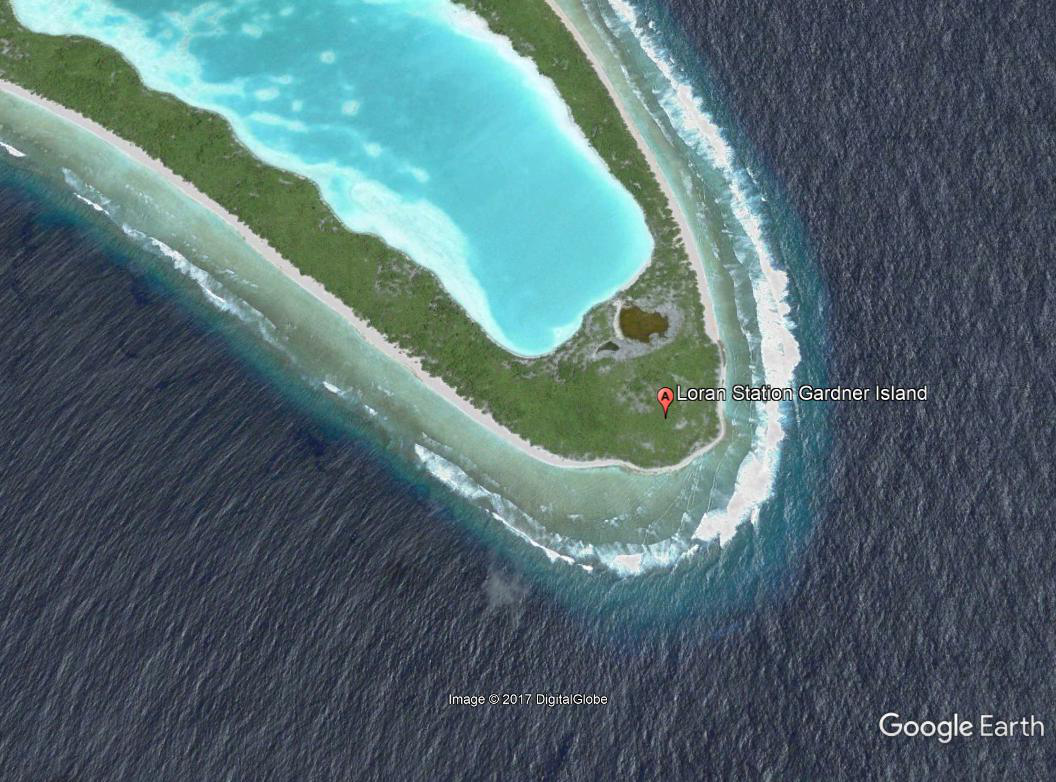 Picture from google earth
The below photos and document was contributed by Steve Spoko
(son of the 1st Commanding Officer)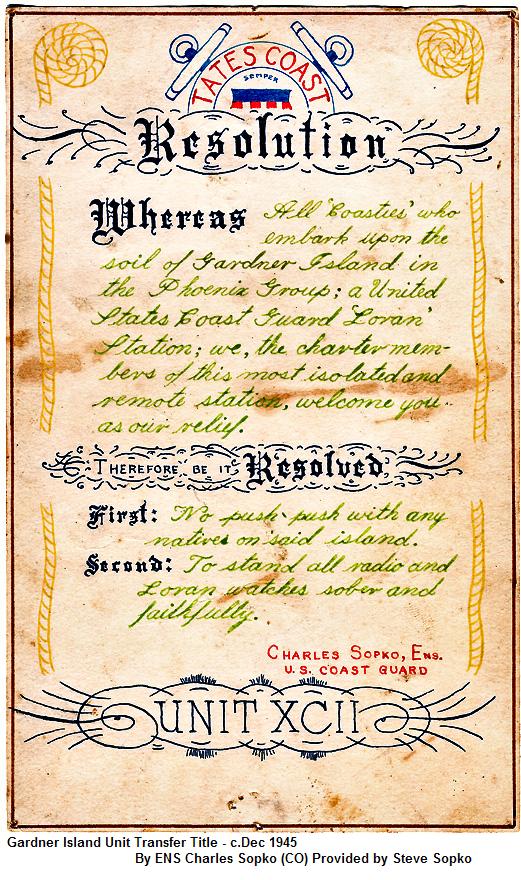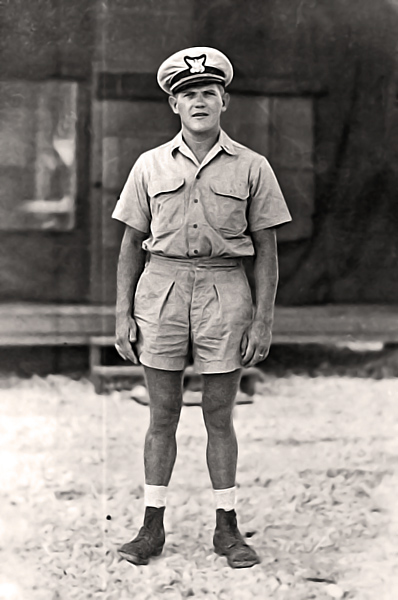 LTJG Charles Sopko, Gardner Island, 1944-1945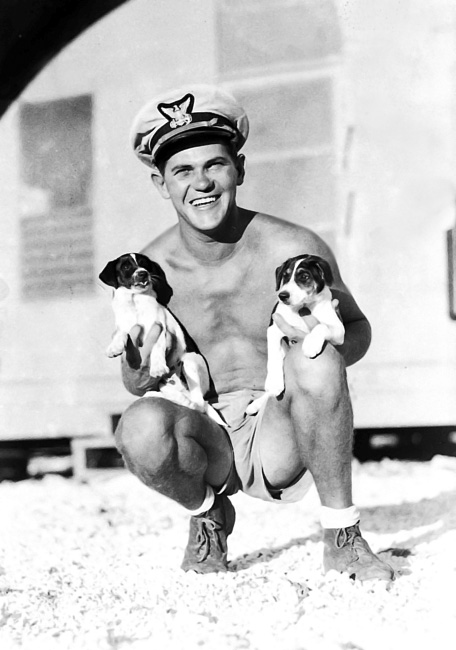 LTJG Charles Sopko with station puppies c./1944-45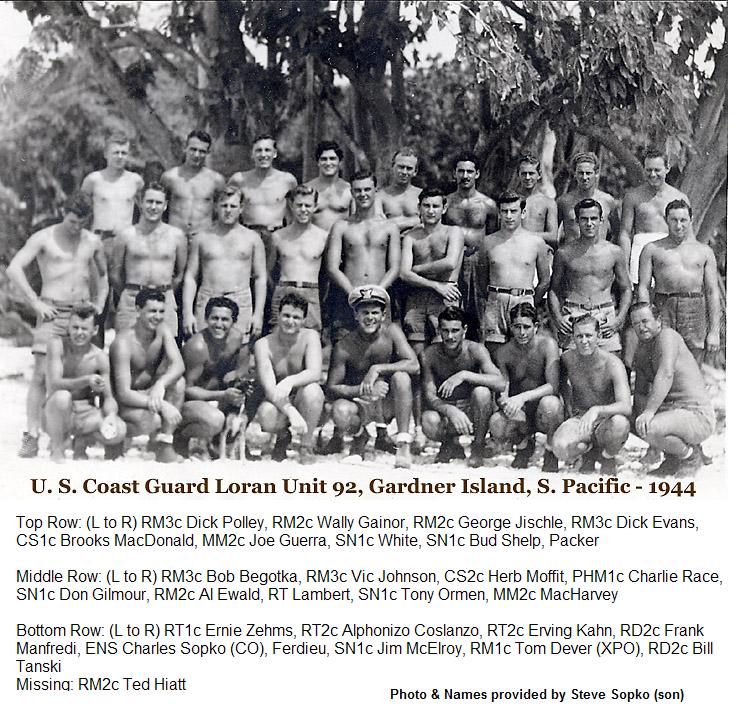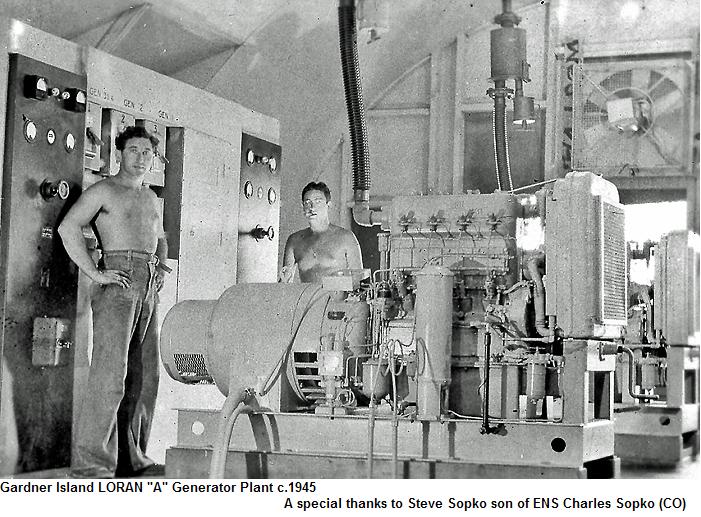 THANKS Steve!
Gardner Island is one of the Loran Stations on the chart.
If any member of the crew wishes to reminisce about their time on the island to be included in this page, please contact us.
Copyright © 2013-2019 Loran-history.info All rights reserved
The intention of this site is to document the role of the U.S. Coast Guard in the support of the U.S. Department of Defense Radio Navigation program, in particular LORAN. This site is not affiliated with any United States government agency, foreign government or a private entity. All inquiries may be sent using contact us on the home page.