CRIME Published June 26, 2016 Last Update June 27, 2016
Several people stabbed during Neo-Nazi event in Sacramento
By | Fox News
close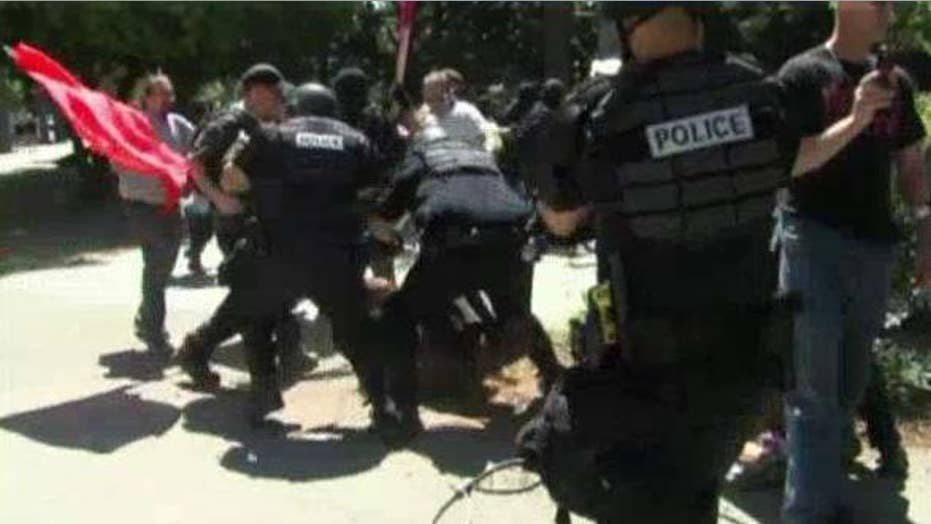 Video
William La Jeunesse reports from Los Angeles
Ten people were wounded — two of them with life-threatening injuries — on Sunday when counter-protesters clashed with members of neo-Nazi groups that planned to rally outside the California state Capitol building in Sacramento, authorities said.
California Highway Patrol Officer George Granada said about 30 members of the Traditionalist Worker Party were gathering for a rally around noon Sunday when they were met by about 400 counter-protesters and a fight broke out.
As people tried to leave the area, smaller fights broke out, Granada said.
Authorities were investigating what happened, but no arrests have been made.
The injuries were the result of what the Sacramento Fire Department described as a "mass casualty event."
"It was quite a bit of a melee," SFD public information officer Chris Harvey told The LA Times.
UPDATE: 5 patients transported to area hospitals from Capitol incident, some with critical trauma stab wounds. pic.twitter.com/wO1yqlvfOA

— SacFire PIO (@SacFirePIO) June 26, 2016
The original, permitted neo-Nazi rally was officially cancelled, ABC10 reported. That rally was to include factions from the Traditionalist Workers Party, Golden State Skinheads, Blood & Honor, National Socialist Movement and Ku Klux Klan, CBS reported.
The neo-Nazi group had planned a demonstration for several weeks, The LA Times reported, and counter protesters were evidently well organized and prepared for the event. Many carried signs or banners with slogans such as "Many colors one working class! Smash patriarchy and racism." Several protesters had their faces covered with black cloth.
The clashes occurred near the State Capitol.
Video shot by an ABC10 reporter of several fights showed the two groups bashing each other with sticks and throwing objects in a violent, chaotic fracas. Blood stains were visible on the ground and several of those involved were bleeding following the fights, including two neo-Nazis visibly bleeding from their heads.
Police officers witnessed a Klan member stab someone with a knife, an officer told CBS. A counter protester was also found stabbed inside a vehicle, CBS reported.
California Highway Patrol officers managed to break up the fights, but some members of both groups remained in the area for a time.
The Southern Poverty Law Center described TWP as a group formed in 2015 as the political wing of the Traditionalist Youth Network, which aims to "indoctrinate high school and college students into white nationalism."
Vice Chairman of the Traditionalist Worker Party Matt Parrott, who was not present at the Sacramento rally, said it was a peaceful march and blamed "leftist radicals" for instigating violence. Heimbach said that in the clash, one of their marchers had been stabbed in an artery and six of the "anti-fascists" had also been stabbed.
A post recently uploaded to the site of the Traditionalist Youth Network says TWP members planned to march in Sacramento to protest against globalization and in defense of the right to free expression. They said they expected to be outnumbered 10-to-1 by counter protesters.
The Associated Press contributed to this report.