An official website of the United States government.
We've made some changes to EPA.gov. If the information you are looking for is not here, you may be able to find it on the EPA Web Archive or the January 19, 2017 Web Snapshot.
United States Environmental Protection Agency
Related Topics: Contact Us Share
CompTox Chemicals Dashboard Help
Contents
Overview
The CompTox Chemicals Dashboard provides information regarding chemical compounds and substances of potential interest to environmental scientists. It contains information about substances, associated chemical structures, experimental and predicted physicochemical and toxicity data, bioassay data, exposure data and additional links to relevant websites and applications. The dashboard provides information for over 875,000 chemical  substances and continues to expand in terms of the number of chemicals represented. Iterative review of the data is ongoing and additional data types are introduced with each release. A peer-review publication describing the history of the underlying data and the development of the application is available Exit.
Basic Search
There are a variety of search capabilities presently available on the dashboard including by chemical name or identifier, by mass or molecular formula and a batch search capability for searching larger collections of data. Future work will introduce structure, substructure and similarity searching. The text search box allows a user to search using a number of chemical "identifiers" including chemical name, common name, CAS Number Exit or InChIKey Exit (SMILES and InChIString searching will be introduced in a later version). The search is set up as an EXACT String Search by default (giving a single result) but selecting the Identifier substring search box allows for a larger results set. The results can also be pre-filtered using the checkboxes below the entry box to return only chemical entities that have a single component or exclude isotopically-labeled compounds (e.g. no deuterium- or 13C-labeled compounds).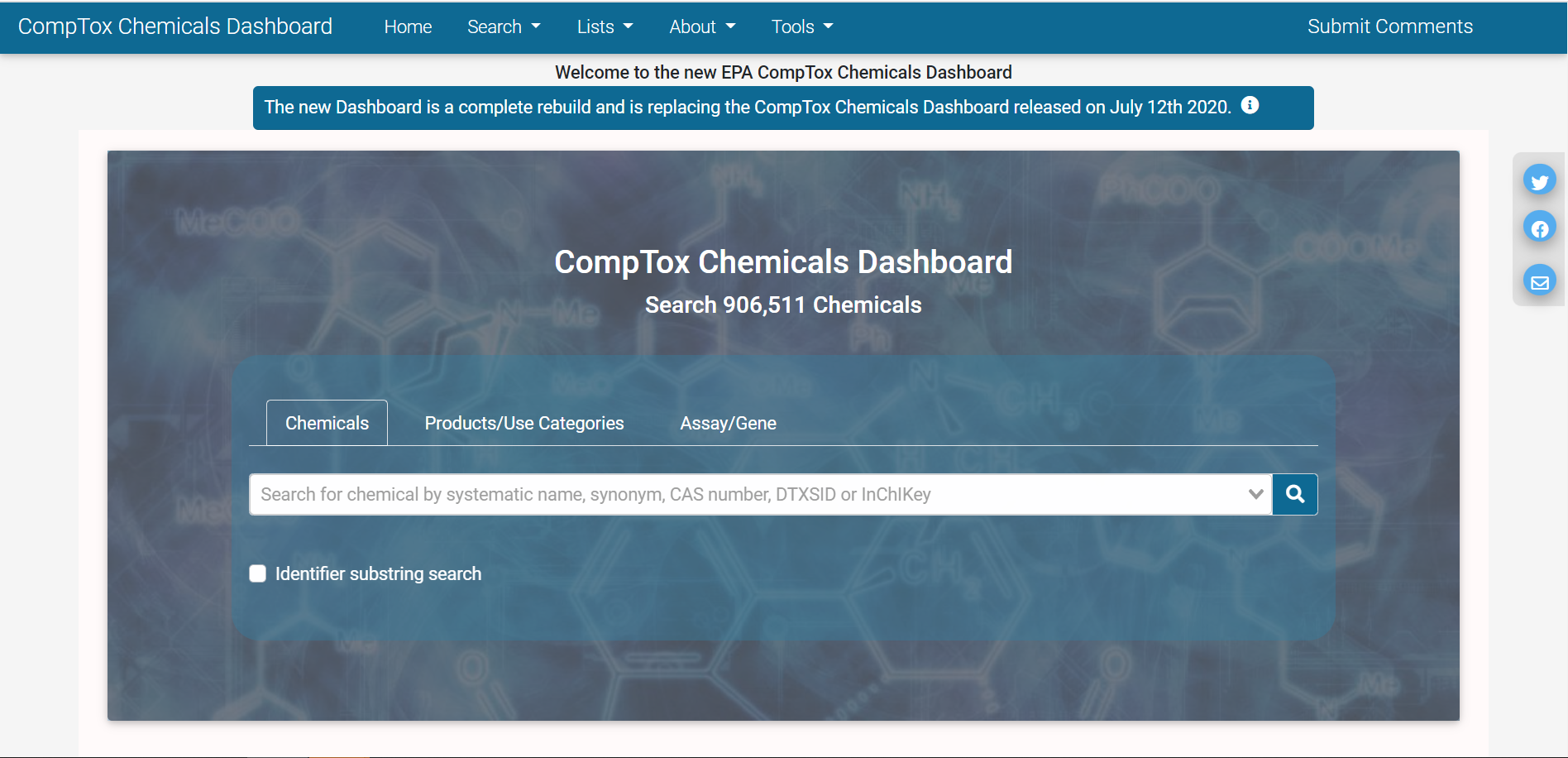 If a hit is identified in the database then the search will return a detailed results page with associated information for the chemical. For example, a search for "atrazine" returns the chemical at [comptox.epa.gov], discussed in more detail below in the Chemical Results Page section.
Contact Us to ask a question, provide feedback, or report a problem.