Download this free guide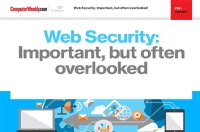 3 key web security guidelines from FS-ISAC
We address the ongoing issues regarding web security for businesses relying on an online presence. Download this e-guide and discover how to identify and address overlooked web security vulnerabilities as well as why you should look at the full security development lifecycle to reduce web threats.
In Depth : Web application security
Applications have an increasingly crucial role in our lives, yet they are also a real security threat, with hackers always finding new ways to bypass security defences. Computer Weekly looks at how organisations are responding to the challenge Continue Reading

How did a brilliant but fragile computer science student from a rural English town end up facing life imprisonment in the US? Computer Weekly speaks to Lauri Love Continue Reading

Investigative journalist and documentary maker James Bamford was among the first to uncover the secrets of the US National Security Agency and its global surveillance Continue Reading
View All In Depth
Blog Posts : Web application security
You want people to access the content on your web sites. However, increasingly your visitors will not be people, but bots web scraping data with bad intent. Bot activity can be controlled and, when ... Continue Reading

The addition of a risk engine to Nok Nok's FIDO-driven Authentication Server further strengthens the way web service providers can authenticate the consumers they transact with. Continue Reading
View All Blog Posts
Opinion : Web application security
Many organisations around the UK are contributing to the important work on making the internet a safer place for everyone Continue Reading

How can organisations evolve their security operations teams to do more automation of basic tasks and cope with dynamic IT environments? Continue Reading

What criteria should organisations use to assess the security of smartphone messaging apps and how can they ensure only approved apps are used by employees? Continue Reading
View All Opinion
Videos : Web application security
Lauri Love presents a compelling story of the WannaCry malware that nearly brought down the NHS, and the behind the scenes work of former hackers, and security researchers that helped to prevent lives being lost. Love is facing extradition to the US after allegedly taking part in a hacking protest over the death of internet pioneer Aaron Swartz, who faced jail for using a hidden computer to downloading academic journals at MIT.

In a series of video debates, Computer Weekly and the Financial Times invite a panel of experts to discuss business and IT issues.

Hugh Thompson, founder and chief security strategist at People Security, reviews why WAFs alone are not strong enough to tackle today's Web application threats.
View All Videos