Download this free guide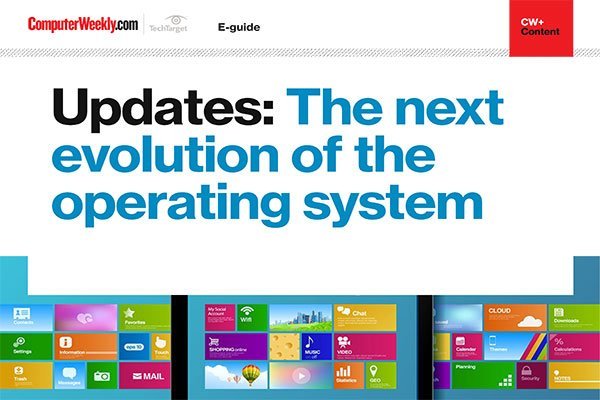 Unpacking the future of operating systems
In this e-guide, we take a look at how updates are the next evolution for operating systems. From security and iris recognition to 3D modelling and easier recognition with OneDrive, updates are key to keeping your device fresh and, most importantly, safe.
In Depth : Tablet computers
Find out what happens to your smartphone after you're finished with it and why you should commit to the circular economy Continue Reading

Many factors contributed to the collapse of Toys R Us, but did a partnership with Amazon at the turn of the millennium play a part in its eventual demise? Continue Reading

Small businesses still need a strategy to make the most of mobility, so what should business owners look out for? Continue Reading
View All In Depth
Blog Posts : Tablet computers
Ryanair boss Michael O'Leary is making a costly mistake by ruling out in-flight Wi-Fi, argues iPass' Patricia Hume. It's just under a year since the United Nations declared that internet access ... Continue Reading
View All Blog Posts
Opinion : Tablet computers
Microsoft has failed in the tablet market before, but the Surface Go could be a promising second chance for the company. Learn its features and pricing that set it apart. Continue Reading

What criteria should organisations use to assess the security of smartphone messaging apps and how can they ensure only approved apps are used by employees? Continue Reading

Research into a new generation of transistors could end a decade of stagnation in computing speed and deliver a step-change in processing power, says the National Physical Laboratory's Mark Stewart Continue Reading
View All Opinion
Videos : Tablet computers
In this video Richard Thwaite, director of digital policing, Metropolitan Police Service, discusses the advantages of implementing mobility for officers on the streets, and discusses the innovation behind the project.

In this CW500 Club video, Christoph Burtscher, CEO, Be2Change Consultancy, talks to Computer Weekly editor in chief Bryan Glick about the challenges of IT governance in an era of shadow IT.

In this CW500 club video, Alex Kwiatkowski, Head of Financial Insights Europe, IDC discusses regulatory compliance and BYOD in the finance sector, as well as the challenges and benefits of managing mobility.
View All Videos