Information technology (IT) in Russia
In this section, browse news, analysis, trends and research about information technology (IT) in Russia. Find information on topics such as IT management, information security, data storage, backup and recovery, networking, data centre, cloud computing, mobile technology and applications, virtualisation, VMware, big data, virtual machines, and more.

Download this free guide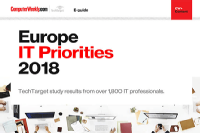 Europe's IT Priorities for 2018
In this e-guide we feature an analysis of the findings of a Computer Weekly/Tech Target pan-European survey of nearly 2000 IT decision makers.
In Depth : Information technology (IT) in Russia
The forthcoming General Data Protection Regulation (GDPR) will have wide-ranging implications for every organisation that processes personal data. This comprehensive overview tells you what you need to know Continue Reading

European law enforcement is to focus on collaborating with industry around cyber crime as organised crime groups increasingly exploit new technologies, according to a regional crime threat report Continue Reading

Computer Weekly looks at where and when IT outsourcing was invented and considers the changes the sector has gone through since Continue Reading
View All In Depth
Opinion : Information technology (IT) in Russia
Businesses are finding it hard to recruit enough people with big data and analytics skills, but for CIOs there are alternative strategies to consider Continue Reading

Are you taking security for internet-connected devices seriously enough? Continue Reading

The foundations have been laid for organisations to begin standardising on the technology, talent and platforms that will drive future blockchain initiatives Continue Reading
View All Opinion
Videos : Information technology (IT) in Russia
Lauri Love presents a compelling story of the WannaCry malware that nearly brought down the NHS, and the behind the scenes work of former hackers, and security researchers that helped to prevent lives being lost. Love is facing extradition to the US after allegedly taking part in a hacking protest over the death of internet pioneer Aaron Swartz, who faced jail for using a hidden computer to downloading academic journals at MIT.
View All Videos