Mobile software
Mobile software is one of the fastest-moving areas of IT today, with new low-cost applications - or apps in the mobile parlance - being rapidly created. Businesses are looking at how best to exploit powerful smartphones, such as iPhones and Android devices, and portable computers such as iPads and other tablets, that are now available. We examine the latest mobile software trends and technologies and put them into the context of enterprise IT.

Download this free guide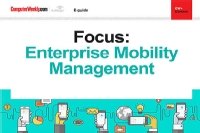 How to find the perfect mobility strategy for your business
We explore enterprise mobility management, looking in-depth at some of the key trends and developments in the world of enterprise mobility, as well as keeping a watchful eye on cybersecurity.
In Depth : Mobile software
Mobile has played a key role in how London jeweller Taylor & Hart has changed the rules for buying a ring Continue Reading

Many companies are considering cloud HR software systems for their many benefits, but it's important for IT and HR to consider the technical challenges as well. Continue Reading

CIOs and their IT teams are often tasked with integrating HR systems, such as incorporating talent management with core HR. Here's advice on making that a successful endeavor. Continue Reading
View All In Depth
Blog Posts : Mobile software
It's been almost a year since Downtime talked emojis, but from far-right tool bag Jair Bolsonaro seizing power in Brazil to a supermarket magazine editor thinking it's normal to reply to a ... Continue Reading

Whether you can pronounce the company's name or not, it's for sure that Huawei (say: wah-way) has become a significant presence in the smartphone market today. Now with corporate ambitions to ... Continue Reading

Cloud giant Amazon has announced the open source release of its Alexa Auto SDK (Software Development Kit). The news comes from the company's Amazon Voice Services (AVS) division. The SDK is ... Continue Reading
View All Blog Posts
Opinion : Mobile software
What criteria should organisations use to assess the security of smartphone messaging apps and how can they ensure only approved apps are used by employees? Continue Reading

More than just offering rich media experiences, augmented reality has the potential to lower cost and improve productivity across industries Continue Reading

Travel apps and online booking services that make it easy to book air tickets and customise travel plans are disrupting the travel market Continue Reading
View All Opinion
Videos : Mobile software
Inspiring the next generation of women in IT - Debbie Forster's talk at Computer Weekly's annual women in IT event

As technology becomes more embedded in business the IT function could become decentralised

In this video, Computer Weekly's Brian McKenna interviews Håkan Borglund, CIO, Toyota Materials Handling Europe
View All Videos