Download this free guide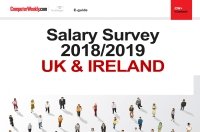 2018/19 UKI Salary Survey results - see how you compare
Read this e-guide for a snapshot of what IT professionals in the UK and Ireland are getting paid, as well as their attitudes towards work, training and future prospects.
In Depth : Information management
The sexist artificial intelligence recruitment debacle at Amazon should prove a blip as the technology gains ground in and for human resources departments Continue Reading

Facebook and other forms of social media were discussed at two linked events at the Oxford Science and Ideas Festival, alongside artificial intelligence and how it might augment humanity Continue Reading

Tableau's new Hyper data engine is designed to boost processing speeds in its BI and data visualization software. Making it work was a complicated process. Continue Reading
View All In Depth
Blog Posts : Information management
Oracle Open World 2018 seems a world away. Especially, when you have had a few days' furlough in between. Mark Hurd's second keynote at OOW convoked a common room of former spies from the US and UK ... Continue Reading

This is a guest blogpost by Julian Nolan, CEO, Iprova A technology revolution is taking place in the research and development (R&D) departments of businesses around the world. Driven by data, ... Continue Reading

This is a guest blogpost by Colin Elkins, global industry director, process manufacturing, IFS. Global food waste, or food loss as it is classified by growers and manufacturers, is around 1.3 ... Continue Reading
View All Blog Posts
Opinion : Information management
Oracle's database software is at the heart of its efforts to move users to its cloud. And that strategy might work, despite Oracle's inauspicious standing in the cloud now. Continue Reading

The announcement of high-profile members of the UK's Centre for Data Ethics and Innovation is another step for the government's commitment to be a global leader in AI, says secretary of state Continue Reading

The UK's retail and telecoms companies are among the best in the world at digital technology, but a survey of digital leaders shows there is still room for improvement for many UK firms Continue Reading
View All Opinion
Videos : Information management
Innovation driven by data analytics is important, not only to companies, but also to dogs waiting to be adopted in shelters. SAS best practices consultant Jill Dyché explains why.

Distributed data lakes with Hadoop clusters and other systems create new data management and governance needs that are hard to meet with existing tools, says IT analyst Mike Ferguson.

Gartner analyst Merv Adrian discusses why organizations often have trouble with deployments of Hadoop-based big data architectures, and how to avoid the challenges they pose.
View All Videos