Download this free guide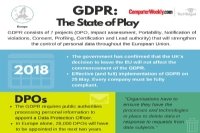 Infographic: GDPR - The State of Play
Get the latest information on how GDPR is going to affect your business and how to avoid any unwanted fines with this simple infographic.
In Depth : Information management
C-level executives organising digital transformation programmes prefer their suppliers to work as a single team. But it is not all plain sailing Continue Reading

Two Oracle experts discuss the tuning and monitoring capabilities of database performance management tools -- and the ongoing role that DBAs have to play in the process. Continue Reading

Aid workers in extreme situations don't always have stable access to the software they need over the cloud. Find out how they work around this Continue Reading
View All In Depth
Blog Posts : Information management
This is a guest blogpost by Colin Elkins, global industry director, process manufacturing, IFS. Global food waste, or food loss as it is classified by growers and manufacturers, is around 1.3 ... Continue Reading

This is a guest blog post by Savinay Berry, VP of Cloud Services at OpenText Microservices are an increasingly important way of delivering an alternative to traditionally large, complex and ... Continue Reading

This is a guest blogpost by Francois Ajenstat, Chief Product Officer, Tableau Data analysis is only as good as the quality of your data. Anyone who has ever analysed data knows that the information ... Continue Reading
View All Blog Posts
Opinion : Information management
Analyzing raw data has become a complex task that companies are often underprepared for as data sets continue to grow. Here's how to create smarter data processing techniques. Continue Reading

The European Court of Human Rights has made clear that the Snoopers' Charter is an unlawful violation of people's rights and freedoms Continue Reading

A user research manager at Tableau Software explains the import of an eye-tracking survey, focused on understanding how humans consume dashboards Continue Reading
View All Opinion
Videos : Information management
Innovation driven by data analytics is important, not only to companies, but also to dogs waiting to be adopted in shelters. SAS best practices consultant Jill Dyché explains why.

Distributed data lakes with Hadoop clusters and other systems create new data management and governance needs that are hard to meet with existing tools, says IT analyst Mike Ferguson.

Gartner analyst Merv Adrian discusses why organizations often have trouble with deployments of Hadoop-based big data architectures, and how to avoid the challenges they pose.
View All Videos