Download this free guide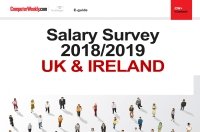 2018/19 UKI Salary Survey results - see how you compare
Read this e-guide for a snapshot of what IT professionals in the UK and Ireland are getting paid, as well as their attitudes towards work, training and future prospects.
In Depth : IT jobs and recruitment
Traditionally, a degree is the preferred route into the technology industry, but many now believe an apprenticeship may be a more valuable path into the sector Continue Reading

As companies continue apace with digital transformation, the need for ad hoc tech workers is growing. But traditional contracting is giving way to the looser idea of 'gigging' – and not just for low-level roles Continue Reading

Renowned entrepreneur and philanthropist Steve Shirley talks robots teaching children, and why Brexit has her "scared silly" Continue Reading
View All In Depth
Blog Posts : IT jobs and recruitment
GUEST BLOG: In this contributed blog post Byron Calmonson, director at the resourcing hub, discusses strategies for 'smart recruitment' and how this will contribute to a more diverse and inclusive ... Continue Reading

In this guest blog post Jenny Kelly, client relationship manager - business partner at Computer Futures, talks about how companies can increase diversity in their organisation and end the gender ... Continue Reading

Facing negative PR all around after announcing a strategic realignment that is to see 13,000 employees made redundant and the closure of its central London HQ after over 100 years, even the good ... Continue Reading
View All Blog Posts
Opinion : IT jobs and recruitment
Forthcoming changes to IR35 regulations will affect most private sector companies using IT contractors – so what do you need to do to prepare? Continue Reading

One of the newest Nobel economists has a theory, and if it's correct we'll all be in for a huge salary increase when the robots take over Continue Reading

Publication of gender pay gap figures for large organisations shows the tech sector has a long way to go to back up its rhetoric about equal opportunities Continue Reading
View All Opinion
Videos : IT jobs and recruitment
A panel of IT leaders discuss how they go about identifying the talent they need within their organisations

Ian Cohen, CIO, Addison Lee, deconstructs the idea of a skills crisis and discusses the new leadership and management models required to attract talent

In this video from Computer Weekly's 2017 diversity in technology event, a number of young people in the technology industry discuss their various routes in to tech and why the traditional path is not always the best.
View All Videos