IT for financial services

Download this free guide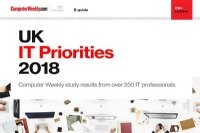 The future of UK tech: Cloudy with a chance of Artificial Intelligence
The forecast for the future is in and, in typical British fashion, it looks like it's going to be cloudy. Our IT Priorities survey has revealed that organisations are planning on making the most of the cloud in the future. Download our IT Priorities results for more insights into where the IT industry is going.
In Depth : IT for financial services
The predicted processing power of quantum computers is likely to make existing encryption algorithms obsolete. Quantum key distribution (QKD) is a possible solution - we investigate whether QKD is viable Continue Reading

Take-up of software-defined networking in corporates is slower than expected. Where have we reached on the journey to software-controlled networks – and SD-WAN in particular – becoming the norm? Continue Reading

Software-defined wide area networking is well on its way to being a multi-billion dollar market. We assess the current state of the market and look at some of the options for enterprise CIOs and network managers Continue Reading
View All In Depth
Blog Posts : IT for financial services
Rebuilding Society is a Leeds based fintech trying to offer SMEs access to better loans as well as selling its technology to organisations setting up crowdfuning initiatives Continue Reading

How a serial entrepreneur and a former soldier plotted to take on the car insurance price comparison sites Continue Reading

Virgin Money will be the next banking brand to be integrated into the CYBG digital platform Continue Reading
View All Blog Posts
Opinion : IT for financial services
What is the most practical and cost-effective way for organisations to identify and remediate high-risk software vulnerabilities? Continue Reading

More investment in the UK's broadband infrastructure is critical to ensure the UK's future success in technology in a post-Brexit world Continue Reading

Businesses are finding it hard to recruit enough people with big data and analytics skills, but for CIOs there are alternative strategies to consider Continue Reading
View All Opinion
Videos : IT for financial services
In this video we speak to Juniper Research about the findings from its latest research into the rollout of Blockchain

In this video John Finch, CIO of the Bank of England explains that for him, leading and energising his 450-strong workforce is the most important part of his role.

In this CW500 club video, Alex Kwiatkowski, Head of Financial Insights Europe, IDC discusses regulatory compliance and BYOD in the finance sector, as well as the challenges and benefits of managing mobility.
View All Videos