Information technology (IT) in Germany
Read the latest news and trends about information technology (IT) in Germany. Find valuable resources on IT management topics, including security, data storage, backup and recovery, networking, data centre, cloud computing, mobile technology, virtualisation, big data, virtual machines and more.

Download this free guide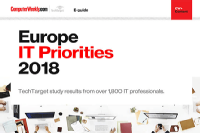 Europe's IT Priorities for 2018
In this e-guide we feature an analysis of the findings of a Computer Weekly/Tech Target pan-European survey of nearly 2000 IT decision makers.
In Depth : Information technology (IT) in Germany
The National Archives faces challenges converting the EU's enormous library of laws into a publicly accessible UK archive ahead of Brexit. The Archives' digital director, John Sheridan, explains how Continue Reading

Digital Career Institute is teaching refugees and unemployed people to do web development in Germany Continue Reading

The forthcoming General Data Protection Regulation (GDPR) will have wide-ranging implications for every organisation that processes personal data. This comprehensive overview tells you what you need to know Continue Reading
View All In Depth
Opinion : Information technology (IT) in Germany
A high-wire gamble with billions in compensation at stake for European internet users – part of a complex case between Facebook and the Irish information commissioner – hides challenge to the unlawfulness of US state internet surveillance Continue Reading

Can you imagine a future in which we can be secure online without having to remember an unwieldly list of passwords? Solutions are emerging that could make passwords redundant, but there will be other security problems to resolve Continue Reading

Half a century ago, Douglas Engelbart demonstrated an experimental computer that laid the foundations for modern computing. His vision to use computing power to solve complex problems in all areas of human activity has become reality, but not in the way that he imagined Continue Reading
View All Opinion
Videos : Information technology (IT) in Germany
Munich has saved €11m by moving to open source. Now, in a move seen as highly political, lord mayor Dieter Reiter is planning a return to Microsoft
View All Videos