Data quality management and governance

Download this free guide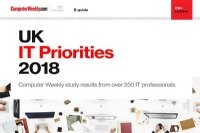 The future of UK tech: Cloudy with a chance of Artificial Intelligence
The forecast for the future is in and, in typical British fashion, it looks like it's going to be cloudy. Our IT Priorities survey has revealed that organisations are planning on making the most of the cloud in the future. Download our IT Priorities results for more insights into where the IT industry is going.
In Depth : Data quality management and governance
A slew of California-based startup and early-stage data analytics companies are promising CIOs better ways to get value from their investments in databases and analytics Continue Reading

There is stress as the EU's General Data Protection Regulation compliance deadline nears, but the GDPR privacy movement is a good thing for data policies, advises consultant Daragh O Brien. Continue Reading

Faced with the double whammy of complying with Australia's upcoming data breach notification requirement and Europe's new data protection regime, Australian firms are behind where they need to be in their compliance efforts Continue Reading
View All In Depth
Blog Posts : Data quality management and governance
This is a guest blogpost by Francois Ajenstat, Chief Product Officer, Tableau Data analysis is only as good as the quality of your data. Anyone who has ever analysed data knows that the information ... Continue Reading

This is a guest blogpost by Neo4j co-founder and CEO Emil Eifrem, who explains why his sector needs its own 'General Query Language'. In the same way that SQL helped facilitate the growth and ... Continue Reading

But what do people mean when they talk about cloud storage – and do they really know what it can do these days? Not so long ago, once you got beyond Dropbox, for most professional users cloud ... Continue Reading
View All Blog Posts
Opinion : Data quality management and governance
The UK's retail and telecoms companies are among the best in the world at digital technology, but a survey of digital leaders shows there is still room for improvement for many UK firms Continue Reading

A user research manager at Tableau Software explains the import of an eye-tracking survey, focused on understanding how humans consume dashboards Continue Reading

Hello, GDPR. May 25 is the witching hour for enforcement of the EU's much-discussed GDPR compliance requirements -- and it's a harbinger of more changes to come. Continue Reading
View All Opinion
Videos : Data quality management and governance
In this video Dave Ubachs, European CIO of Staples discusses the opportunities around big data and analytics, how can the CIO can drive value. He outlines why data visualisation and analytics are great opportunities for IT to move up the value chain, and how smart IT people can become data scientists and why are they are uniquely equipped to do so.

Computer Weekly's Cliff Saran speaks to Phil Young, head of online at TfL, about the re-engineered website, optimised for mobile access

Patrick DeKenipp, head of BI at Sterling National Bank, discusses how the Data Management Maturity Model can help companies improve their processes.
View All Videos