Data quality management and governance

Download this free guide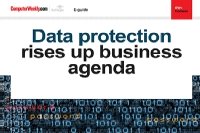 Data protection in post-Brexit Britain
Take a look at how the GDPR is driving data protection maturity around the globe and why leaving the EU will have serious implications for data protection in the UK.
In Depth : Data quality management and governance
Data models should be understandable to business users and kept to a reasonable scope, say the leaders of a data modeling initiative at England's Environment Agency. Continue Reading

A group of California-based startups and early-stage data management companies are promising CIOs ways to plug gaps in the data-to-insight value chain Continue Reading

Southern Water has centralised its data specialists and overhauled its data management and business intelligence technology to support business decision-making at scale Continue Reading
View All In Depth
Blog Posts : Data quality management and governance
This is a guest blogpost by Francois Ajenstat, Chief Product Officer, Tableau Data analysis is only as good as the quality of your data. Anyone who has ever analysed data knows that the information ... Continue Reading

This is a guest blogpost by Neo4j co-founder and CEO Emil Eifrem, who explains why his sector needs its own 'General Query Language'. In the same way that SQL helped facilitate the growth and ... Continue Reading

But what do people mean when they talk about cloud storage – and do they really know what it can do these days? Not so long ago, once you got beyond Dropbox, for most professional users cloud ... Continue Reading
View All Blog Posts
Opinion : Data quality management and governance
The UK's retail and telecoms companies are among the best in the world at digital technology, but a survey of digital leaders shows there is still room for improvement for many UK firms Continue Reading

A user research manager at Tableau Software explains the import of an eye-tracking survey, focused on understanding how humans consume dashboards Continue Reading

Hello, GDPR. May 25 is the witching hour for enforcement of the EU's much-discussed GDPR compliance requirements -- and it's a harbinger of more changes to come. Continue Reading
View All Opinion
Videos : Data quality management and governance
In this video Dave Ubachs, European CIO of Staples discusses the opportunities around big data and analytics, how can the CIO can drive value. He outlines why data visualisation and analytics are great opportunities for IT to move up the value chain, and how smart IT people can become data scientists and why are they are uniquely equipped to do so.

Computer Weekly's Cliff Saran speaks to Phil Young, head of online at TfL, about the re-engineered website, optimised for mobile access

Patrick DeKenipp, head of BI at Sterling National Bank, discusses how the Data Management Maturity Model can help companies improve their processes.
View All Videos