Data protection, backup and archiving

Download this free guide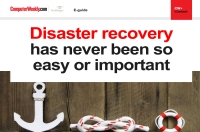 Hackers are stepping up their efforts, why aren't you?
We discuss why disaster recovery has never been more important. With digital transformation making most modern enterprises entirely dependent on their IT systems to function, cyber attackers have stepped up their capabilities to go after sensitive data wherever it is found.
In Depth : Data protection, backup and archiving
We look at the big five storage array makers' efforts to connect on-premise hardware with cloud storage and find automated tiering, on-ramps, and backup and archive capability Continue Reading

Self-encrypting drives are a cost-effective way to ensure compliance in certain situations. We look at self-encrypting drives, what they're good for and their limitations Continue Reading

We take a look at the considerations when devising an all-flash array storage strategy, and what enterprises can do to get the most out of the technology Continue Reading
View All In Depth
Blog Posts : Data protection, backup and archiving
The headline grabbers in storage are usually the quick – flash, NVMe etc – or the harbingers of the next generation, such as the cloud. But in some ways these are the extremes, the outliers. In ... Continue Reading

Had a great couple of online sessions recently with Joe Merces of the splendidly named CloudDaddy. The aim of CloudDaddy is to simplify one of the great pain points of IT (no, not repairing ... Continue Reading

A decade ago storage journalists were quite keen on a new technology around at the time. That was MAID – Massive Array of Idle Disks – which were basically disk-based backup target devices with ... Continue Reading
View All Blog Posts
Opinion : Data protection, backup and archiving
The next backup hardware you purchase will likely come with integrated backup software. That changes the buying dynamic and complicates the decision-making process. Continue Reading

IT departments' moves away from specialised skills to generalist skillsets are fuelling the rise of easy-to-use hyper-converged infrastructure and all-flash storage systems Continue Reading

Research study looks at the challenge of building a storage infrastructure to meet the rapidly changing needs of business Continue Reading
View All Opinion
Videos : Data protection, backup and archiving
Midverk IT manager Jon Helgason speaks to Computer Weekly's Cliff Saran about recovering from a party that brought down the company's datacentre

Making sense of storage in a big data world

One of the dilemmas of the modern CIO is the ever-expanding need for data storage.
View All Videos