Cloud applications
Organisations, both public and private, are turning to cloud computing applications, as they move their infrastructure to the cloud. Find out about SaaS and PaaS through news, features and expert advice. Learn how organisations are managing the complexity of hybrid cloud and on-premise applications, as well as private and public cloud applications.

Download this free guide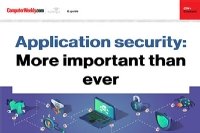 How to manage application security risks and shortcomings
In this e-guide, we look at why application security is more important than ever due to traditional software and cloud-based, web and mobile applications playing an increasingly important role in business.
In Depth : Cloud applications
IBM Cloud Europe general manager Sebastian Krause opens up about Big Blue's big bets on hybrid cloud, enterprise IT and why the public cloud market is not one it is interested in playing in Continue Reading

We look at how to build a multi-cloud storage strategy and benefits such as performance, availability and features, as well as potential limitations such as data mobility Continue Reading

Digital transformation is a multi-decade process for Shell, with artificial intelligence presenting the oil and gas giant with new opportunities to ramp up the productivity of its workforce, its CTO explains Continue Reading
View All In Depth
Blog Posts : Cloud applications
Last week's IP Expo at EXCEL wasn't all bad news; we escaped the first night into proper London, to a brewery disguised as a pig restaurant and then, naturally, to a (posh) curry house. Well, it is ... Continue Reading

This is a guest blog by Claudia Imhoff, CEO Intelligent Solutions and founder, Boulder BI Brain Trust Like any new initiative, there are both challenges and benefits to weigh when deciding whether ... Continue Reading

I recently caught up with Gary Turner, co-founder and managing of director of Xero. I was interested in meeting him as Xero has a reputation as the company that broke all the rules of ... Continue Reading
View All Blog Posts
Opinion : Cloud applications
Huawei is building a digital platform with "device-cloud synergy" to support artificial intelligence applications, but enterprises should be wary of being locked into a single AI stack Continue Reading

What criteria should organisations use to assess the security of smartphone messaging apps and how can they ensure only approved apps are used by employees? Continue Reading

Lauri Love should face trial over hacking allegations in a British Court, rather than be extradited to the US, where his extraordinary skills will be lost to society, says his younger sister Continue Reading
View All Opinion
Videos : Cloud applications
Mark Lockton-Goddard, former interim CIO, Drax Group, speaks to Computer Weekly about cloud maturity

By challenging AWS for public cloud business and adding SaaS modules for more specialized business needs, Oracle can legitimately claim to have a complete cloud offering.

Cloud computing and the internet of things will have a major impact on how security is implemented going forward.
View All Videos