Cloud applications
Organisations, both public and private, are turning to cloud computing applications, as they move their infrastructure to the cloud. Find out about SaaS and PaaS through news, features and expert advice. Learn how organisations are managing the complexity of hybrid cloud and on-premise applications, as well as private and public cloud applications.

Download this free guide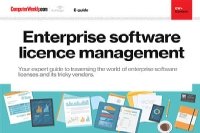 How to achieve a healthy, balanced relationship with your ERP provider
Download this e-guide to discover how the pendulum of power is swinging towards to the consumer and why many CIOs are prepared to walk away and re-implement a system using another provider's software rather than put up with aggressive licensing stances.
In Depth : Cloud applications
Small companies can often take advantage of public cloud storage offerings to supplement or replace on-premise infrastructure. We look at key options in file, block and object storage Continue Reading

In a Q&A, Oracle senior vice president Beth Boettcher details what's involved in meeting Soar's tight schedule. Get ready to leave those ERP customizations behind. Continue Reading

Making sense of who does what in the cloud, and which providers are the best fit for your business, can be a difficult process for enterprises to work through Continue Reading
View All In Depth
Blog Posts : Cloud applications
Many vendors will argue that moving to cloud brings consistency and simplicity, thanks to service-based delivery models, application access via standard Web browsers and so on. It's rarely true ... Continue Reading

On the face of it, cloud storage should be an ideal candidate for an "excess capacity", "sharing economy" business model. Otherwise termed "Uberization", we've seen the rise of apps and services ... Continue Reading

I remember long ago, in an unlikely setting for a bleeding-edge test-labs – an old winery surrounded by vines where the only "blood" came from crushed grapes – yes, my old French test labs, where ... Continue Reading
View All Blog Posts
Opinion : Cloud applications
Huawei is building a digital platform with "device-cloud synergy" to support artificial intelligence applications, but enterprises should be wary of being locked into a single AI stack Continue Reading

What criteria should organisations use to assess the security of smartphone messaging apps and how can they ensure only approved apps are used by employees? Continue Reading

Lauri Love should face trial over hacking allegations in a British Court, rather than be extradited to the US, where his extraordinary skills will be lost to society, says his younger sister Continue Reading
View All Opinion
Videos : Cloud applications
Mark Lockton-Goddard, former interim CIO, Drax Group, speaks to Computer Weekly about cloud maturity

By challenging AWS for public cloud business and adding SaaS modules for more specialized business needs, Oracle can legitimately claim to have a complete cloud offering.

Cloud computing and the internet of things will have a major impact on how security is implemented going forward.
View All Videos