Cloud applications
Organisations, both public and private, are turning to cloud computing applications, as they move their infrastructure to the cloud. Find out about SaaS and PaaS through news, features and expert advice. Learn how organisations are managing the complexity of hybrid cloud and on-premise applications, as well as private and public cloud applications.

Download this free guide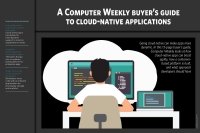 Computer Weekly's Buyer's Guide to Cloud-Native Applications
Join us in discovering how cloud-native apps can boost agility, how a container-based platform is built and what approach developers should have.
In Depth : Cloud applications
We survey the big five storage hardware makers' cloud offerings. Virtual storage appliances available range from storage and backup/data protection to nothing at all Continue Reading

The National Archives faces challenges converting the EU's enormous library of laws into a publicly accessible UK archive ahead of Brexit. The Archives' digital director, John Sheridan, explains how Continue Reading

The cloud seems to lend itself to use as a storage location. There are lots of bumps in the road, however, and hybrid cloud should be a key medium-term aim for organisations Continue Reading
View All In Depth
Blog Posts : Cloud applications
This is a guest blog by Claudia Imhoff, CEO Intelligent Solutions and founder, Boulder BI Brain Trust Like any new initiative, there are both challenges and benefits to weigh when deciding whether ... Continue Reading

I recently caught up with Gary Turner, co-founder and managing of director of Xero. I was interested in meeting him as Xero has a reputation as the company that broke all the rules of ... Continue Reading

It's a truism that IT essentially reinvents itself every decade or so. In some ways this can be rightly seen as a cynical way to repackage the same old tosh and sell it again to confused.com IT ... Continue Reading
View All Blog Posts
Opinion : Cloud applications
Huawei is building a digital platform with "device-cloud synergy" to support artificial intelligence applications, but enterprises should be wary of being locked into a single AI stack Continue Reading

What criteria should organisations use to assess the security of smartphone messaging apps and how can they ensure only approved apps are used by employees? Continue Reading

Lauri Love should face trial over hacking allegations in a British Court, rather than be extradited to the US, where his extraordinary skills will be lost to society, says his younger sister Continue Reading
View All Opinion
Videos : Cloud applications
Mark Lockton-Goddard, former interim CIO, Drax Group, speaks to Computer Weekly about cloud maturity

By challenging AWS for public cloud business and adding SaaS modules for more specialized business needs, Oracle can legitimately claim to have a complete cloud offering.

Cloud computing and the internet of things will have a major impact on how security is implemented going forward.
View All Videos