News
BBC News Navigation
Sections
US & Canada
US & Canada
New York attack: Eight killed by man driving truck
Related Topics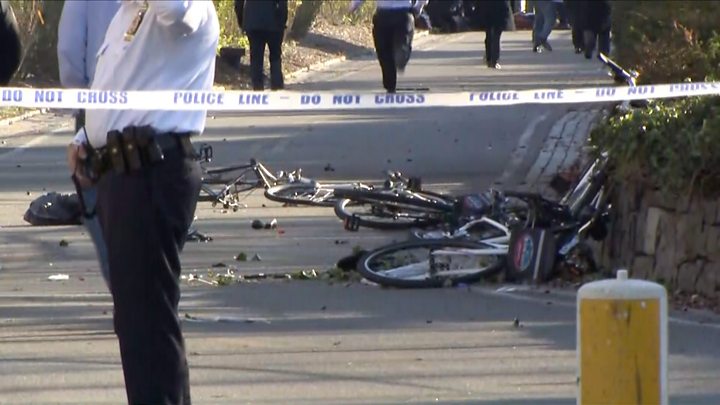 Media playback is unsupported on your device Media captionNew York terror attack: How the events unfolded
At least eight people have been killed and 11 seriously hurt in New York after the driver of a truck mowed down people on a cycle path in Lower Manhattan.
A 29-year-old man who emerged from the white pick-up truck was shot by a police officer and arrested. Officials later said it was a terror attack.
Media named him as Sayfullo Saipov, an immigrant who came to the US in 2010.
A note was found in the truck that referred to so-called Islamic State, a law enforcement source told CBS News.
Image copyright CBS Image caption US media identified the suspect as Sayfullo Saipov seen in this 2016 photo
The suspect - who had apparently settled in Florida - was taken to hospital.
New York City Mayor Bill de Blasio said it was a "cowardly act of terror aimed at innocent civilians".
He added: "We know that this action was intended to break our spirit. But we also know that New Yorkers are strong, New Yorkers are resilient and our spirit will never be moved by an act of violence and an act meant to intimidate us."
President Donald Trump tweeted: "My thoughts, condolences and prayers to the victims and families of the New York City terrorist attack. God and your country are with you!"
New York Police Department (NYPD) Commissioner James O'Neill said the injured had "serious but non-life threatening injuries".
He described what had occurred, based on the latest information he had received:
Shortly after 15:00 local time (19:00 GMT), a vehicle rented from retailer Home Depot struck cyclists and pedestrians while being driven along the West St-Houston St path for many blocks
The vehicle then hit a school bus, injuring two adults and two children on board, and came to a halt
The driver emerged holding what appeared to be two handguns and made a statement "consistent with a terror attack"
He was shot in the abdomen by a police officer stationed near the scene
A paintball gun and a pellet gun were recovered from the scene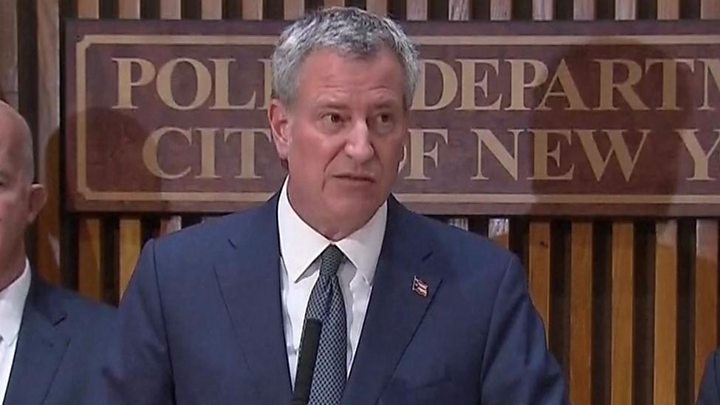 Media playback is unsupported on your device Media caption'We will be undeterred' by the attack says NYC Mayor Bill de Blasio
"The dead and injured were just going about their days, heading home from work or from school or enjoying the afternoon sun on their bicycles," the commissioner said.
"This is a tragedy of the greatest magnitude for many people, for many families here in New York and beyond today."
Image Copyright @realDonaldTrump @realDonaldTrump
Report
Mangled bicycles littered the scene of the attack, which occurred as much of the city was celebrating Halloween.
One witness, identified as Eugene, told ABC Channel 7 that he saw the white pick-up truck driving fast down the cycle path alongside the West Side Highway, near Stuyvesant High School, at full speed and hitting a number of people.
He also reported hearing about nine or 10 shots.
Image copyright Reuters
Another witness, who gave his name as Frank, told local TV network NY1 that he had seen a man running around an intersection and heard five to six gunshots.
"I saw he had something in his hand, but I couldn't tell what it was. But they said that it was a gun...
"When the cops shot him, everybody started running away and it got a little bit crazy right there. So when I tried to look again, the guy was already down."
President Donald Trump had been briefed on the incident, the White House said.
In separate tweets, he said:
"In NYC, looks like another attack by a very sick and deranged person. Law enforcement is following this closely. NOT IN THE U.S.A.!"
"We must not allow ISIS [Islamic State] to return, or enter, our country after defeating them in the Middle East and elsewhere. Enough!"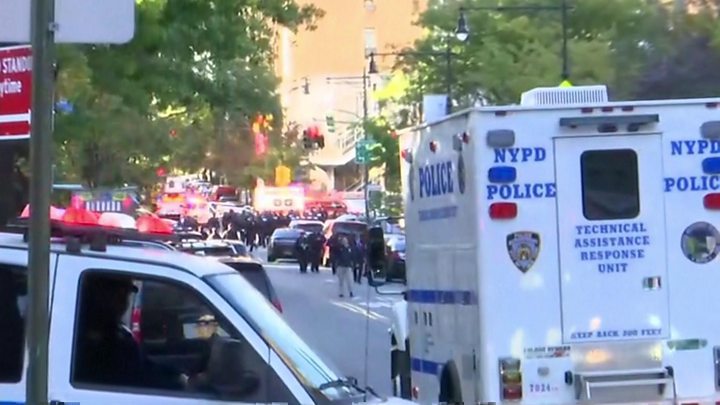 Media playback is unsupported on your device Media captionEmergency services on the scene of the attack
---
Piecing the evidence together
By Nick Bryant, BBC News, New York
At the moment the New York authorities are saying that it was a lone wolf, that the attack wasn't part of a wider conspiracy or plot.
But this is an active crime scene at the moment and they are still trying to piece together precisely what happened.
The attack happened on Halloween, one of the most festive days in the New York calendar.
The pavements were crowded with kids in costumes and there are still children trick-or-treating just yards away - it's a bizarre scene.
But it shows how New York absorbs this kind of thing.
We are just yards from Ground Zero, a site which reminds all New Yorkers of that awful day back in 2001. It didn't take police long to confirm that the city had once again been the target of terror.
Related Topics
Top Stories
Russia vows to prevent Turkey-Syria clashes

Moscow says it will not allow fighting between the two, amid Turkey's offensive in northern Syria.

15 October 2019
Joe Biden's son defends foreign dealings 15 October 2019
What can these caps tell us about children and race? 15 October 2019
Features
The Nobel couple fighting poverty cliches
Elton John: 'I still want my dad's approval'
Bulgarian football and its problem with racism
The day that millions of Americans marched
Tempers fray as Spain is pitched into new Catalan crisis
Video
Why Romania is importing waste
A taste of the Lone Star state
Disastrous moment for US policy in Mid-East
Where ATMs are unknown and Sim cards are like gold dust
Elsewhere on the BBC
Football phrases
15 sayings from around the world
Full article Football phrases
Why you can trust BBC News
BBC News Navigation
BBC News Services