News
BBC News Navigation
Sections
Latin America & Caribbean
Latin America & Caribbean
Mexico City stages first Day of the Dead parade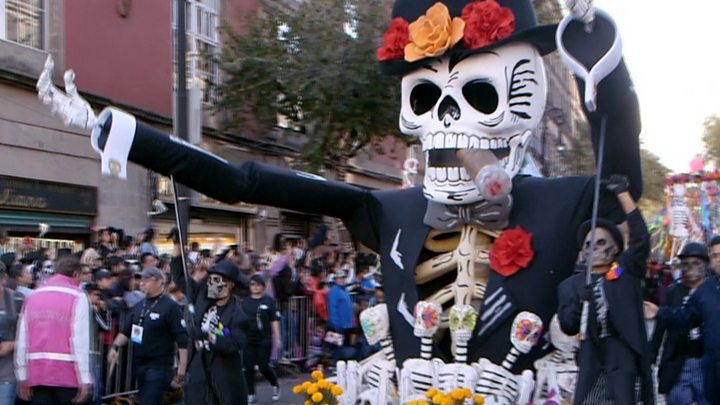 Media playback is unsupported on your device Media captionGiant marionettes and hundreds of performers created the Mexico City spectacle
Mexico City has held its first Day of the Dead parade, complete with floats, giant marionettes and hundreds of dancers and performers.
Mexican tourism officials say the inspiration came from the opening scenes in last year's James Bond film, Spectre, which was shot in the city.
Bond is seen chasing a villain through crowds watching a parade of people in skeleton outfits.
It is hoped the new parade will attract more tourists to the city.
Mexicans traditionally celebrate the Day of the Dead with a family picnic beside their relatives' graves or in front of a decorated shrine at home.
But Lourdes Berho, chief executive of the Mexico Tourism Board, said Spectre had created "expectations that we would have something".
"We knew that this was going to generate a desire on the part of people here, in Mexicans and among tourists, to come and participate in a celebration, a big parade," she said.
About 135,000 people were expected to attend the parade.
Image copyright AP Image caption Parades have never been part of traditional Day of the Dead celebrations Image copyright AP Image copyright AP Image copyright AP Image copyright AP
Related Topics
More on this story
Top Stories
Melania Trump calls for child migrant action

The US first lady says she "hates to see" hundreds of child migrants separated from their parents.

18 June 2018
Taliban ends truce despite pleas 17 June 2018
Conservative elected Colombia president 18 June 2018
Features
Inside the North Korean place that 'doesn't exist'
The untold good news story of America today
Video
If a house costs too much, how about half instead?
Inside the Arab world's 'only gay radio station'
Video
A fishy dish - with a side of plastic
Why you should always wear trainers to work
Video
Why Kenyan school children say 'no', loudly
Video
'I spend 20 plus hours a week gaming'
'The day I was diagnosed was the worst of my life'
Why you can trust BBC News
BBC News Navigation
BBC News Services