News
BBC News Navigation
Sections
Latin America & Caribbean
Latin America & Caribbean
Argentina ex-minister arrested over cash bags at monastery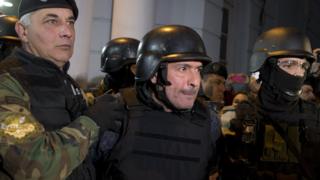 Image copyright AP Image caption Jose Lopez, centre, was taken from a police station under armed guard, wearing a helmet and bulletproof vest to protect him from possible attacks by anyone wanting to target him
An ex-government minister in Argentina has been arrested after he was allegedly seen trying to hide millions of dollars in cash in a monastery.
Officials said the police were called after nuns working at the religious community near Buenos Aires saw a man throw plastic bags over a wall.
Jose Lopez was the public works minister in the former government of Cristina Fernandez de Kirchner.
Judges have been investigating several former officials for money-laundering.
Mr Lopez was initially detained at the Our Lady of the Rosary of Fatima religious community around 55km (35 miles) west of the capital Buenos Aires for illegal possession of a .22 calibre rifle.
Police then discovered wads of cash in several currencies as well as watches in packages inside the bags.
Local media say around $7m were found in dollars, yen, euros and other currencies.
Image copyright AP Image caption Wads of bank notes were found in the boot of a car Mr Lopez had allegedly driven Image copyright AFP Image caption Jose Lopez served as a minister of public works in the government of Cristina Fernandez de Kirchner
More money was found by the police in the car in which Mr Lopez had been travelling.
The Buenos Aires provincial security chief, Cristian Ritondo, said Mr Lopez was now being investigated for money laundering.
"He was caught red-handed with six bags, a suitcase, a weapon and he was later identified as a Public Works Minister, Jose Lopez, from the previous government," said Mr Ritondo.
"This person was arrested, in principle, for carrying a weapon. Now he is being detained for possible money laundering or suspected money laundering."
After being questioned at a police station in Buenos Aires, Mr Lopez was pictured being taken away under armed guard, wearing a helmet and a bulletproof vest.
Correspondents say since Cristina Fernandez ended her term in December, the administration of President Mauricio Macri has promised to root out corruption.
"It's almost out of a movie,'' said Marcos Pena, President Macri's Cabinet chief.
"We're shocked because it's not a minor official. He led public works... where we saw so much daily corruption.''
Related Topics
More on this story
Top Stories
Russia vows to prevent Turkey-Syria clashes

Moscow says it will not allow fighting between the two, amid Turkey's offensive in northern Syria.

15 October 2019
Top Trump aide 'called Giuliani a hand grenade' 15 October 2019
Bulgarian football chief resigns after racism row 15 October 2019
Features
The Nobel couple fighting poverty cliches
Elton John: 'I still want my dad's approval'
Tempers fray as Spain is pitched into new Catalan crisis
The day that millions of Americans marched
Video
Why Romania is importing waste
Disastrous moment for US policy in Mid-East
A taste of the Lone Star state
Where ATMs are unknown and Sim cards are like gold dust
EU mulls new summit to 'get Brexit deal done'
Elsewhere on the BBC
Football phrases
15 sayings from around the world
Full article Football phrases
Why you can trust BBC News
BBC News Navigation
BBC News Services