News
BBC News Navigation
Sections
UK
UK
Birthday Honours 2018: Kenny Dalglish and Emma Thompson head list
Related Topics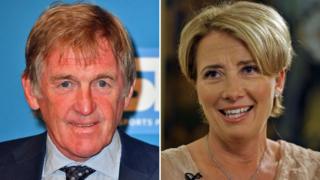 Image copyright PA. BBC
Former Liverpool manager Kenny Dalglish has been knighted and actress Emma Thompson made a dame in the Queen's Birthday Honours list.
Lizzy Yarnold, who won Winter Olympic gold, and heavyweight boxing champion Anthony Joshua are appointed OBEs.
There is also a damehood for classics professor Mary Beard and a knighthood for Japan-born author Kazuo Ishiguro.
Network Rail boss Mark Carne is appointed a CBE in the week his firm was criticised for railway disruption.
An OBE for Pirates of the Caribbean star Keira Knightley is for services to drama and charity, while the same honour goes to footballer Jermain Defoe for his work to support underprivileged children.
The MBEs include the oldest person on the list, Rosemary Powell, 103, who last month retired from selling poppies in London after 97 years.
Image copyright PA Image caption Jennifer Kehoe and Menna Fitzpatrick's honours follow their four Winter Parlaympic medals each
Sir Kenny, 67, started his career as a player at Celtic before moving to Liverpool in 1977, where he was part of European Cup and league title-winning squads.
As manager, he secured three titles and was coach at the time of the Hillsborough stadium disaster in 1989, in which 96 fans died.
Capped for Scotland 102 times, "King" Kenny's knighthood is for services to football, charity and the city of Liverpool, and recognises the support he gave to the Hillsborough families in their fight for justice.
He said he was "hugely proud" to receive the honour, adding: "I've been fortunate somebody in their wisdom - or maybe people will say lack of wisdom - put my name forward and thought it was a fine tribute to myself and the whole family."
Hillsborough campaigner Margaret Aspinall, whose son James died in the disaster, called Sir Kenny "a great statesman", adding: "He's everything that a person should be. From a King to a Sir, rightly so."
Image copyright PA Image caption Sir Kenny said of his honour: "If they think that, I might not agree with it but I'm not going to argue with it."
Dame Emma, the only person to have won Academy Awards for both acting and writing, is described in her citation as one of the most versatile and celebrated actresses.
Historian and Cambridge University professor Dame Mary Beard tweeted she was "hugely pleased", adding it was an honour "for all who explore the ancient world".
Skip Twitter post by @wmarybeard
thanks all. I'm hugely pleased to have been made Dame. sure there are things I worry about (empire? ), and I expect a twitter torrent; but i am still pleased that studying classical civilisation can make you Dame. Happy. It's an honour for all who explore the ancient world

0

— mary beard (@wmarybeard) June 8, 2018
Report
End of Twitter post by @wmarybeard
She told BBC Breakfast that she feels "dead chuffed" along with feeling "a sense of disbelief" - and she was up late last night celebrating.
"It's an honour for me but an honour for the ancient Greeks and Romans too and for all my colleagues who work on classical civilisations," she said. "What's not to like?"
She said her family have joked whether she has been made a "pantomime dame", with her husband telling her: "You must be Buttons."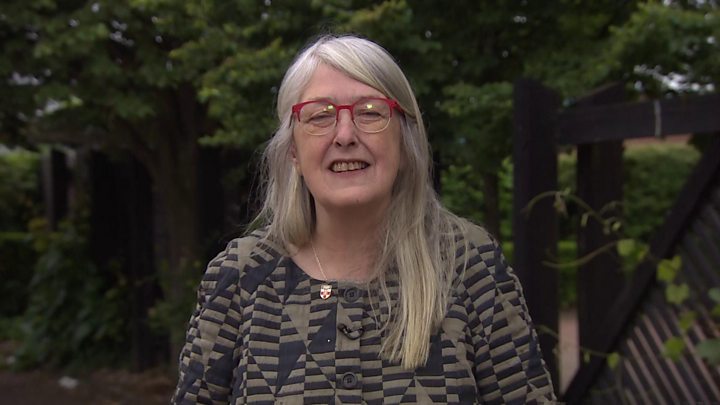 Media playback is unsupported on your device Media captionDame Mary Beard says she does not know who put her name forward for an honour
Mark Carne's CBE for services to the rail industry was likened by a union boss to "rewarding the captain of the Titanic" and attracted criticism from a Labour backbencher. It comes after Transport Secretary Chris Grayling blamed chaos across two franchises on delays in Network Rail's work schedule.
The Department for Transport said the timing of the announcement was "unfortunate" but should not detract from Mr Carne's four years at the company as it moved back into public control and oversaw a massive programme of modernisation.
Liberal Democrat MP Tim Farron said Mr Carne's CBE was a "slap in the face to millions of travellers up and down the country", while MP Lisa Nandy said it "makes a complete mockery of the government's commitment to hold accountable those responsible for the misery on our railways".
Image copyright PA Image caption Mark Carne is stepping down from Network Rail after four years
In total 1,057 people are on the honours list - 71% for work in or for their community. A separate military division of the list recognises 111 service personnel.
There are British Empire Medals for a volunteer with the Swansea Samaritans, William Jenkins, and Robert Charleston, a volunteer rescue officer for St Ives Coastguard. Akeela Ahmed - whose She Speaks, We Hear charity works with Muslim women in London - becomes an MBE.
Honours list officials say women at the "forefront of their professions or who have championed women's rights" have been given honours in the 100th anniversary year of women's suffrage. Almost half the recipients are women, although they only receive 41% of the honours at the highest levels, CBE or above.
Other new dames include Royal Mail chief executive Moya Greene and Frances Saunders, an engineer who has championed diversity within the science and technology sector.
Image copyright PA Image caption Mobo's founder Kanya King and former University Challenge host Bamber Gascoigne become CBEs
There are CBEs for Brenda Trenowden from the 30% Club, which aims to increase female representation on boards; Margaret Casely-Hayford, a lawyer and businesswoman, for her services to charity and promoting diversity, and Kanya King, the founder of the Mobo music awards. Kath Moore, who encourages women into the construction industry, becomes an MBE.
Tim Waterstone, founder of the Waterstones book chain, is among the new knights, alongside historian and broadcaster Simon Schama, baritone Simon Keenlyside and Prof James Hough from Glasgow University, whose hunt for gravitational waves is seen as one of the biggest scientific breakthroughs of recent decades.
In the year he was revealed to be Britain's richest man - with a £21bn fortune - there is a knighthood for Jim Ratcliffe, chief executive of chemical group Ineos, for services to business and investment.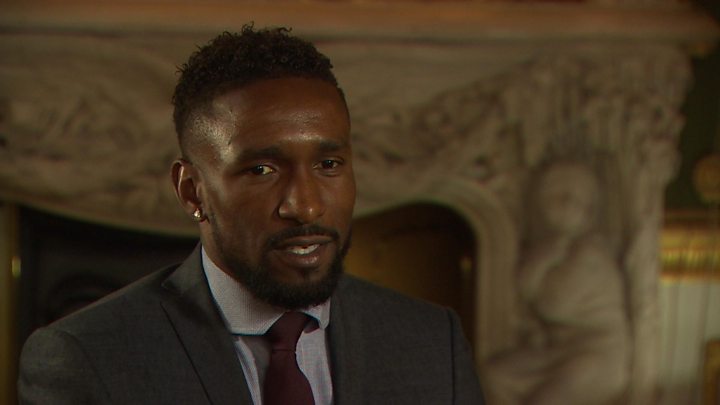 Media playback is unsupported on your device Media captionDefoe: I'm truly humbled'
The sporting OBEs also include Richard Leman, the Olympic hockey gold medallist from 1988 who became a businessman and sporting executive; Lucinda Russell, trainer of the 2017 Grand National winner One For Arthur, and Roisin Wood, chief executive of footballing anti-racism campaign Kick It Out.
England forward Jermain Defoe dedicated his OBE to his "best friend" Bradley Lowery, who died last year aged six from neuroblastoma, a rare form of cancer.
Team GB's success at the Winter Olympics and Paralympics also sees MBEs for Menna Fitzpatrick and her sighted guide Jennifer Kehoe, who won four medals each, and an OBE for the squad chief Michael Hay.
Image copyright Reuters Image caption Anthony Joshua's OBE comes in the year he added the WBO crown to his WBA, IBF wins
Simon Munn, who appeared seven times for Team GB in Paralympics Wheelchair Basketball, becomes an MBE, as does equestrian William Fox-Pitt, ex-Northern Ireland women's football international Sara Booth, and Wales international Jess Fishlock, whose honour is for services to football and the LGBT community.
From the arts world, actor Tom Hardy becomes a CBE, alongside authors Ken Follett and Jeanette Winterson. Jazz musician Julian Joseph and Rose Wylie are OBEs, and Lubaina Himid - 2017's Turner Prize winner - is made an MBE.
Image copyright PA Image caption Keira Knightley and Tom Hardy are among the film and stage stars on the list
There are MBEs for Niomi McLean-Daley - AKA the rapper Ms Dynamite - and the actor Gary Wilmot.
Veteran Carry On actress Fenella Fielding, 90, is recognised with an OBE for services to drama and charity.
Soprano Dame Kiri Te Kanawa joins the elite Companions of Honour.
Someone who will not be a stranger to the surroundings of an honours investiture ceremony is Lucy Worsley, the broadcaster, historian and chief curator of Historic Royal Palaces, who becomes an OBE for services to history and heritage.
Former University Challenge host Bamber Gascoigne becomes a CBE for services to the arts, and TV gardener Monty Don's OBE is for services to horticulture, broadcasting and charity.
The creator of the animation series Dangermouse, Brian Cosgrove, is made an OBE. Timothy Bentinck - David Archer in Radio 4's The Archers - said he was "astonished and humbled" by his MBE for services to drama.
Image caption Stacey Dooley becomes an MBE for services to broadcasting
There is a CBE for the BBC's former chief news correspondent Kate Adie and MBE for documentary presenter Stacey Dooley, known for her BBC Three investigations.
Tim Davie, chief of BBC Studios, the corporation's commercial arm, becomes a CBE for services to international trade.
Image copyright PA Image caption Louise Ellman and Bernard Jenkin are among three MPs on the list
From the political arena, Eleanor Laing, Conservative MP for Epping Forest, and Labour's Louise Ellman, MP for Liverpool Riverside, are made dames, and Bernard Jenkin, Tory MP for Harwich and North Essex is knighted.
There is a knighthood for Mark Rowley, former Met Police assistant commissioner who led the response after last year's London terror attacks. A CBE for Dee Collins, Chief Constable of West Yorkshire Police is for her service in the police and the British Association of Women in Policing.
Ben Helfgott, who has used his public profile as a Holocaust survivor to promote community cohesion, is knighted, and Albania-based Sister Imelda Poole, president of European anti-trafficking network Renate, is made an MBE for combating modern slavery.
The brother of aid worker David Haines, who was killed by the Islamic State group in Syria in 2014, is made an OBE. Mike Haines campaigns to promote tolerance across all faiths and has addressed school pupils across the country.
Image copyright Royal British Legion,PA Image caption Rosemary Powell, 103, who retired from selling poppies after 97 years, is the oldest person on the list
The founders of three beauty brands are on the list. Jo Malone becomes a CBE for services to the economy and the GREAT Britain investment campaign. There are MBEs for Charlotte Tilbury, and Judy Naake, founder of St Tropez self-tanning products.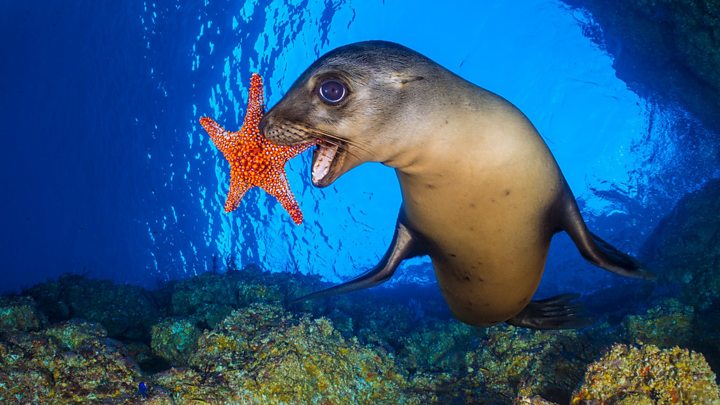 Media playback is unsupported on your device Media captionUnderwater photographer Alex Mustard receives MBE
Molecular biologist Richard Henderson, who shared the Nobel Prize in Chemistry in 2017, joins the Companions of Honour and Oxford University professor Angela McLean, a leader in modelling the growth of viruses within individuals is made a dame.
A damehood goes to NHS England chief scientific officer Prof Sue Hill. Veronica Donovan, a consultant midwife from Birmingham, and Kathryn Halford, chief nurse at Barking, Havering and Redbridge University Hospitals, become OBEs.
The honours system
Image copyright PA
Companion of Honour - Recipients wear the initials CH after their name. Limited to 65 people
CMG - Order of St Michael & St George
Knight or Dame
CBE - Commander of the Order of the British Empire
OBE - Officer of the Order of the British Empire
MBE - Member of the Order of the British Empire
BEM - British Empire Medal
Get news from the BBC in your inbox, each weekday morning
The best way to get news on the go
Download the BBC News App.
Related Topics
More on this story
Top Stories
Epstein ex-girlfriend Ghislaine Maxwell arrested by FBI

She faces charges including conspiracy to entice minors to travel to engage in illegal sex acts.

2 July 2020
US firms create record 4.8 million jobs in June 2 July 2020
Education secretary details England's school reopening plan 2 July 2020
Features
Why people are scared of Hong Kong's new law
Video
Why Texas is seeing a coronavirus surge
The satirist who vanished in broad daylight
The fashion labels whose clothes are made by prisoners
The singer whose murder sparked Ethiopia protests
The 'quacks' guarding villages against Covid-19
Why floods laid waste to so much of Ukraine
How 'immunity passports' could create an antibody elite
Video
'My sexuality is not a sickness'
Elsewhere on the BBC
Football phrases
15 sayings from around the world
Full article Football phrases
Why you can trust BBC News
BBC News Navigation
BBC News Services