News
BBC News Navigation
Sections
Europe
Europe
Famed German composer Hans Werner Henze dies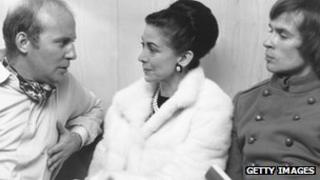 Image caption Henze composed for the Royal Ballet featuring dancers Margot Fonteyn and Rudolf Nureyev
Celebrated German composer Hans Werner Henze has died at the age of 86, his publisher Schott Music has said.
"Hans Werner Henze, one of the most versatile and influential composers of our time has died," Schott said in a statement on its website.
He died in Dresden on Saturday, it said.
One of the most influential composers of the late 20th century, Henze wrote 10 symphonies and was especially known for his works for music theatre.
He was noted for his many operas and ballets, and for a commitment to political art, which informs much of his work.
Born on 1 July 1926 in Guetersloh, Germany, the son of a schoolteacher, Hans Werner Henze was initially educated at schools with a socialist outlook.
But, following the Nazi Party's ascent to power in 1933, he lived a dual life. While dutifully studying the official curriculum at school, he also played chamber music at a partly Jewish family house and there steeped himself in proscribed literature.
Henze's father was killed on the Eastern Front and Hans was conscripted into the army in 1944, ending the war in a British prisoner-of-war camp. His experiences left Henze with a lifelong hatred of fascism.
More on this story
Top Stories
Trump backs Saudi Arabia despite murder

The president points to Saudi investments in the US amid anger over Jamal Khashoggi's murder.

20 November 2018
RBS customer lost thousands in scam 21 November 2018
US hints at evicting China from WTO 21 November 2018
Features
Kuenssberg: Still time for nips and tucks to EU deal?
Analysing Trump's Saudi statement line by line
'Why I send photos of my genitals to women'
The blue plaque names you may not know
Meet the woman 'more powerful than Adele'
The crunch of an apple makes me want to run away
Brexit blind dates: Prof Lord Winston and Aisleyne Horgan-Wallace
Video
Downing Street cat gets a helping hand
Can you be 'employed' for one hour's work?
Elsewhere on the BBC
Step back in time
Whizz back to 1989 with Rylan-Clark Neal
Full article Step back in time
Daily news briefing direct to your inbox
Sign up for our newsletter
Full article Daily news briefing direct to your inbox
Why you can trust BBC News
BBC News Navigation
BBC News Services