News
BBC News Navigation
Sections
India
India
Diplomatic bag contents revealed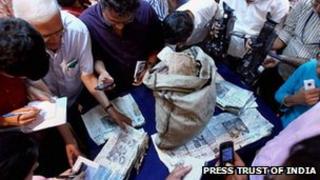 Image caption The bag has newspapers and calendars from 1966 and a personal letter
The contents of an Indian diplomatic bag found in the French Alps, close to where an Air India plane crashed 46 years ago, have been revealed.
The jute bag, weighing about 9kg (19.8lb), contained newspapers, calendars and a personal letter.
A mountain rescue worker and his neighbour recovered the jute bag after some tourists spotted it on a glacier.
The Air India plane flying from Mumbai to New York crashed January 24 1966. All 117 people on board died.
Among the passengers was top nuclear scientist Homi J Bhabha, known as the "father" of India's nuclear programme.
The bag has been opened in the Indian capital, Delhi, and copies of Hindustan Times, The Statesman and The Hindu newspapers, 1966 calendars and a letter addressed to the then Indian consul general in New York CJK Menon have been recovered.
The bag has markings saying "Diplomatic mail" and "Ministry of External Affairs", as the foreign ministry is called in India and did not have any classified material in it.
It was recovered by mountain rescue worker Arnaud Christmann and his neighbour Jules Berger on 21 August from Mont Blanc and handed over to the police in Chamonix town at the base of the mountain.
More on this story
Related Internet links
The BBC is not responsible for the content of external Internet sites
Top Stories
Trump sides with Russia against FBI

The US president contradicts intelligence agencies over claims of interference in the US election.

16 July 2018
Brexiteers' Customs Bill changes accepted 16 July 2018
British caver 'could sue' Elon Musk 16 July 2018
Features
The boy who wrote his own obituary
Spice taskforce 'saved my life'
'I had to make my kidnapper fall in love with me'
Alexa, are you friends with our kids?
Reality Check: How would the UK hold a second EU referendum?
Video
Inside Syrian rebels' tunnel network
How two strangers set up Dropbox and made billions
Video
Macron dabs with French players
Does Love Island have a diversity problem?
Elsewhere on the BBC
Packing hacks
Try these savvy suitcase tips this holiday season
Full article Packing hacks
Daily news briefing direct to your inbox
Sign up for our newsletter
Full article Daily news briefing direct to your inbox
Why you can trust BBC News
BBC News Navigation
BBC News Services