News
BBC News Navigation
Sections
Tayside and Central Scotland
Tayside and Central Scotland
Peter Pan sculpture to be auctioned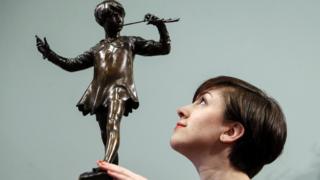 Image copyright PA Image caption The sculpture will be auctioned by Lyon and Turnbull in Edinburgh
A rare bronze sculpture of children's favourite Peter Pan is expected to fetch up to £30,000 at auction.
The figure is a smaller version of the statue which appeared one night in London's Kensington Gardens in 1912.
Scottish author J M Barrie himself commissioned the statue by sculptor Sir George Frampton.
Valued at between £20,000 to £30,000, the bronze replica - which was cast in 1920 - will be sold at Lyon and Turnbull in Edinburgh on Wednesday.
The anonymous seller said: "We are sorry to part with this beautiful statue - it has been in my family for nearly 100 years.
"We hope that it will be as loved by its new owners as much as it was by us."
Barrie, who was born in Kirriemuir, Angus, first used Peter Pan as a character in The Little White Bird (1902) and returned to him in a later stage play before expanding the story to produce the 1911 novel Peter and Wendy.
Image caption The sculpture is a smaller version of the statue of Peter Pan which is in Kensington Gardens in London
The original statue appeared in public with an announcement in The Times newspaper which read: "There is a surprise in store for the children who go to Kensington Gardens to feed the ducks in the Serpentine this morning...
"A May-day gift by Mr J M Barrie, a figure of Peter Pan blowing his pipe on the stump of a tree, with fairies and mice and squirrels all around.
"It is the work of Sir George Frampton and the bronze figure of the boy who would never grow up is delightfully conceived."
John Mackie, head of decorative arts at Lyon and Turnbull, said: "This famous statue is held in great affection all over the world - it is the iconic image of the boy who never grew up and a very beautiful work of art."
A house in Dumfries which helped inspire the Peter Pan story is to be converted into a national centre for children's literature.
Barrie moved to Dumfries in 1873 at the age of 13 and credited the "enchanted land" at Moat Brae, where he played, as being the basis for the story.
At one point the house was facing demolition but finance has come from the Heritage Lottery Fund, Creative Scotland and Dumfries and Galloway Council.
The conversion is due to be completed in 2018.
Related Topics
More on this story
Related Internet links
The BBC is not responsible for the content of external Internet sites
Top Stories
Easter can't be normal, Britons told

Ministers urge people to keep up coronavirus distancing as the PM begins his recovery in hospital.

10 April 2020
Christians face Good Friday on virus lockdown 10 April 2020
EU agrees €500bn coronavirus rescue package 10 April 2020
Features
The people fighting viral fakes from their sofas
Video
Love and dating during coronavirus
Doctor: 'The most urgent research race in living memory'
It looked so good for Sanders. What went wrong?
Video
Seven people stuck in a lift. Then one coughs...
'I'm happy Cadet finally got recognition before he died'
Video
Passover, Ramadan and Easter: How to celebrate without leaving home
Quiz of the week: On the loss of a Bond girl, and more
Laura Marling: 'I was in danger of being bored of myself'
Elsewhere on the BBC
Relationships in isolation
Nine tips for couples living together
Full article Relationships in isolation
Daily news briefing direct to your inbox
Sign up for our newsletter
Full article Daily news briefing direct to your inbox
Why you can trust BBC News
BBC News Navigation
BBC News Services