News
BBC News Navigation
Sections
Sheffield & South Yorkshire
Sheffield & South Yorkshire
New Rotherham United stadium hosts first football match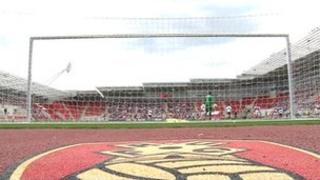 Image caption Rotherham United's New York Stadium occupies the site of a former foundry
Rotherham United has played its first game at its new home - the £17m New York Stadium.
The Millers won 2-1 against Barnsley in a pre-season friendly match on Saturday.
The 12,000-seat venue is yet to be fully completed with the capacity reduced to half as flood prevention works continue, the club said.
Chief executive Paul Douglas said fans would however be impressed despite the reduced facilities.
"We've made our fans aware about the ongoing works and issues, and I don't think a couple of kiosks not being opened is a major issue at all," he said.
"It was always going to be a half-capacity for this first game and the next game and nothing's changed."
A spokesman for the club said: "To the naked eye everything appears OK at the ground. We're ready to play football. It's the office side of things that need finishing off."
'National acclaim'
Mr Douglas said there was a huge interest in the stadium, with all 6,000 tickets being sold out for the first game.
The stadium occupies a central position in Rotherham town centre, on the site of the former Guest and Chrimes foundry.
Club chairman Tony Stewart said the venue had already attracted attention from football fans outside South Yorkshire.
"I've had one or two people - Tottenham, Chelsea people - talking and saying 'what's happening in Rotherham?', so it's certainly getting national acclaim because of its style and investment.
"I'm expecting people to come along and have a look at us and see what Rotherham's doing, not just building a stadium but building a town and a culture."
The club has been playing at the Don Valley Stadium in Sheffield since 2008.
More on this story
Related Internet links
The BBC is not responsible for the content of external Internet sites
Sheffield & South Yorkshire live reporting
Live Yorkshire breaking news: Latest updates
Full article Yorkshire breaking news: Latest updates
Top Stories
May: MPs must 'work together' for Brexit

The prime minister calls on politicians to "put self-interest aside" and deliver on the referendum, after surviving a no confidence vote.

16 January 2019
The diet to save lives, the planet and feed us all? 17 January 2019
State school secures 41 Oxbridge offers 17 January 2019
Features
Does tidiness really equal a clean mind?
Kuenssberg: When will May budge on Brexit?
The widow who asked eight French presidents for the truth
'I'm too afraid to lock my bathroom door'
Who are the victims of the Kenya hotel attack?
Video
Can laser shoes help people with Parkinson's walk?
Six ways the US shutdown ends
This girl boxer escaped Islamic State and is fighting back
Why are the Chinese buying fewer cars?
Elsewhere on the BBC
Fitness goals
A five step guide to smashing your gym targets
Full article Fitness goals
Daily news briefing direct to your inbox
Sign up for our newsletter
Full article Daily news briefing direct to your inbox
Why you can trust BBC News
BBC News Navigation
BBC News Services