News
BBC News Navigation
Sections
Norfolk
Norfolk
Norwich printing museum: Owners seek new location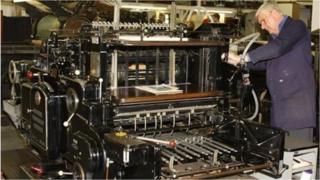 Image copyright John Jarrold Printing Museum Image caption A vintage letterpress machine used widely for four colour printing
Fears that a printing museum, regarded as part of a city's heritage, would close to make way for housing have been dismissed by the owners.
The John Jarrold Printing Museum in Norwich has been on the Whitefriars site since 1982.
An application has been submitted to develop riverside land nearby for 218 new homes and offices.
The Jarrold Group said the building was to be demolished, but it was looking for a new location for the museum.
Image copyright John Jarrold Printing Museum Image caption The John Jarrold Printing Museum building is to be demolished but its owners are looking for another location
The museum, which has already had two different homes, contains working exhibits dating from the early 19th Century showing the history of printing and book-binding in Norwich.
The vintage typesetting, lithography and hand press machines are used by students at Norwich University of the Arts as well as local craftspeople.
Since the demolition of the building was revealed earlier this week, 42 complaints have been registered on the planning application on Norwich City Council's website.
Most of the people fearing that the museum would close said it was part of the city's heritage and attracted a great deal of interest especially from tourists even though it was only open and run by volunteers on Wednesdays.
"We can confirm the redevelopment plans will affect the current museum site," a spokesman for The Jarrold Group said.
"We are in discussion will all parties on how best to ensure the history and heritage held within the museum is best conserved and displayed in the future."
Image copyright John Jarrold Printing Museum Image caption Museum exhibits show the history of printing and book binding in Norwich since early in the 19th century
Related Topics
More on this story
Related Internet links
The BBC is not responsible for the content of external Internet sites
Norfolk live reporting
Live Latest East of England updates
Full article Latest East of England updates
Top Stories
Brexit Party dominates in EU elections

The Lib Dems also see a surge in support, while the Tories and Labour suffer heavy losses, as voters split along Leave and Remain lines.

27 May 2019
Tories on election 'final warning' - Johnson 27 May 2019
Europe's biggest blocs lose grip on power 27 May 2019
Features
What the EU elections tell us about support for Brexit
Euro election takeover: From Tusk 'til dawn
The actor behind Hollywood's monsters
Video
Long watch: Night shift on malaria's frontline
Katya Adler: What are clear trends from EU elections?
Is climate activism inclusive enough?
The day I had to watch a sport I hate
Somalia's frightening network of Islamist spies
America's strained salute to its black military veterans
Elsewhere on the BBC
Apollo 11
How the first moon landing was saved
Full article Apollo 11
Daily news briefing direct to your inbox
Sign up for our newsletter
Full article Daily news briefing direct to your inbox
Why you can trust BBC News
BBC News Navigation
BBC News Services