News
BBC News Navigation
Sections
Norfolk
Norfolk
Norwich named as UNESCO City of Literature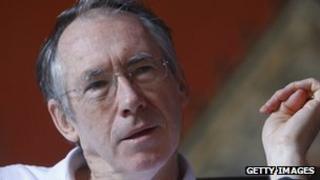 Image caption Author Ian McEwan supported the bid for Norwich to be recognised
Norwich has been named as England's first City of Literature by the United Nation's organisation, UNESCO.
The Writers' Centre Norwich (WCN) said Norwich was where the first book in English by a woman and the first provincial newspaper were published.
Author Ian McEwan, who backed the bid by WCN, was on the UK's first MA Creative Writing at the University of East Anglia (UEA).
WCN is to open a £7m International Centre for Writing in 2016.
It is the sixth city to be given the title, after Edinburgh, Melbourne, Iowa City, Dublin, and Reykjavik.
Mr McEwan said: "Literature has deep roots in the beautiful city of Norwich and it was a natural first choice for UNESCO.
"I'm happy too for personal reasons - Norwich is where my own writing life began.
"Writers have known for centuries that Norwich is a dreamy city."
Norwich's accolade as the first UK City of Refuge for persecuted writers also formed part of the bid, along with the fact its library is the busiest and most used in the country for each of the past five years.
Christian mystic Julian of Norwich (1342-1416) spent much of her life in a cell in St Julian's Church in the city, where she wrote Revelations of Divine Love and was the first woman to be published in English.
Image caption The UEA has become world famous for its creative writing centre
City poet Henry Howard, Earl of Surrey (1517-1547) gave the world its first blank verse and sonnet form, later used by Shakespeare, and Thomas Paine, born 30 miles south of Norwich in 1737, influenced the American Constitution with his Rights of Man.
The UEA hosts two international literary festivals a year and its creative writing course centre is one of the most famous in the world.
Writers who have worked, studied and taught in the city include Kazuo Ishiguro, Angela Carter, Lorna Sage, Rose Tremain and Ali Smith.
WCN said the accreditation will put Norwich on the "world's literary map for generations to come" and boost tourism, international connections, and interest in the literary arts.
The status will be celebrated in June when Nobel Laureate Professor J.M. Coetzee, Michael Ondaatje, Jeanette Winterson and other writers attend a World's Literature festival in the city.
More on this story
Related Internet links
The BBC is not responsible for the content of external Internet sites
Norfolk live reporting
Live Latest East of England updates
Full article Latest East of England updates
Top Stories
Prince Philip's car 'careered' across road

The royal was shaken after being freed from his Land Rover, an eyewitness to Thursday's crash says.

18 January 2019
Outcry over Trump obstruction allegation 18 January 2019
Three men jailed over shop blast murders 18 January 2019
Features
Is age a factor behind the wheel?
Daring escape from sexcam captivity
How will history judge President Trump?
Where Tory tribes stand on Brexit
Why so many young workers have 'side hustles'
Designing the cities of the future
Inside the world's biggest festival flop
Why the Khashoggi crisis is far from over
Quiz of the Week: What's the fountain furore in Rome?
Elsewhere on the BBC
How To Be A Woman
Eight great life hacks from Caitlin Moran
Full article How To Be A Woman
Daily news briefing direct to your inbox
Sign up for our newsletter
Full article Daily news briefing direct to your inbox
Why you can trust BBC News
BBC News Navigation
BBC News Services