News
BBC News Navigation
Sections
Norfolk
Norfolk
Royal Norfolk Regimental Museum moves to Norwich Castle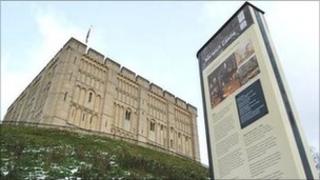 Image caption Norwich Castle will allow more people to see the military exhibition
The Royal Norfolk Regimental Museum at Shirehall in Norwich is moving into Norwich Castle so it can show off its collection to more visitors.
The move is also part of a restructure in the Museum Service to save money.
Curator Kate Thaxton said: "The great advantage for us is that more people will see it."
Shirehall will display the collection until 10 September before the exhibition re-opens in the castle in late October.
The Royal Norfolk Regiment was an infantry regiment of the British Army created in 1881.
The museum has a varied selection of objects, photographs and archive material connected to the regiment's 300-year history.
More than 160,000 people visit Norwich Castle Museum every year.
In comparison, Shirehall currently attracts between 30,000 to 32,000 visitors per year.
The vacated Shirehall will house the Costume and Textiles Study Centre, which will move from Carrow House, saving The Museum Service more than £100,000.
Curators expect a full display in the castle in December 2012.
More on this story
Around the BBC
Related Internet links
The BBC is not responsible for the content of external Internet sites
Norfolk live reporting
Live Latest East of England updates
Full article Latest East of England updates
Top Stories
Theresa May quits: UK set for new PM

An emotional Theresa May confirms she will step down as Tory leader on 7 June, saying she has done all she can and a new prime minister will have to deliver Brexit.

24 May 2019
Two boys dead as police swoop on house 24 May 2019
Ten arrested over Whorlton Hall 'abuse' 24 May 2019
Features
Kuenssberg: May was just overwhelmed
Tory leadership contenders - who's standing?
PM's exit has consequences for Brexit
Audio
Brexitcast on Trexit
Why Mount Everest's summit gets so crowded
Does a hit song really need 9 writers?
Why Assange charges are a challenge to free press
Weekly quiz: Why was Nike forced to apologise?
The Jews who came back to Portugal
Elsewhere on the BBC
Big Weekend 2019
How to stay up-to-date with all the action
Full article Big Weekend 2019
Daily news briefing direct to your inbox
Sign up for our newsletter
Full article Daily news briefing direct to your inbox
Why you can trust BBC News
BBC News Navigation
BBC News Services