News
BBC News Navigation
Sections
Birmingham & Black Country
Birmingham & Black Country
Tony Iommi to undergo treatment for lymphoma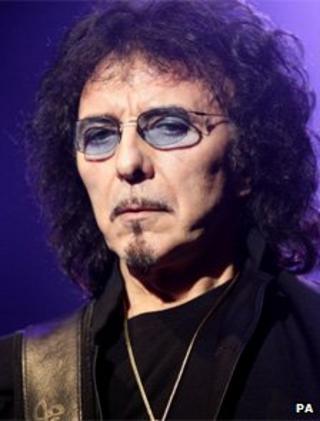 Image caption The band said they would move to London to work with Iommi
Black Sabbath guitarist Tony Iommi is to undergo treatment for cancer after being diagnosed with lymphoma.
Iommi, a founder member of the Birmingham heavy metal band, has been diagnosed with the early stages of the disease.
In a statement on the 63-year-old's website, his fellow band members urged fans to send "positive vibes".
The band said they would move from Los Angeles to London to work with Iommi while he undergoes treatment.
"The Iron Man of Rock and Roll remains upbeat and determined to make a full recovery," Black Sabbath said.
The band had been working with producer Rick Rubin in LA on their first album with Ozzy Osbourne in 33 years, due for release in the autumn.
In November, Black Sabbath had announced the original line-up, including Osbourne, would reunite for a world tour.
Osbourne was axed from the four-piece in 1979 and replaced by Ronnie James Dio, who died of cancer in 2010.
The band, one of the most successful heavy rock acts of all time, have sold about 70m records worldwide.
More on this story
Related Internet links
The BBC is not responsible for the content of external Internet sites
Birmingham & Black Country live reporting
Live Midlands Live: Breaking news and local stories
Full article Midlands Live: Breaking news and local stories
Top Stories
Seven MPs leave Labour in Corbyn protest

The MPs - including Luciana Berger and Chuka Umunna - urge others to join them, as Jeremy Corbyn says he is "disappointed" by the split.

18 February 2019
Who led Labour's last big breakaway? 18 February 2019
Honda set to close Swindon car plant 18 February 2019
Features
What next for Labour's breakaway MPs?
Who was behind Labour's last big split?
Freckles accused of insulting China
Hebron: One street, two sides
I feared my abusive girlfriend would kill me
Brexit: Will Britons in the EU still get healthcare?
How sending handwritten letters created a $1bn firm
Are the super-rich ruining Burning Man?
How has social media changed the way we experience death?
Elsewhere on the BBC
Top Gear
The brand new series returns
Full article Top Gear
Daily news briefing direct to your inbox
Sign up for our newsletter
Full article Daily news briefing direct to your inbox
Why you can trust BBC News
BBC News Navigation
BBC News Services