News
BBC News Navigation
Sections
UK
UK
Lord Phillips and Admiral Boyce made Knights of Garter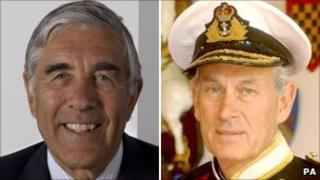 Image copyright PA Image caption Lord Phillips of Worth Matravers (l) and Admiral Lord Boyce are the 22nd and 23rd Knights of the Garter
The UK's highest ranking judge and an ex-head of the Armed Forces have been made Knights of the Garter, the country's highest order of chivalry.
The Queen bestowed the honour on President of the Supreme Court Lord Phillips and Admiral Lord Boyce, ex-Chief of the Defence Staff.
They will be officially appointed at a ceremony and service in June.
The Order of the Garter, established in 1348, honours contributions to national life or service to the Queen.
It was begun by Edward III and remains the most senior British order of chivalry.
Lord Phillips, 72, rules over the highest court in the land - the Supreme Court - which opened in October 2009 as a replacement for a special committee of the House of Lords.
Born Nicholas Addison Phillips, he is a former Lord Chief Justice of England and Wales, and has been a senior Law Lord since October 2008.
Michael Boyce, 68, was appointed First Sea Lord in 1998 and Chief of the Defence Staff in 2001, and was head of the Armed Forces at the time of the 2003 invasion of Iraq.
Queen's gift
Giving evidence to the Iraq inquiry, he described the Treasury's attitude as an "impediment" to the mission and criticised the government generally for its lack of "cohesion".
He retired eight years ago and now sits as a cross-bench member of the House of Lords.
The appointments are traditionally announced on St George's Day, but the official ceremonies take place on Garter Day in June, on the Monday of Royal Ascot week.
The appointment of Knights of the Garter is in the Queen's gift and is made without consulting ministers.
The Queen formally invests them in the Throne Room at Windsor Castle, followed by a service in St George's Chapel.
Other members include former prime ministers Lady Thatcher and Sir John Major as well as a number of British and foreign royals.
More on this story
Related Internet links
The BBC is not responsible for the content of external Internet sites
Top Stories
More Brexit assurances possible, says May

Theresa May is seeking "further clarification" to satisfy MPs after "robust" exchange with EU chief.

14 December 2018
Trump names new acting chief of staff 14 December 2018
Eleven die after eating at Indian temple 14 December 2018
Features
France's moment of anger
Coffee or chocolate: How green is your diet?
Who wins from Christmas Jumper Day?
Theresa May's week in charts
Delays made me give up my Army dream
Did my children die because I married my cousin?
The secret I'm hiding under my baggy clothes
Can PMs with time limits ever survive for long?
Video
Dimbleby's famous Question Time moments
Elsewhere on the BBC
How we froze time
Go behind the scenes of Wonderland
Full article How we froze time
Daily news briefing direct to your inbox
Sign up for our newsletter
Full article Daily news briefing direct to your inbox
Why you can trust BBC News
BBC News Navigation
BBC News Services