News
BBC News Navigation
Sections
Science & Environment
Science & Environment
China aims for Moon's far side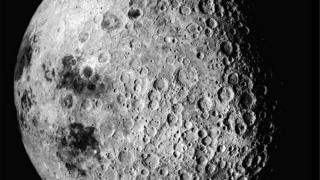 Image copyright NASA Image caption The lunar far side would be an excellent place to site a radio telescope
China is planning the first ever landing of a lunar probe on the far side of the Moon, an engineer has said.
The Chang'e 4 mission is planned for sometime before 2020, Zou Yongliao from the Chinese Academy of Sciences told state broadcaster CCTV.
Mr Zou said the mission's objective would be to study geological conditions on the moon's far side.
This could eventually lead to the placement of a radio telescope for use by astronomers.
The Moon's far side would be shielded from radio transmissions from Earth, making it an excellent location for sensitive instruments.
China's next lunar mission is scheduled for 2017, when it will attempt return samples of lunar soil and rock to Earth.
If successful, China would become only the third country after the US and Russia to have successfully carried out such a mission.
Top Stories
PM meeting EU leaders for Brexit talks

Theresa May will meet Angela Merkel as she seeks new reassurances about the Northern Ireland backstop.

11 December 2018
Macron promises minimum wage rise 10 December 2018
Puzzle solving 'won't stop mental decline' 11 December 2018
Features
Now what for the PM and Brexit?
In a hurry? Here's what you need to know in five minutes
How foreign powers have stopped pirates in Somalia
The pub where your cash is worthless
Is there room for two Mowglis in the Hollywood jungle?
Reality Check: Is football racism rising?
Why so many countries now say cannabis is OK
Video
'Taking the guilt out of feeding our babies'
Convicted at last, how this child killer walked free in '87
Elsewhere on the BBC
Snowman cupcakes
A festive recipe perfect for adults and kids
Full article Snowman cupcakes
Daily news briefing direct to your inbox
Sign up for our newsletter
Full article Daily news briefing direct to your inbox
Why you can trust BBC News
BBC News Navigation
BBC News Services