News
BBC News Navigation
Sections
Science & Environment
Science & Environment
China aims for Moon's far side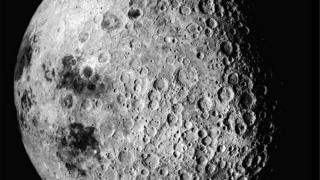 Image copyright NASA Image caption The lunar far side would be an excellent place to site a radio telescope
China is planning the first ever landing of a lunar probe on the far side of the Moon, an engineer has said.
The Chang'e 4 mission is planned for sometime before 2020, Zou Yongliao from the Chinese Academy of Sciences told state broadcaster CCTV.
Mr Zou said the mission's objective would be to study geological conditions on the moon's far side.
This could eventually lead to the placement of a radio telescope for use by astronomers.
The Moon's far side would be shielded from radio transmissions from Earth, making it an excellent location for sensitive instruments.
China's next lunar mission is scheduled for 2017, when it will attempt return samples of lunar soil and rock to Earth.
If successful, China would become only the third country after the US and Russia to have successfully carried out such a mission.
Top Stories
Tens of thousands on Brexit referendum march

Protesters demand a "People's Vote" as MPs struggle to agree a way out of the Brexit impasse.

23 March 2019
Fall of Islamic State 'caliphate' announced 23 March 2019
Teenage boy chased and stabbed to death 23 March 2019
Features
Christchurch shootings: The people killed as they prayed
'Reading bedtime stories helped me survive prison'
Caliphate defeated but IS remains a threat
What might Mueller report look like?
Why are nets appearing over trees and hedges?
Video
Tracing child abusers: Where was this picture taken?
Review: Us - the 'All-American' terrifying thriller ★★★☆☆
Video
What's it like to have 19 children?
What are indicative votes?
Elsewhere on the BBC
Strike a Pose
The new over the top, wild fun drama
Full article Strike a Pose
Daily news briefing direct to your inbox
Sign up for our newsletter
Full article Daily news briefing direct to your inbox
Why you can trust BBC News
BBC News Navigation
BBC News Services