News
BBC News Navigation
Sections
Entertainment & Arts
Entertainment & Arts
Ozzy expects to 'shed a few tears' at Black Sabbath farewell show
By Mark Savage & Colin Paterson BBC Music reporter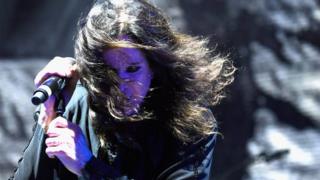 Image copyright Getty Images Image caption Ozzy Osbourne - aka The Prince Of Darkness - performs on Black Sabbath's farewell tour
Rock star Ozzy Osbourne says he's "a whirlwind of emotions" as Black Sabbath prepare to play their last ever show.
The band, who gave birth to heavy metal in the 1970s, are calling it a day with two concerts in their home city of Birmingham this week.
"My emotions are flying all over the place," Osbourne told the BBC, as the band rehearsed at the Genting Arena.
"Since I've got to this building today, I've been happy, I've been tearful. Let's see what happens."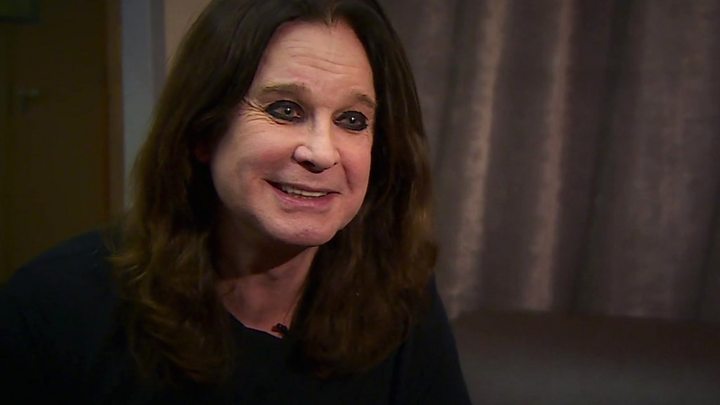 Media playback is unsupported on your device Media captionOzzy Osbourne recalls fans telling him how to look after his dogs
The group formed in 1968 under the awkward name the Polka Tulk Blues Band (a reference to a brand of talcum powder). They later changed their name to Earth before settling on Black Sabbath.
Powered by Tony Iommi's seismic guitar riffs and Osbourne's primal vocals, they created classic metal songs like Paranoid and Iron Man, full of doom-laden, occult imagery.
They also gained a reputation for chaos, with drug addiction and in-fighting derailing the band in the late 1970s.
Image copyright Getty Images Image caption Osbourne's on-stage antics generated hundreds of tabloid headlines
Osbourne quit in 1977 and was replaced by Rainbow's Ronnie James Dio - but the classic line-up made their way back under the stage lights in 1997 and have played consistently since.
Over the years, their heavy blues riffs inspired hundreds of other bands, many of whom pay tribute in a Black Sabbath Special, which will be broadcast on BBC Radio 1 this Sunday, 5 February.
"Black Sabbath mean everything to me," Scott Ian, of Anthrax told the station's Daniel P Carter. "You could say that for me Black Sabbath are the bible and each one of their records is another book of the bible that they wrote - the bible of heavy metal."
Surprised and humbled
"Some of the sickest music in the world has come out of Black Sabbath," added Bill Kelliher, of Mastodon. "People try to emulate them and they just can't."
Osbourne said he was surprised and humbled by Sabbath's influence.
"People come up to me and say, 'We're not worthy', and I'm like, 'Why are you being that way?'
"But at the same time, if they don't recognise me I get upset."
Image copyright PA Image caption Bassist Geezer Butler, guitarist Tommy Iommi and Ozzy Osbourne were inducted into the Classic Rock Roll of Honour in 2013
The singer admitted he was feeling sentimental about his time in the band.
"I remember playing the Crown pub in Birmingham and thinking, 'This'll be good for a couple of years - drink a few beers and have a jam'. But it was the beginning of the most incredible adventure you could think of. I've had the best life out of it.
"One of the proudest things I have in my heart is the fact that Black Sabbath wasn't a band that was created by some big mogul. It was four guys who said, 'Let's have a dream', and it came true beyond our wildest expectations."
The star confirmed that - unlike other bands - Black Sabbath's farewell tour was the definitive end.
"This is definitely it," he said. "It's run its course."
Osbourne added that his solo farewell tour in 1992 had been a mistake. "What I learned is you have to have something to retire to. So I'm going to continue with my solo thing. It's not a job, it's a passion."
Image copyright PA Image caption Birmingham named a tram named in Ozzy's honour last year
The band have suggested there will be a few surprises when they take to the stage for the last time on Saturday night - and one of them will be Osbourne's goodbye speech.
"I've got to say something but I've nothing rehearsed," he laughed. "I'm no good at speeches."
Fans who attend the gig on Saturday night will have their portraits taken and memories recorded, as part of the Home of Metal project.
The project is also asking fans to contribute photos and memorabilia for an exhibition celebrating the legacy of Black Sabbath, which will tour internationally in 2018, followed by a summer season in Birmingham and the Black Country in 2019.
Follow us on Facebook, on Twitter @BBCNewsEnts, or on Instagram at bbcnewsents. If you have a story suggestion email [email protected].
Related Topics
More on this story
Around the BBC
Related Internet links
The BBC is not responsible for the content of external Internet sites
Top Stories
PM says face masks 'should be worn' in shops

Boris Johnson has said he is looking at "enforcement" of masks for customers in England.

13 July 2020
New study suggests virus immunity is shortlived 13 July 2020
Patel sets out post-Brexit immigration plans 13 July 2020
Features
One mum's fight for justice
She's fit, young, and has been ill with Covid for months
What are the rules when you get a new tattoo?
Video
Three generations on George Floyd's death
How TV's most talked-about sex scenes were filmed
'Someone needs to help parents control their kids' spending'
Video
'Cheeky floating head video landed me the job'
Video
Working from home burnout
Wounds of Dutch history expose deep racial divide
Elsewhere on the BBC
The latest race: Trump or "Yes We Kanye"
Americast has returned to BBC Sounds
Full article The latest race: Trump or "Yes We Kanye"
Daily news briefing direct to your inbox
Sign up for our newsletter
Full article Daily news briefing direct to your inbox
Why you can trust BBC News
BBC News Navigation
BBC News Services