News
BBC News Navigation
Sections
Entertainment & Arts
Entertainment & Arts
Londonderry named the UK City of Culture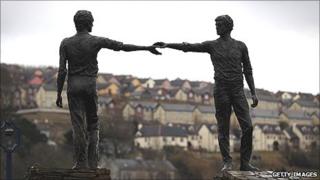 Image caption Derry won ahead of Norwich, Sheffield and Birmingham
Londonderry has been named the UK's inaugural City of Culture at a special event in Liverpool.
Derry won the title ahead of Birmingham, Norwich and Sheffield. The accolade could bring up to 3,000 jobs to the city and boost tourism
It follows Liverpool's successful tenure as European Capital of Culture in 2008.
Deputy First Minister Martin McGuinness said the award was "a precious gift for the peacemakers" in Northern Ireland.
"This is when the real work begins," he said. "I don't see this as something that's only going to revolve around 2013. This is a project for us that will last for something like five to 10 years.
"I think there's a huge opportunity now for us to move forward and make sure that, particularly areas that are socially disadvantaged, gain the fruits of this accolade."
Mr McGuinness said he felt there was "a huge amount of goodwill" behind the Londonderry bid, including from US President Barack Obama.
Derry's renowned jazz festival attracts more than 30,000 people and 300 performers.
But it also has the highest unemployment in Northern Ireland and many of its most deprived estates.
Sculptor Maurice Harron, who was born in Londonderry and was part of the bid team, told the BBC he was "overjoyed".
"This is a multi-cultural city and always was - that's why it's got two names," he said.
"It's famous for great musicians, dancers, writers, artists, and now they are going get a chance to showcase that to a wider audience."
Actor James Nesbitt is Chancellor of the University of Ulster, which has a campus in the city.
He said: "This decision confirms what many of us in the province and further afield have known for many years - that Derry-Londonderry is a cultural powerhouse.
"Whether it is writers like Seamus Heaney and Seamus Deane, songwriters and performers like Phil Coulter or the Undertones, artists like Willie Doherty, film-makers like Margo Harkin and Tom Collins, or actors like Amanda Burton, Roma Downey and Bronagh Gallagher, the city has asserted a huge influence on the arts internationally."
No state funding
Supporters in the four shortlisted cities gathered to hear the news from Liverpool.
Television producer Phil Redmond, who headed the panel which judged the final four bids, was joined by Culture Minister Ed Vaizey for the announcement.
Mr Redmond said the award was "a cultural tool to bring people together".
"When people read Derry's bid... it's about acknowledging the past, not shying away from the past, and using that point that the past informs our present and helps shape our future," he said.
"If that is not the role of culture then I don't know what is."
The first UK City of Culture is likely to host a number of nationally significant events, but will not receive any government funding.
Liverpool City Council leader Joe Anderson attested to the success of 2008, saying: "Beyond the £800m impact of the year, 2008 also injected a huge amount of self-confidence."
"The experience of delivering the most successful year as a European Capital of Culture has reshaped Liverpool - the way it looks, thinks and acts," he added.
More on this story
Top Stories
Brexit Party dominates in EU elections

The Lib Dems also see a surge in support, while the Tories and Labour suffer heavy losses, as voters split along Leave and Remain lines.

27 May 2019
Tories on election 'final warning' - Johnson 27 May 2019
Europe's biggest blocs lose grip on power 27 May 2019
Features
What the EU elections tell us about support for Brexit
Katya Adler: What are clear trends from EU elections?
The day I had to watch a sport I hate
The actor behind Hollywood's monsters
Video
Long watch: Night shift on malaria's frontline
Is climate activism inclusive enough?
Somalia's frightening network of Islamist spies
America's strained salute to its black military veterans
Video
Vet helps woman give birth on roadside
Elsewhere on the BBC
Apollo 11
How the first moon landing was saved
Full article Apollo 11
Daily news briefing direct to your inbox
Sign up for our newsletter
Full article Daily news briefing direct to your inbox
Why you can trust BBC News
BBC News Navigation
BBC News Services