News
BBC News Navigation
Sections
Business
Business
UK government sells Eurostar stake for £757.1m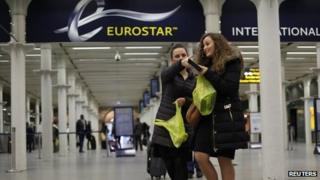 Image copyright Reuters Image caption Eurostar has carried more than 150 million passengers since 1994
The UK government has announced that it is selling its 40% stake in the cross-Channel train operator Eurostar to an Anglo-Canadian consortium for £757.1m.
Under the deal, Patina Rail LLP will acquire the UK Treasury's entire share of the high-speed rail service.
The French and Belgian national railways continue to own the rest.UK government sells Eurostar stake
The intention to sell was first set out in 2013, in the Autumn Statement and National Infrastructure Plan.
Chancellor George Osborne said the stake had fetched "far more than people expected we'd be able to sell it for".
He added: "This is a very good deal - it means we can cut the national debt, it means we can invest in our national infrastructure and it's fantastic value for British taxpayers. It's all part of our long-term plan to secure Britain's future."
---
Analysis: Richard Westcott, Transport Correspondent
Eurostar's never been the runaway success they were predicting twenty years ago.
In 1996, the official prediction was that the trains would be carrying 21.4 million passengers a year by 2004.
The actual figure was 7.3 million.
What happened?
Low cost airlines is what happened (as well as cheaper ferries, the recession, the London bombings, foot and mouth).
Even today, it's only just broken the ten million passenger mark.
Still, it clearly looks a good buy for these two pension funds, one of which handles the BT pension.
Why? Well passenger numbers have been rising every year for a decade and business travel is doing well. There are new trains coming later this year, and more destinations too. And it's been making a steady profit for several years.
---
Image copyright Getty Images Image caption Eurostar's new e320 train is due to come into service later this year
International ownership
The consortium is made up of two companies: Canadian-based Caisse de Depot et Placement du Quebec (CDPQ) and the UK's Hermes Infrastructure. When the deal goes through, they will own 30% and 10% of Eurostar respectively.
Eurostar began service in 1994 as a partnership between three railway companies: France's SNCF, Belgium's SNCB and British Rail (subsequently LCR).
Since then, Eurostar has carried more than 150 million passengers, and more than 10 million in 2013 alone. Numbers have risen every year for the past 10.
In September 2010, it became a single, unified corporate entity owned by three shareholders: SNCF, SNCB and LCR.
In June 2014, the UK government's holding was transferred from LCR to the Treasury.
Union reaction
Rail unions have attacked the sale.
Manuel Cortes, leader of the TSSA rail union, said: "George Osborne, because of his outdated belief in unvarnished Thatcherism, is once again selling off the family silver for short-term financial gain.
"The reason that France and Belgium already own the majority stake in Eurostar is that they believe in running a publicly owned railway for the benefit of everybody.
Related Topics
More on this story
Related Internet links
The BBC is not responsible for the content of external Internet sites
Top Stories
PM spends night in intensive care after symptoms worsen

Boris Johnson is "in very good hands", says Foreign Secretary Dominic Raab, who is deputising for the PM.

7 April 2020
Court quashes Cardinal Pell's abuse conviction 7 April 2020
Closing schools has 'marginal impact' on virus 7 April 2020
Features
Power is no protection from harm
What is an intensive care unit?
Doctor's diary: The oxygen supply problem
A visual guide to the world in lockdown
Video
Getting vital supplies to new mums amid lockdown
Who's in charge if a PM is incapacitated?
The Coronavirus Newscast: PM in intensive care
Virus forces offline sex workers to start again online
Video
The shop where you can still buy huge bags of pasta
Elsewhere on the BBC
Need a pick me up?
11 Fabulously funny podcasts to lighten your mood
Full article Need a pick me up?
Daily news briefing direct to your inbox
Sign up for our newsletter
Full article Daily news briefing direct to your inbox
Why you can trust BBC News
BBC News Navigation
BBC News Services