News
BBC News Navigation
Sections
Business
Business
Philips to exit hi-fis and DVD players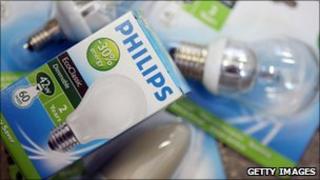 Image caption Philips is the world's leading manufacturer of lighting
Dutch electronics giant Philips is to sell off its home entertainment business, including hi-fis and DVD players, to Japan's Funai Electric.
Funai will pay 150m euros ($200m; £130m) and a regular brand licensing fee to take on the product lines.
The company wants to focus on its healthcare, light bulbs and home appliances businesses as part of its "Accelerate!" restructuring plan.
Philips also reported a 355m-euro loss for the last three months of 2012.
The loss was in line with expectations and was largely due to a 509m-euro fine imposed on the company last year by the European Commission for participating in a cartel to fix prices in the television business.
Philips announced last year that it was transferring its loss-making television unit to a new joint venture arrangement with Hong Kong's TPV.
Its latest divestments will not happen immediately - its audio business will pass to Funai in the latter half of this year, while the transfer of its video business will not take place until 2017.
The Dutch firm's underlying profitability in the last quarter - net of the fine and various restructuring costs - improved to 875m euros, beating the expectations of most market analysts.
However, chief executive Frans van Houten said he expected sales to remain subdued in the first half of this year, because of the "challenging market" in the US and Europe, which account for well over half of Philips' revenues.
More on this story
Related Internet links
The BBC is not responsible for the content of external Internet sites
Top Stories
No 10 to push again for Brexit deal vote

The PM wants "a straight up-and-down vote" as the Commons returns after its rare Saturday sitting.

21 October 2019
Meghan: Friends said 'do not marry Prince Harry' 21 October 2019
Cost of living protests in Chile take deadly toll 21 October 2019
Features
Why Spain is digging up a dictator
How it feels to be the only Grindr user in the village
What will happen with Brexit in the next few days?
Three generations under one roof to beat the housing crisis
Video
Black hole scientist bounces back from trolling
Corrie cancer plot shows 'life isn't a fairy tale'
Video
Forgiving the Sri Lanka bombers
How Grenfell fire inspired TV drama The Accident
Video
Playing Scottish bagpipes in Bolton to honour my Hindu guru
Elsewhere on the BBC
Cold/Flu tips
How can we avoid them?
Full article Cold/Flu tips
Daily news briefing direct to your inbox
Sign up for our newsletter
Full article Daily news briefing direct to your inbox
Why you can trust BBC News
BBC News Navigation
BBC News Services