futuroscope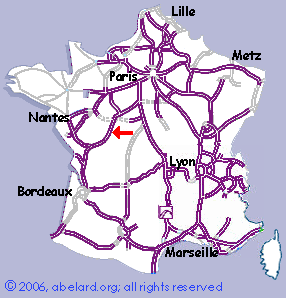 This page helpful? Share it!

cité d'espace

cité d'espace 2: photos
futuroscope

futuroscope 2: photos

vulcania

tsunamis: tsunamis travel fast but not at infinite speed

tectonic plates – floating on the surface of a cauldron
france
breaking! the fire at the cathedral of Notre Dame de Paris so far


Stone tracery in church and cathedral construction 

stone in church and cathedral construction
stained glass and cathedrals in Normandy 
fortified churches, mostly in Les Landes
cathedral labyrinths and mazes in France
using metal in gothic cathedral construction
Germans in France
cathedral destruction during the French revolution, subsidiary page to Germans in France
on first arriving in France - driving
France is not England
paying at the péage (toll station)
Transbordeur bridges in France and the world 2: focus on Portugalete, Chicago, Rochefort-Martrou
Gustave Eiffel's first work: the Eiffel passerelle, Bordeaux
a fifth bridge coming to Bordeaux: pont Chaban-Delmas, a new vertical lift bridge
France's western isles: Ile de Ré
France's western iles: Ile d'Oleron
Ile de France, Paris: in the context of Abelard and of French cathedrals
short biography of Pierre (Peter) Abelard
Marianne - a French national symbol, with French definitive stamps
la Belle Epoque
Grand Palais, Paris

Pic du Midi - observing stars clearly, A64
Carcassonne, A61: world heritage fortified city
Futuroscope
Vulcania
Space City, Toulouse
the French umbrella & Aurillac
50 years old: Citroën DS
the Citroën 2CV: a French motoring icon
the forest as seen by Francois Mauriac, and today
Les Landes, places and playtime
roundabout art of Les Landes

bastide towns
mardi gras! carnival in Basque country
country life in France: the poultry fair
what a hair cut! m & french pop/rock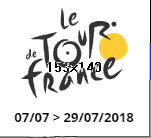 Le Tour de France: cycling tactics
what is futurescope?
Futuristic buildings housing futuristic film shows – huge screens, flat and domed, three-D, 360°, moving seats. All in a clean, well-kept park with space-age walkways.

Futuroscope is a large, unique, well-kept theme park presenting different forms of high-technology films and other visual technologies, such as computer games and the Internet. It is the only theme park of its type in Europe. Some displays are changed every season, so there is always something new. abelard.org visited in 2004, and the site has much developed since then.

It is a park for children of all ages. The 'yobs' will enjoy the adrenaline-generators, and the thoughtful ones will appreciate the various technologies and pretty, more calm shows.

Entrance prices (for 2017) include:
adults 40 euros, evenings (from 5pm/17h): 20€; two days: 82€
children 37 euros, evenings: 16€, two days: 68€
(there is 20% off tickets for students, and 15% for 'seniors (over 60), handicapped people and large families (having a Large Family rail card or their "family record booklet"/carnet de famille)
Two day tickets approximately twice as much,
but you will probably be watching seven or more short films during a day.
Futuroscope also has a flat 7€ a day charge for parking. Free shuttle buses (navettes) run from the hotel areas to the theme park.
There is also a multitudes of multi-day and muli-person packages, too many and too convoluted to list here. For these study the Futuroscope prices and booking page. These packages can also include staying at one of the many on-site hotels of various cost.
Be aware: bookings made by telephone or internet have extra "administration fees" added : 3€ for a 'ticket file', and 11€ for a 'break file'.

Note that, although the piped muzak is rather intrusive, after a while it sinks to a minor background nusiance.
architecture at futurescope
Futuroscope is an exhibition of large buildings whose designs are based in science, technology and the future:
prisms, spheres, crystals, glass, steel, all distributed (one cannot say laid out coherently) in a tidy, neatly planted park.
animations (activities) and spectacles (shows)
For 2004 there are 18 or so shows at Futuroscope, shown in the buildings previously described. The shows are short (20 minutes or so) films made with special filming and projection effects, such as very big (up to 900 m²) flat, hemispherical or domed screens (including those using IMAX techniques), multiple screens (including 360-degree viewing), 3D-viewing, moving seats.

Some projections have occasional black specks on the screen. The Futuroscope management is aware of the problem and is working to track down the origin of the specks and eliminate the problem.

The shows can inadequately be divided into two types:
for thinkers:
these are pretty, sometimes spectacular, and the technology is worth the study/observation;
for thrill-seekers:
these are noisy, adrenaline-generating, shake-around, roller-coaster, visual excitement shockers.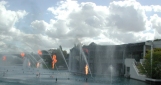 The shows with technology worth seeing are:
in building n° 9, two IMAX screens, one beneath your feet. On an earlier visit, there were thousands of monarch butterflies flocking through forests and mountains, in 2004 it is migrating birds and sea mammals.
in building n° 11, there are two parts to the show – a foyer with 850 television screens running continuously (note that this display is not listed in the Futuroscope leaflet), and a show room with hydraulically moving seats.
For the thoughtful, the first display is far more interesting, but be aware that this is only a waiting room. The attendants will try and herd all visitors through to the other room as soon as they can (when the roller-coaster ride next door has finished). Be assertive and the attendants will let you stay in the first room, or even escape from the building, but they will become confused.
in building n° 3, a 360° film showing on 9 screens. On a previous visit, the film was about racing yachts; in 2004 it is Brazil, its jungle and carnival. (Probably the best position for viewing is close to and with your back to the screen that has a horizontal dividing bar in the image.)
outside at n°5, the fountain show - Melodies Aquatiques - is fun although, as usually at Futuroscope, the music is too loud.
there are various three-dimensional shows, which can be very absorbing, but not to every visitor's taste.
n°2 – the gyrotour, although not suited to all, is a gentle ride up a tower that enables the visitor to see Futuroscope and its surrounding countryside from up to 45 metres above the ground.
how to manage your visit
This is a theme park for the intelligent, where you need to plan your visit. The Futuroscope web-site gives some information about shows available (the French version has a greater range of information), so you can do some choosing and planning beforehand. The attendants at the information kiosk will help as well.
on entering the park, first study the sheet with time schedule, park map and list of shows (spectacles). Take it all in together so you can work out which shows to go to, when/in which order. To fit in seeing lots, you will probably want to visit over two days.
don't be tempted into the souvenir shops first, or you will miss timed displays - keep souvenir-hunting for last, or for timed visits (!) between moving around and the shows.
some shows are morning only, some afternoon only, some run continuously, most are at specific times during the day.
There are large electronic displays that give the next show time for each spectacle. There are also smaller boards at each building that display the next showing time.
For a small returnable deposit, headphones (casques) are available that receive translations of the French commentaries in most of the shows.
other facilities


lots of cafés and refreshment stalls. Food prices do not appear exorbitant. Café food includes the great French (and Belgian) favourite: moules et frites! (mussels and chips)
there are several souvenir shops with general Futuroscope items, as well as items themed to different shows in the park. There are also regional food products. The prices of the souvenirs are within reason.
attractive planted areas, trees, benches, attractively arranged
young children's playground, and other child-size rides. (Some payment by tokens/jetons is required for less common activities.)
signs are detailed, but understandable.
toilets are clean and for females, there is the privilege of a seat and plenty of paper (not usual in France).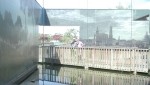 Surrounding Futuroscope is a quantity of variously-priced hotels, some offering special deals at times. A bit further away are some camping sites.

Futuroscope and most of the hotels have English-speaking staff, and often there are also speakers of other European languages.

Information on current prices, opening times and shows can be found at the Futuroscope web-site, together with hotel information and descriptions of the various technologies used.
[In French, English and Spanish.]

Futuroscope was opened in 1987. Since 2002, its main shareholders are the Department of Vienne and the Region of Poitou-Charente.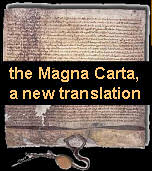 ---
abstracts
|
briefings
|
information
|
headlines
|
loud music & hearing damage
|
children & television violence
|
what is memory, and intelligence?
|
about abelard
email email_abelard [at] abelard.org
© abelard, 2004, 19 september

all rights reserved

the address for this document is [www.abelard.org]