Vital information, in the right language, at the right time. 
Click over the areas in the graphic to see our work in different parts of the world.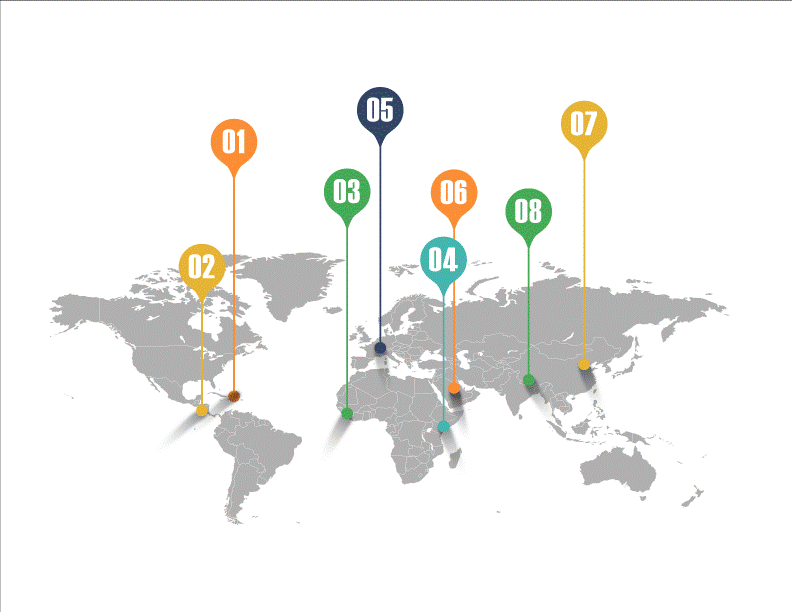 Worked with emergency response agencies in the United States and the Caribbean to translate hurricane preparedness messages into Spanish, Arabic, and Vietnamese, for those affected by devastating storms. 
Worked with partner Asociación CoCoSI in El Salvador to reduce stigma and discrimination through non-binary gender education and raising of awareness in children.
Trained 15 Guinean translators and simplified and translated 800,000 words so that West African communities can access more health care information in their local language.
Worked with local and international humanitarian agencies in response to the European refugee crisis to provide rapid translation services in 6 languages. Trained over 480 interpreters and translators and created the first humanitarian interpreter roster.
Translated the Core Humanitarian Standard on Quality and Accountability into Swahili for partner CHS Alliance.
Developed the world's first ever offline crisis-specific machine translation engine for Kurdish languages, Sorani and Kurmanji.
Worked with the Wiki Project Med Foundation to translate 6,000 health articles for the Chinese version of the offline medical Wikipedia app.
Responding to the Rohingya crisis in Bangladesh where over 700,000 refugees are in need of vital information in a language they can understand. TWB is developing language capacity in the area.
VOLUNTEER
DONATE
PARTNER
Our Impact
Testimonials
Language is central to all of our education efforts. Health education material is useless to people who cannot understand the language in which it is written. TWB greatly extends the reach of our programs and enables us to fully serve remote areas.
Allison Kozicharow, Board Member, WiRED International Health Education and Information
This is vital work, and translation makes the difference. Your professionalism … for this piece of work is impressive and the impact it will have on our Arabic speaking audience, which includes those Syrians directly affected by this crisis, will be profound.
Andrew Alspach, United Nations High Commissioner for Refugees
The ability of Wikipedia to provide free, accurate, and accessible health care content to people in their native languages is possible in large part because of TWB.
Lucas Rosnau, Translation Coordinator, WikiProject Med Foundation
We work with vulnerable populations of women, who often speak only their native languages. Translators help us truly understand the challenges they face, including details about their living conditions, or other safety and health risks, which is critical. At the same time, it helps us adapt our services to the local culture, and that includes being delivered in the local language.  If the beneficiaries do not feel that they are being heard or that our services are culturally appropriate, we wil…
Extract from an interview with Sanni Bundgaard, Technical Advisor, Gender-Based Violence Program, International Rescue Committee
During a crisis where information and effective communicating are so important, the work of Translators without Borders ensures that humanitarian organizations working within the response are able to get information in local languages to the people in need.
James Purcell, Humanitarian Programme Manager for DFID
It is absolutely critical to our work that we can engage with disabled fans and other stakeholders across Europe, in a language that they understand. As a small team, we can't speak every language, so we rely massively on Translators without Borders to help us to communicate. Communication is key to everything we do, and that is why Translators without Borders is such an invaluable asset to us.
Michael RiceMedia and Communications ManagerCentre for Access to Football in Europe (CAFE)
I don't think any organization by itself, including us, can internally turn around all that information through all those platforms. That is why there is an important link between the work that we do – gathering and providing information – and Translators without Borders, who help us translate all that information.
Stijn Aelbers, Humanitarian Advisor, Internews
It is both amazing and also very comforting and inspiring to see people donate their time and skills to defend the principles of action and the ideas of humanitarian assistance.
Olivier Bluteau, Field Manager for Doctors without Borders
I just wanted to thank you sincerely for all of your hard work coordinating these translations. They look wonderful and have generated lovely responses. I hope we can push them out fast enough to refugees so they really make an impact!
Meena Bhandari, International Federation of the Red Cross and Red Crescent Societies
BIG thanks to Translators without Borders! The ability of Wikipedia to provide free, accurate, and accessible health care content to people in their native languages is possible in large part because of TWB. From February 2015 to February 2016, we added roughly 712 health care articles in 54 languages using TWB volunteers.  Great work is being done in collaboration with TWB.
Lucas Rosnau, Translation Coordinator, WikiProject Med Foundation




56,474,451




Translated words donated so far!



How You Can Help
Raise Funds for the work of TWB
Some of our Partners