Signe Anderson of Jefferson Airplane dies
Signe Anderson, the original female singer in Jefferson Airplane, has died at age 74.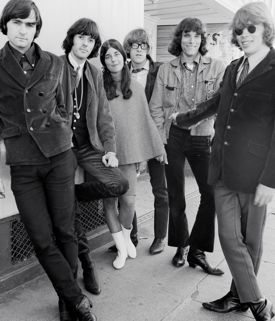 Anderson, who sang with bands in Oregon over the years, had suffered from longtime health problems. Her passing of a heart condition in Beaverton, Oregon, came Jan. 28, the same day as the death of Airplane leader Paul Kantner.
"One sweet Lady has passed on," Jefferson Airplane cofounder Marty Balin posted as the news broke. "I imagine that she and Paul woke up in heaven and said 'Hey what are you doing here? Let's start a band.'"
Anderson sang on the first Jefferson Airplane album, "Takes Off." The album included her best-known song, "Chauffeur Blues."
The singer, a new mother, found the road intolerable and decided to leave Jefferson Airplane in late 1966. Her final performances were at the Fillmore on Oct. 15 of that year. Grace Slick took over as female singer the following night. Anderson's farewell gig was released to CD in 2010.
Anderson returned to Portland, Oregon, where she sang in the big band headed by Carl Smith. Anderson, a cancer survivor, also worked in a department store. She made occasional guest appearances with versions of the Jefferson Starship and with (Airplane spinoff) Hot Tuna.
Anderson credited the Airplane's success with its members' musical educations. "We all were very knowledgeable music-wise," she told KGON radio in 2011. "We could all read music. We all knew the classics, we knew blues, we knew folk music — we had a lot of groundwork first."
Airplane bassist Jack Casady wrote on Facebook that he'd been in touch with Anderson this past week when she moved from her home to a hospice. "She was a real sweetheart with a terrific contralto voice coming from a solid folk background," he recalled. "Listen to how she made the three part harmonies of 'JA Takes Off' (first album) sound so thick … her wonderful tone between Paul's and Marty's."
Airplane lead guitarist Jorma Kaukonen wrote on his blog: "Signe was one of the strongest people I have ever met. She was our den mother in the early days of the Airplane … a voice of reason on more occasions than one … an important member of our dysfunctional little family."
Kaukonen's blog post was titled, "Now we are four."